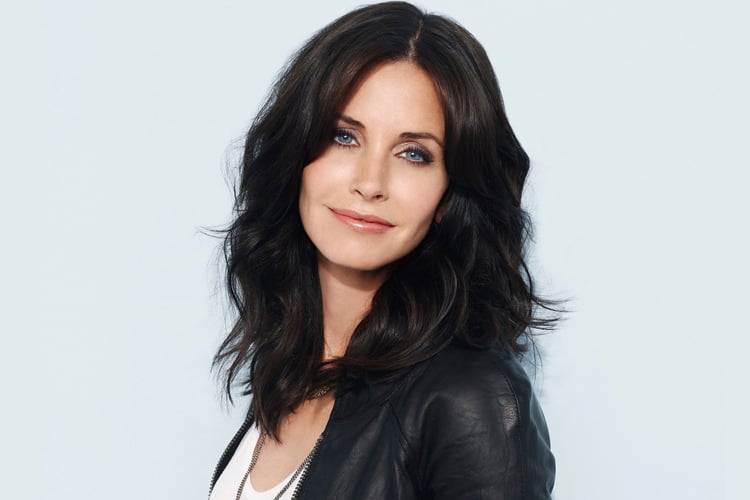 CeCe and CoCo are her nicknames. She is blue-eyed. Her role as Monica Geller on the NBC sitcom series 'FRIENDS' was a turning point in her career. She has explored various genres in her career – from thriller and science fiction to fantasy and comedy. Audrey Hepburn and Bridgette Bardot are her Fashion Idols. For her, age is hardly a barrier to enjoying the good things in life. She has her own production company and has designed an eye shadow palette – Coco for Cargo Cosmetics (all profits go into the R & D, and prevention of the skin disease epidomolysis bullosa). It's time you sit up in awe of Courteney Cox.

Courteney Cox Height | Courteney Cox Age | Courteney Cox Boyfriend | Courteney Cox Family | Courteney Cox Professional Career
Personal Details
| | |
| --- | --- |
| Name | Courteney Bass Cox |
| Birthday Date | 15 June 1964 |
| Birth Place | Birmingham, Alabama, United States |
| Sun Sign | Gemini |
| Eye Color | Blue |
| Hair Color | Dark Born |
| Nationality | American |
| Religion | Anglican/Episcopalian |
| Education | Mountain Brook High School, Mount Vernon College. Such was her love for acting and modeling that Courteney left her course in Architecture. |
| Occupation | Actress, producer and director |
| Marital Status | Married |
Family Details:
| | |
| --- | --- |
| Father | Richard Lewis Cox (Businessman) |
| Mother | Courteney Cox (née Bass, later Copeland) |
| Siblings | Virginia Cox (Sister), Dottie Cox (Sister) and Richard Cox Jr. (Brother) |
| Spouse | David Arquette (1999-2013) |
| Children | Coco Riley Arquette (daughter) |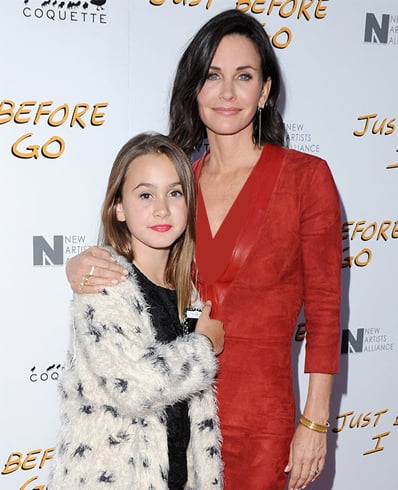 After the divorce of her parents, her father moved to Florida. Courteney Bass Cox has a stepfather – Hunter Copeland. He is a businessman to.
Past Relationships
The relationship story(ies) of Courteney Bass Cox is quite complex and vivid. Here is the who's who and when:
Ian Copeland (1984-1987): American music promoter and booking agent.
Paul Brown (1987-1989): American football coach. Paul and Cox stayed together for two years, after Cox parted ways with Ian Copeland.
Michael Keaton (1989-1995): He is an American actor. Keaton and Cox were together for 6 years.
David Arquette (m. 1999; d. 2013): Jack of all trades he is – American actor, film director, producer, screen writer, fashion designer. But more importantly, David Arquette married Courteney Bass (her 'Screams' co-star and on-screen husband in this movie) on June 12, 1999 on the film sets of 'Scream'.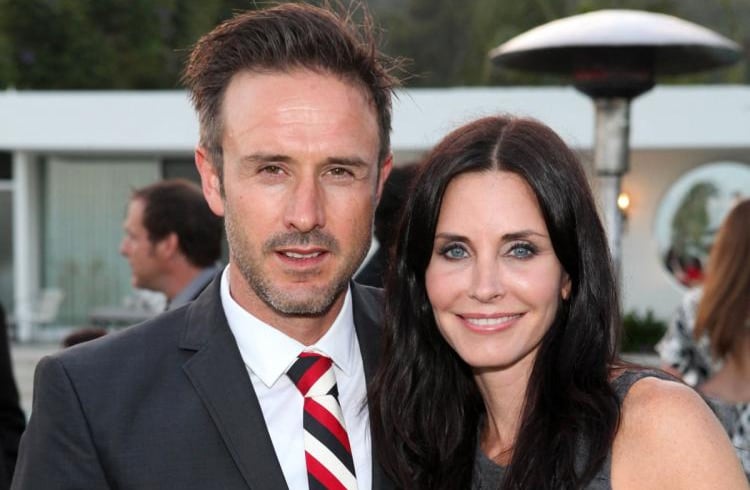 Josh Hopkins (2011): Courteney Cox got into a relationship with Josh Hopkins (star of 'New York Undercover') a year after she ended her marriage with David Arquette.
Brian Van Holt (2012-2013): Less than a year of dating, Courteney Cox broke up with her Cougar Town costar Brian Van Holt.
Johnny McDaid (2013-2015): 53-year old Cox says she would 'love' to have a child with 40-year-old Johnny McDaid, her fiance who is Snow Patrol band member. She added: 'I would. I know it's crazy, but I would.'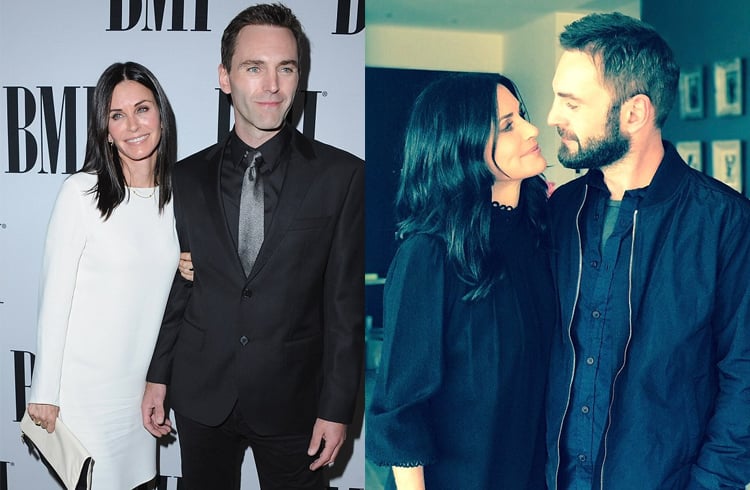 Body Status
| | |
| --- | --- |
| Build |  Athletic |
| Height | 5 ft 5 inches |
| Weight | 57 kg |
| Waist Size | 24 inches |
| Hip Size | 34 inches |
| Shoe Size | 7 (US) or 37.5 (EU) |
| Dress Size | 2 (US) or 6 (UK) or 32 (EU) |
| Body Measurement | 35-24-34 |
Courteney Cox Without Makeup
Let's check out the killer quotient of Courteney Cox without makeup:
[sc:mediad]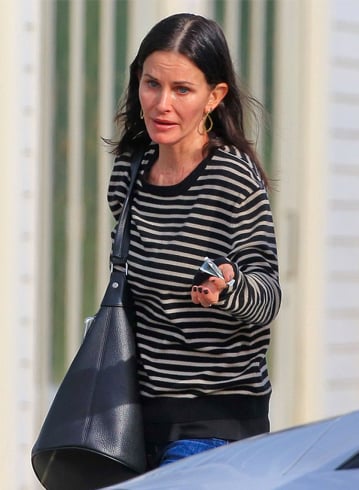 Favorite Things and Hobbies
| | |
| --- | --- |
| Color | Not known |
| Food | New York grilled steak with sautéed garlic spinach and broccoli (and maybe garlic chips or garlic fries) according to the actress. |
| Place | Not known |
| Sport | Tennis player and swimmer |
| Brand | Garnier, Apple Inc., BMW, Blackberry, Dolce & Gabbana, and Louis Vuitton |
| Actor | Johnny Depp |
| Actress | Not known |
| Film |  Fargo (1996) & Now and Voyager(1942) |
Professional Career
First Debut: Her first film was Down Twisted (1987) and her first TV show was As the World Turns (1984).
Brand Endorsements: Courteney Cox has appeared in TVC for the following brands – Pantene, Maybelline, Tampax, The New York Telephone Co., Coca-Cola, Head & Shoulders shampoo, Noxzema skin cream, etc.
BTW, Courteney has also been the spokesperson for Kinerase skin care products.
Says Courteney Cox about her association with Pantene "I love Pantene, and I really use it. I've been pretty lucky because I have thick hair, but I didn't realize that as you age and go grey, it gets thinner and starts breaking. When I'm working, I have to use a lot of styling tools—there's always some- thing hot plugged in—so when I'm not working, I don't even brush it. I just literally take a shower, use a conditioner, towel-dry it, and that's it. I think that helps keep it thick and healthy."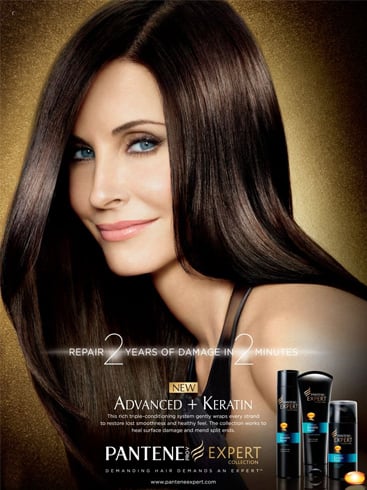 Career Achievements: Courteney Cox is best known for her role in the hit TV series "Friends" and "Cougar Town" (for which she got a Golden Globe nomination). Her big break came when she was offered a role in the music video of Bruce Springsteen "Dancing in the Dark".
Remuneration: $ 1 million
Net Worth: $ 120 million
Courteney Cox Weight Loss
With a well-toned body and killer abs, there is so much to Courteney Cox. How does she maintain her youthful body despite the fact that she has a 10 + year old daughter to look after?
Workout Plan:
Half the credit goes to Michelle Lovitt, Cox's trainer, who helps her tackle her trouble spots (on her body) by focusing on strength training. The other part is her strict dieting.
"My fitness philosophy is to be active in life and enjoy what I am doing," says Cox. "I have always loved exercise and feel that being active is important to maintain not only physical health, but mental health as well."
Here are some highlights of Courteney Cox's workouts:
Yoga (Chair Pose, Half Moon Pose)
Is there anything she can't live without when doing workouts? She is on her own committed to doing Tracey Anderson Method workout:
"It kicks my ass and I love it. The Tracey Anderson Method is two parts: dance aerobics and toning. The whole process is about working your accessory muscles, not just your major muscle groups that get worked all the time. You never stay in one constant motion so you don't get bulky in one particular area. I was turned onto it in July, and I've seen a big change in my body. And you want the [workout] room to be very hot."
Diet Plan:
Low or no-carb diet, lot of coconut water (after pure water) and no caffeine are some of the diet mantras of Courteney Cox.
Then there is eating healthy food which is her next area of focus.
Courteney told newyou.com,
"Luckily, some of my favorite foods in the world are vegetables. I just love kale, spinach, broccoli, asparagus. Anything green I crave".
According to ourvanity.com, Courteney also eats more of protein – in the form of chicken, steak, and some fish (like tilapia). Breakfast is light; Lunch means chicken salad; steak, chicken, or fish with vegetables for dinner. All these are enough to make Courteney's daily eating schedule complete.
As per getthegloss.com, "I'm not a big carb person, and I drink a lot of water and take vitamins. I am definitely a healthy eater. I eat tons of eggs, and I love turkey bacon. I don't eat a lot of fruit even though I'm looking at a beautiful bowl of it right now! But I love tomatoes". 
Cox takes vitamins religiously — omegas 3, 6, 9, as well as vitamin D.
Facts About Celebrity
 First things first. Courteney got registered in the Guinness Book of World Records for being the highest paid actor along with her co-stars. Can you believe it she was paid $ 1 million per episode for the last two seasons?
 Foo Fighters and Ben Harper are Cox's favourite bands.
Courteney's first film as a producer was "The Shrink Is In" (2001). It is an American comedy where Cox appeared in the role of Samantha, a travel journalist.
Courteney Cox owns a production company called 'Coquette Productions'. This was jointly created by Cox and her ex-husband David Arquette.
Year 1997, Courteney Cox was voted as 'Best Dressed Female Television Star'.
Can you imagine what Courteney got as a housewarming gift from Jennifer Aniston? $32,300 of bed linen.
What's so good about a "moving bookcase" which was featured in the movie Scream 3? It was BOUGHT BY COURTENEY COX.
Courteney is a talented pianist and drummer (this one is not expected, na?)
In her senior year at high school, Courteney got her first modeling assignment for a store called Parisians.
Though she was initially cast on 'Friends' as Rachel, later on it was decided that she fit the role of Monica Geller much better.
The interesting thing about Tampax commercial (the brand is into feminine care products) is not just the model Courteney Cox in it, but she was the 1st person to use the word "period" on TV.
So particular Cox is about cleanliness, that she became known for cleaning up the dressing rooms of her cast-mates.
On the set of 'Friends', Cox had a secret cabinet for candies. What was it called? Courteney's Candy Cabinet (which was filled with chocolate bars and bags of candy).
Cox got celeb Jennifer Aniston to be her daughter's godmother. Jennifer was Cox's co-star in Friends.
Name Courteney's two best friends? Harley and Hopper – two Cavalier King Charles Spaniels.
So how did you find this blog on Courteney Cox? Entertaining? Write in your comments and replies.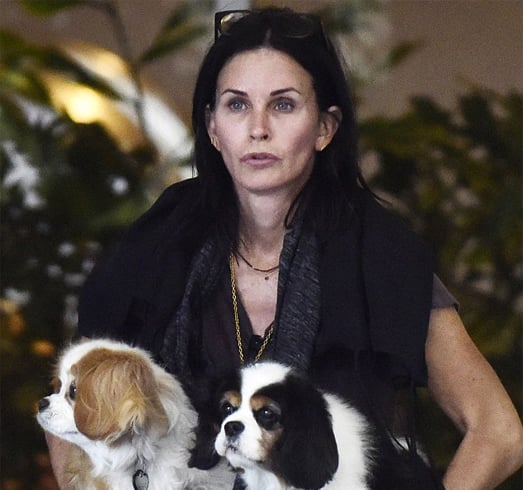 Images Source: pinterest