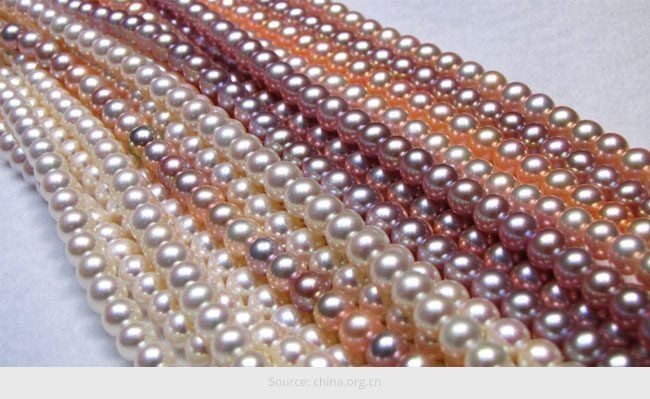 By now I have already guided you on where to buy pearls in Hyderabad, and also shared the history along with some relevant factors related to Hyderabad pearl shops. In this post, I'm going to share different types of pearls to choose from. Do have a read and be a pro next time when you buy pearls!
Whether you're willing to buy Hyderabad pearl jewellery online or visit the worldwide renowned Hyderabad pearl market, it's necessary that you are aware about your requisite. The basic information about pearls will not only help you land on the best deal but also put an impression over the shopkeeper that he is dealing with a well-informed customer. He will be further careful in dealing with you and offering you items at a sensible rate.
[Also Read: pearl powder benefits]
Let's go through the different types of pearls to choose from
As I have already mentioned in my previous post about the types of pearls that includes natural and cultured, the latter ones are commonplace and affordable too.
What are cultured pearls?
A cultured pearl is a real pearl that is created under controlled conditions. The outer coating of the cultured pearl is same as of natural pearl, which takes couple of years to be formed in a mollusk's mantle under natural conditions.
Sometimes, Hyderabad pearl shops mislead customers by referring freshwater pearls as 'cultured pearls'. In order to avoid such misled deals, let us go through these types of pearls in detail –
Freshwater pearls
A freshwater pearl set will cost you from Rs. 1000 till Rs. 10,000 depending upon the design and number of beads used. These pieces are extracted from freshwater mussels and are mostly imported from China to Hyderabad pearl market. These pearls come in a variety of shades ranging from white, pink, black and purple to peach, lavender, tangerine and plum. The typical size of these reasonably priced pearls in Hyderabad range from 2 mm to 16 mm.
Akoya pearls
Akoya pearls are classic white pearls, which offer the highest luster compared to all the pearls, thereby radiating the greatest brilliance. Akola pearls usually range from 5 mm to 11 mm. However, the most commonly found size is from 7 mm to 7.5 mm. These pearls are usually found in white, cream, ivory and rose shades.
[sc:mediad]
Tahitian Pearls
These pearls are extracted from warm water of the South Seas. These organic gems are usually found in black shades and are formed from the black lip oyster. The Mangatrai jewellers in Hyderabad were the first in the city to introduce 'The Tahitian natural color cultured pearls' in the market. They have also been felicitated by the Tahitian Government in 2005. Apart from black, these pearls are also found in silver, gray, blue, green and purple shades.
South Sea Pearls
South sea cultured pearls are high end quality pearls and are mostly found in silver and white shades. The South sea pearls are extracted from the white-lipped pinctada maxima oyster, which is larger than the oysters that produce Akoya and Freshwater pearls. Therefore, their pearls are also larger and rounder with more smoothness. These are the rarest of all pearls, thereby making them expensive than the rest of the pearls.
So those were the different types of pearls to choose from. Next time when you visit Hyderabad pearl market, you can easily pick distinctive type of pearls that matches your budget and preference.