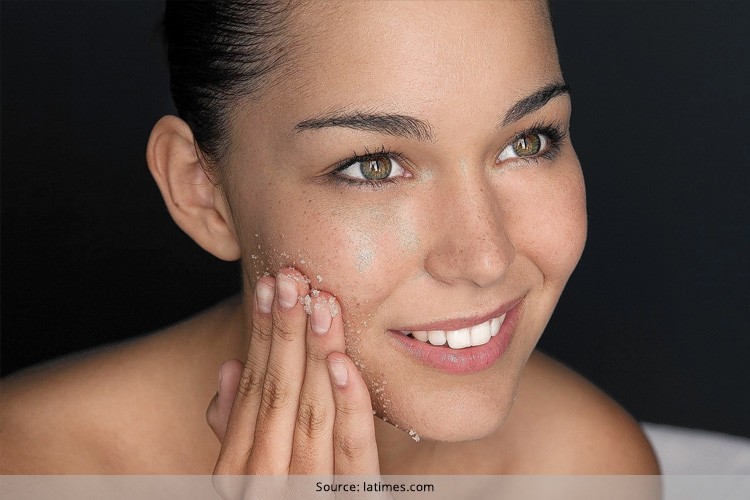 Oh so you are feeling on top of the world seeing those tiny plastic beads found in face and body scrubs? Yeah, microbeads as they are called make you feel as if they will do maximum scrubbing and exfoliating your skin making it shine.
[Also Read: Top 7 Face Scrubs In India]
But you need to rethink on this exfoliation part. Kya hai ke these innocent face-softening beads leave not such a bright impact on the environment. Since they absorb toxins in the water, they are a serious threat to the fish community that swallows them. Eeks!
Fear not as there are couple of alternative for microbeads in microbead free products that are gentle, but without those polyethylene beads which can be harmful to the skin.
Microbead Free Products
I take you through a basket of microbead free cosmetics that will do your skin proud without causing any backlash to the environment. These biodegradable 100 percent effective alternatives such as rice, apricot seeds, walnut shells, powdered pecan shells, bamboo, among others exfoliate your skin naturally.
Bioré Acne Clearing Scrub
Unlike plastic microbeads in cosmetics, this classic face cleanser owes its power to microcrystalline wax beads, which decompose leaving your skin happy without being nasty to the fish. So this microbead free scrubs is a win-win, for both animals and humans.
Burt's Bees Peach & Willow Bark Deep Pore Scrub
The pore-clearing scrub of Burt's Bees has willow bark, which removes dirt and excess oil. The Peach Stone gently polishes your face.
Elemis Gentle Rose Exfoliator
In this clear gel formula, you will see tiny jojoba esters that give your skin a decent buff without causing any itchy or scratchy feeling. On top of it, this type of natural exfoliators has delicate floral scent that leaves a calm effect.
Elizabeth Arden Ceramide Line Smoothing Exfoliator
Enjoy the luxury of thick creamy formula and the gold tube in this microbead free cosmetics where ceramides make your skin looking smoother after just 2 weeks of cleansing during night time.
Kiehl's Pineapple Papaya Facial Scrub
Made with real fruit extracts of pineapple and papaya, and apricot seed powder that is finely ground, your face will glow with pleasure with this alternative for microbeads.
[Also Read: Shelf Life Of Cosmetics]
Murad Age Reform AHA/BHA Exfoliating Cleanser
With lactic, salicylic and glycolic acid exfoliants, this pearly white cream gives you double the skin polish. Moreover, jojoba oil in it makes your skin feeling super duper soft.
Philosophy The Microdelivery Peel
It takes two products – Lactic and salicyclic acid gel and Vitamin C peptide crystals to bring you instant skin brightening results. First apply the peptide paste, and then follow it up by gel which will turn into white foam when applied on skin. The brightening results would be instant.
[sc:mediad]
Renée Rouleau Mint Buffing Beads
Worry not as the jojoba esters in this microbead free products are safe for fish folk. The peppermint oil whipped formula gives your face a luxurious feel.
SkinCeuticals Micro-Exfoliating Scrub
This promising facial scrub has microbeads not made from plastic but from diatomaceous earth, a natural mineral that you can actually eat. Further it has aloe vera to moisturise your skin.
SkinMedica AHA/BHA Exfoliating Cleanser
Containing jojoba in such a superfine way, this microbead free products is a smooth gel that feels more like a moisturiser than natural exfoliators.
The alpha and beta hydroxy acids in this cleanser repair sun-damaged skin, and promote new skin elasticity.
S.W. Basics Exfoliant
When the product label reads "Sorry, No Plastic Micro-Bead Technology Inside, Oops", you can well imagine the power of this natural exfoliators free from microbeads.
Only three ingredients make this microbead-free exfoliant – organic oat, almond flour and sea salt.
[Also Read: Eco-Trendy Vegan Cosmetics]
After reading this, are you still going to choose plastic microbeads in cosmetics or go for alternative for microbeads? It might be a tough task Banning microbeads but nothing is more precious than your skin. Think it over. We would like to get your views on Banning microbeads in cosmetic items.