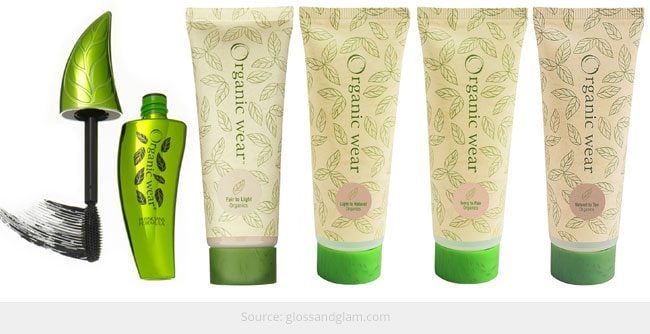 Looking good and desirable is always the first preference when it comes to ladies. For that, the options are innumerable and cost-effective. But think of the wide variety of chemicals that go into our luxury soaps, skin cosmetics, moisturisers, perfumes. Ugh! Doesn't this scare us? The need of the hour is eco-friendly cosmetics that are healthier, safer, more effective and paraben-free.
In the growing market of eco-friendly aka vegan beauty products, here are some of the best organic beauty brands in India and the best of the products they have. Most of these brands have their own websites which offer online shopping. You can even find them on popular e-commerce websites selling beauty and organic products.
[Also Read: Most Popular Cosmetic Brands]
Forest Essentials
The name Forest Essentials comes from the very fact that all its ingredients are sourced from plants, trees and herbs, naturally grown in forests. They think of beauty products as "food for the skin" and manufacture their products from the purest of the natural raw materials of the highest quality. Their oils, lotions, ubtans, soaps and body mists don't just pamper the skin and hair but are also a sensory delight!
Apple & Bears
Apple & Bears is a family owned and operated by a British company that produce luxury cosmetics sourced from the finest organic and natural ingredients. Their products are created by specialists dedicated in the field of natural and ecological products. From sourcing to manufacturing, the product ingredients contain the purest quality flower and plant extracts that are eco-certified, natural and organic. Some of the key products include Bergamot & Green Tea Body Wash, Pomegranate & Aloe Vera Body Wash amongst others.
[Also Read: Cruelty Free Beauty Brands]
Nature's Co
Welcome the luxurious experience of one of the best vegan cosmetics, filled with all natural ingredients. Certified by PETA as vegan and cruelty-free, Nature's Co. combines the best natural ingredients across the globe. While their body scrubs are a must have, their mint face wash is absolutely refreshing and rejuvenating. Animal-based ingredients are hardly used that are essential materials in any skin care product.
Iraya
Beautifully packaged but on the expensive side, Irava brand of cosmetics is for those who prefer quality inside and design edge that speaks on the labels. Iraya's product range is a mix of botanicals, bath and shower, ayurveda and spa at home. Check out their uniquely formulations such as Cellulite Detox Gel, Bath Tea Lavender, Bath Bombs (dip in bath), Body Mist (spray on after shower), apart from the Hibiscus Balsam Conditioner, Indian Jasmine Day Cream. The ingredients are such that they do their magic in nourishing your body and relaxing your mind.
Body Shop
The Body Shop presents a new line of bath and body products with Argan oil. Argan oil benefits for skin, hair and body are innumerable. Argan is an indigenous plant grown in Morocco. The organic Argan oil from The Body Shop is carefully extracted by pressing the seeds of Argan. The seeds are then crushed and taken through a slow filtration process lasting 48 hours, to extract the purest possible oil. Argan oil is rich in polyunsaturated fatty acids, above all linoleic acid (Omega 6). A bath with Argan oil prepares the skin, exfoliates the skin and removes dead cells, hydrates with body lotion.
[sc:mediad]
Nature's Essence
Nature's Essence boasts of having one of the most evolved product mixes with over 500 offerings from categories in skin care, hair care, body care, soaps and colour cosmetics. It also masters the art of educating the practicing beauticians. The company also runs an academy by the name Salon, that provides beauty therapy training courses.
Just Herbs
Completely organic in nature, Just Herbs products for women have no parabens, petrochemicals, and other chemicals. Their range is inclusive of body, skin and hair care products and is available for purchase on most organic stores, online portals, lifestyle and spa stores.
Rustic Art
One of the most popular organic brand that sells organic vegan cosmetics and other beauty and wellness products, Rustic Art has hand-crafted bath soaps that are infused with essential oils like geranium, sandalwood, vetiver, orange and cinnamon as hot sellers. They also have biodegradable shampoos that are free from parabens and sulphates and give you gorgeous hair after each wash. If you are looking at pampering your skin, try their range of body lotions and oils and you won't be disappointed. Their products are available on their website and are well-demarcated in terms of function, ingredients and therapeutic value.
Soulflower
This is one home grown vegan cosmetics brands that is based on the concept of Aromatherapy. Pick the luscious mix of bath products that includes bath salts, carrier oils, essential oils, soaps and massage oils. What delights buyers is a burst of colours and gorgeous packaging that it kind of impresses you to eat them, if their Bite Me Chocolate Soap is enough to drop a hint. Everything you wanted to know about aromatherapy, this is definitely the place to be. Interestingly, the oils from Soulflower can be used as moisturizers too after a shower since they are light and give a divine fragrance.
Tvam
Tvam brings to you state of the art beauty products that are made with natural ingredients. Their range of products includes bath salts, bath oils, handmade soaps and scrubs – all with the goodness of natural raw materials and enticing fragrances from essential oils. They also have specialized hair oils and tonics to battle common problems like hair fall, dandruff and premature greying. You can pamper your face with their cleansers, toners, creams and face packs.
[Also Read: color changing cosmetics]
Like many things, beauty products gain a level of familiarity and comfort for the consumer….the hard part is choosing which one!