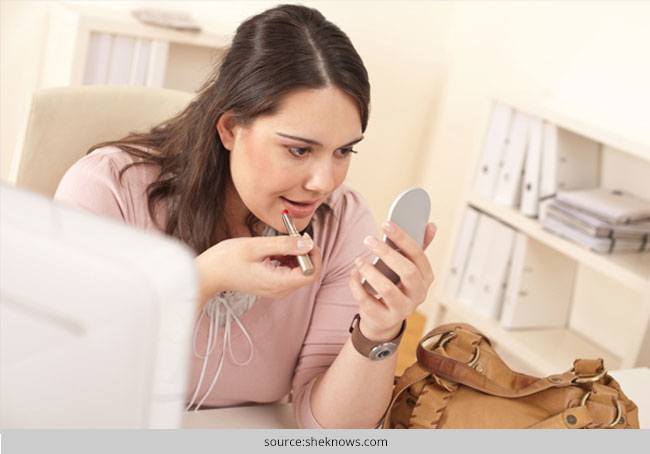 Sofia Vergara had once said, "If I walk outside without lipstick, I feel naked." Almost every woman would agree with her. Having said that, there are many working women who hesitate wearing lipsticks to work. In order to save these ladies from showing up with naked pouts, I offer them some fail safe tips on some of the best lip shades for office wear.
Do have a read and stay inspired!
Most working women prefer going to work without lipstick. Reason being, they're skeptical their workplace culture may not appreciate their style quotient. However, all they need to do is to understand what lip shades to wear to work. For instance, you'll have to follow some do's and dont's to sport a bright lipstick if you are the vibrant types, if you are the daring and dashing lass, you are sure to love bold shades of bright and dark reds, but these should be strictly avoided. If you're the girly girl, you are sure to get attracted towards glitter and shimmer. But that's a strict NO to the work place. There are many shades that can be gracefully worn at your office without violating your corporate culture.
Here are a few lip shades to wear to work –
Mauve Lip Shade
Mauve is one shade that is preferably worn in summer and spring seasons, and because of its extremely cool and pleasant tone; this shade can be worn to workplace as well. Many women mistake this color to be pink, purple and even beige. But this shade is a combination of purple and pink. You can simply apply one dash of this shade and your face instantly looks fresh and ready for work. While mauve is one of the apt lip shades for dark skin people, it suits pretty much every skin tone.
Here are some best lipsticks in mauve for workplace –
[sc:mediad]
1.L'Oreal's Colour Riche Lipcolour in Mauve
2.MAC Midi Mauve Lipstick
3.Maybelline Moisture Extreme Lipstick Dusky Mauve
4.Colorbar Velvet Matte Lipstick in Forever Mauve
The key here is to know how to find the perfect lip color for your skin tone.
Peach Lip Shade
Peach is another great shade that is extremely feminine and ideal for workplace as well. It's subtle and light tincture makes it the ideal lip shade for office. The color peach is one of the perfect lip shades for fair skin, because of its extremely light tone. For darker pigmented lips or those with extremely pink pouts, you can opt for Wet n Wild's Sunset Peach, as this lipstick is both sheer and shimmery.
Here are some more ideal lipsticks in peach for work –
1.Lotus herbals Perky Peach
2.Faces Ultime ProLong Wear Lipstick Peach Blush
3.Revlon Colorburst Lipstick in Peach
4.Revlon Super Lustrous Lipstick Smoked PeachNYX Round Lipstick in Peach Bellini
5.Elle 18 Color Pops Lipstick-Peach Kiss
6.Lakme Absolute Matte Lipstick Peach Carnation
So those some fabulous lip shades to wear to work. However, keep in mind that lip shades for post office timings should be more on the glossy front.