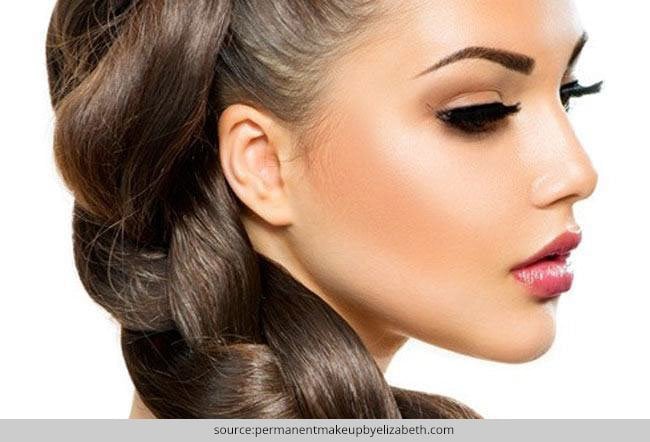 We have already discussed in our previous post on how essential it is to include brows in your makeup routine, especially when you are particular about obtaining a noticeable look. No matter how much you have focused on your lids and lashes; your eyes look incomplete unless the brows are groomed. In this post, we are going to share with you a step by step eyebrow makeup tutorial.
Read on and learn how to do eyebrow makeup and see the difference yourself!
Perfect Eyebrows
Well defined brows can dramatically enhance the charm of your face, by making your eyes look much more prominent and attractive. With different types of eyebrows to take inspiration from, beginners can get overwhelmed which one to go for. I suggest Stay-All-Day Waterproof Brow Color pencil for the first timer, as this pencil easily glides on the brows without smudging. And its fine tip helps in contouring as well, thereby effortlessly defining the shape of your brows.
There are different filling methods. While some makeup connoisseurs use brow powders, others go for the gel pen. There are also some good cream products available to define the brows. The latest to have been launched is the Milani Brow Tint pen. Once you get fair hands on how to do eyebrow makeup, you can try other brow products and see which one works better.
How to select eyebrow makeup
If you do not have any brow powder or not getting the brow products in your nearby market then do not panic. You can still groom your brows by using brown eye shadow in matte finish.
Do not go for pigmented eye shadow as your brows need to look naturally defined and thicker. You can simply go for an inexpensive eye shadow that matches your hair color to apply on your brows.
And if you don't have an eyebrow pencil then you can go for brown eyeliner to define the shape of your eyebrows. But do not directly apply, instead scribble at the back of your hand and then with a brush apply it carefully on the crease.
  [sc:mediad]
Try reaching out for both brow powder and pencil if possible. While the powder will give you a softer and natural look, the pencil yields a well defined and clean shape to your brows.
To apply eye makeup everyday, make sure you follow the tutorial and practice it regularly to get an illusion of perfect eyebrows.
Supplies you will need for eyebrow makeup –
Smashbox Lid Primer Anastasia Brow Wiz
Sonia Kashuk stiff angled brush
Smashbox Brow Tech
Here's step by step eyebrow makeup tutorial –
Firstly, apply primer. Take this as a thumb rule. Always apply primer before wearing makeup to ensure it stays longer
Now use the brow pencil to create a defined shape underneath your brows
Now repeat the same for the top crease, but draw a defined line across 3/4th part of your brows
Be very careful in defining the tail part, as it should not elongate and make you look melo-dramatic
Now use a clean mascara wand to blend the color up through the brows
Now apply some brow powder on a stiff angled brush and run it across the brows. Make sure you fill only 3/4th of the outer edges
Now do not dab more powder, instead apply the left over part across your inner brows
Voila! You are done with your eyebrow makeup
For those who love needles, we have good news for you too. Eyebrow tattoos are a new trend in town too.
Hope this step by step eyebrow makeup tutorial gives you some cues for your makeup routine!