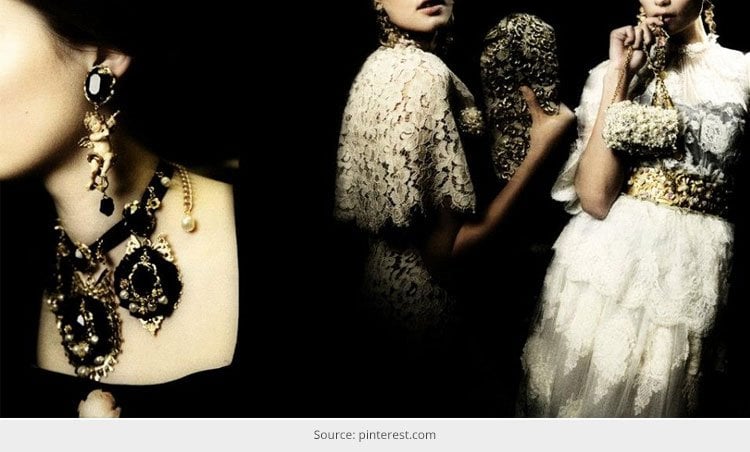 When it comes to exhibiting a perfect show, nobody does the Dolce and Gabbana way. The fashion house is these days taking cues from their own motherland, Sicily. If you're looking for any artistic inspiration, Italy is your ultimate destination.
The Italian art and frescoes can inspire anyone from fashion experts and philosophers to painters and anyone who has a knack for art. After showcasing an amazing fashion show, inspired by Sicilian Cathedral mosaic prints and frescoes; the fashion label has once again come up with some terrific jewelries other than shoes in baroque designs.
It seems nobody understands the Baroque art better than Domenico Dolce and Stefano Gabbana. the duo is completely in love with the Baroque art.
Before moving further let's have a look at the Wikipedia illustration of this form of 16th century Italian art,
"The Baroque is a period of artistic style that used exaggerated motion and clear, easily interpreted detail to produce drama, tension, exuberance, and grandeur in sculpture, painting, architecture, literature, dance, and music. The style began around 1600 in Rome, Italy and spread to most of Europe."
Not only Italy but the entire fashion fraternity is proud of these duo designers, who have given a new edge, a new definition to vogue through their awe-inspiring designs and impeccable workmanship. As Vogue puts it this way, "life-affirming embrace of womanhood, la famiglia, the monuments, the sunshine, the culture."
They not only understand the cuts and silhouettes, but perfectly balance the look with statement jewelries, shoes and bags – a complete fashion package for any fashionista.
While sometimes their outfits speak alone of attractiveness, they combine their designs with some breathtaking pieces to justify the femininity of the existence through lotharios, ragazzi, curates, bambini, signorine and mamme.
Their Baroque-inspired accessories are ornate, rich in artistic significance suiting all occasions and moods. Their jewelries add an almost D&G-esque to any of our outfit you pair with.
Meanwhile, these Victorian-era inspired patterns are sitting perfectly with the fall fashion trends. So, you can just grab some of these items, which complement your ethnic wear as well.
While the romance between the Dolce & Gabbana and Baroque-style jewelry continues, the Gothic-inspired fashion is back with a vengeance.
These rebellious jewels have gradually taken over the contemporary art this season mainly because of their Baroque twist. These days, the fashion house is releasing almost everything with baroque elements. The best part of their accessories is that they are soft on the wearer's skin yet look rouged with dose of attitude.
[sc:mediad]
Today's free-spirited woman can easily adorn them to boast her bold fashion statement, while their intricate lace work-pieces with lustrous pearls and gemstones reflect femininity in the real sense.
Nothing is left to chance in this collection, with every accessory studied and embellished. And remember: the bigger the better! (Dolce&Gabbana)
You'll love everything about their collection from tulle maxi necklaces to sculptured earrings and golden filigree head accessories.
Hope you enjoyed this post!