After writing an elaborate piece on A-Z dictionary of fashion, I decided to cover all types of shoes, their brands and their requisites in this one-page compact dictionary. Do have a look!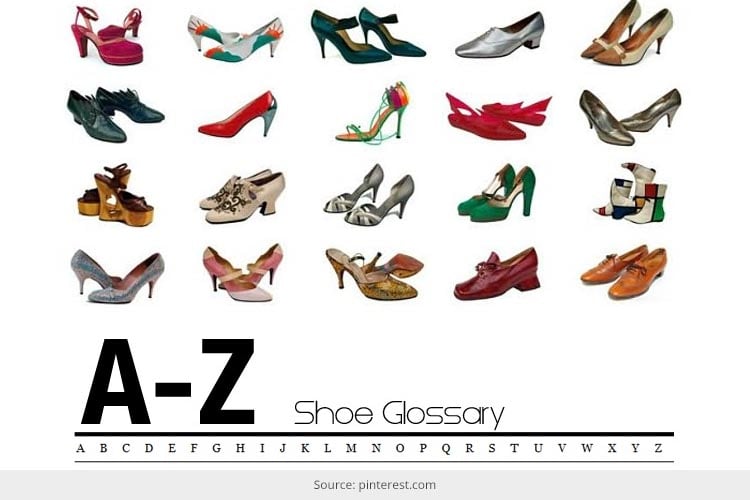 P.S. You may not find shoes for every alphabet
A
Ankle Boots – These shoes are quite a rage in women's fashion these days. Also known as Chukka boots, these are made from suede or calf skin and are also available in exotic crocodile skin.
Brands starting with A include Adidas, Adio, Alexander McQueen, A Line Kids, Asolo, Avia etc.
B
Booties – These footwears resemble a boot in design but do not have heels.
Boots – These are the most commonly used footwears by men even worn my women largely. This pair covers the entire foot, stretching up to the height of the anklebone and sometimes even up to the thigh, especially the winter boots.
Brogue – This pair of shoes features heavy oxford-style along-with perforated detailing.
Brands starting with B include Bata, Burton, Bibi Kids, Bombshelle, Boss Hugo Boss, Bebe, Birki's, Bastien etc.
C
Canvas – These are among the most comfortable foot wears, which are closely woven from heavy cotton, hemp or linen.
Clog – This is one of the patterns found in women's shoes. It is a closed toe shoe with a platform sole and a wooden heel.
Combat boots – This is a pair of multipurpose boots, initially created for soldiers and military personals.
Cowboy boots – These boots are enabled with chunky, high slanted heels with pointed toes and embellished stitching extending to mid-calf.
Crepe – This is a natural rubber featuring a crinkled texture that is used in shoe soles.
Brands starting with C include Calvin Klein, Christian Louboutin, Cinderella, Carlos, Cordani, Circa Joan & David, Camper, Cougar Kids etc.
D
Deck shoes – These are similar to canvas shoes and are also known as boat shoes. They are enabled with rubber, designed specially for boats. These were mainly used by sailor until in 1980, they became fashionable for their moc-toe structures.
Brands starting with D include Dolce & Gabbana, Daniel Green, DKNY, Donna Karan, Diesel, Docle Vita, Designer's Touch, Dickies etc.
E
Espadrilles – These are usually causal flats belonging to Pyrenees. These shoes feature cotton fabric with a flexible sole made from rubber. the major highlight of these foot wears is the jute rope sole.
Elevator Shoes – These have thickened insoles, known as 'lifts' under the heels to make the wearer look taller. The heels of these shoes are made from plastic, rubber and also from wood.
Brands starting from E include E-Sport, Elle, Eagle Mountain, Ed Hardy, Emilio Pucci, Ecco, Ecco, Earth, Etro, Eastland etc.
F
Flip-flops – These are the most comfortable flats preferred to be worn at homes and casual situations. Their flat sole is loosely held by a Y-shaped strap that passes between the big toe and the second toe.
Flats- Shoes that do not have any heels.
Fringe- Suede fabric that is cut into pieces to create movement in shoes.
Brands starting with F include Fila, Five Ten, French Sole, Faryl Robin, Fubu, Fender Footwear, Fox, Fly Hot, Franco Russo etc.
G
Golf Shoes – As the name suggests, these are worn by the golfers, which feature spikes attached to the soles. These soles can be of plastic or metal, mainly designed to increase the traction to help golfers maintain their body balance.
Brands starting with G include Gravati, GoLite, Guess, Giga, GBX, Gretta, Gentle Souls, Gianni Bravo, Gallaz etc.
H
Hiking Boots – These foot wears are specially designed for hiking enable with high-end quality and durability, helping hikers to move faster and farther safely. These boots offer optimum comfort to the hikers' feet while walking in mud, water, rocks and wilderness.
High heels – These women's shoes are built with towering heels. Unlike the platform heels, the heels are raised resting the toe and give the wearer longer and slender looking legs. The high heels are available in stiletto, pumps, wedges, block and tapered designs.
Brands starting with H include Hush Puppies, Hale Bob, Hi-Tec, Hype, Hurley, Hawk Shoes, Helle Comfort, Hunter, Hobo etc.
I
Ice Skates – These shoes come along-with blades attached to the bottom. The blades propel the wearer against sheet of ice. These are also used widely in sports such as ice hockey, figure skating and bandy.
Brands starting with I include Indigo by Clarks, I.Travel, Impluse, Isabella Fiore, Ipath, Icon, Instride, Irish Setter etc.
J
Jellies- Man-made shoes with, a soft, rubbery material.
Jack Boots – These are usually military boots mainly worn by French stage coach or diligence.
[sc:mediad]
Brands starting with J include Jimmy Choo, Judith Leiber, Jumping Jacks, Jean Paul Gaultier, Joh Deere, Jessica Simpson, J Lo, Joe's Garb Shoes etc.
K
Kamik – Also known as Mukluks are soft boots made of reindeer and also seal skin, originally worn by Arctic inhabitants such as Yupik and Inuit. These soft boots are designed for extreme cold climate.
Brands starting with K include K2 Skates, Kenneth Cole, Kilah, Kodiak, Kenzo, KORS by Michael Kors. Kid Express etc.
L
Loafers – These are among the most fashionable foot wears having a moccasin construction. These shoes were used as casual wears until Michael Jackson popularized these foot wears using them as one of his trademarks.
Brands starting with l include Lotto, Lumiani, LifeStride, La Plume, Loewe, Lacoste, Lauren by Ralph Lauren, Little Laundry etc.
M
Mary Jane- These are widely worn by school girls. These shoes have low heels and strap across the instep.
Moccasins – These shoes are made from soft leather. the sides are stitched together at the top with a vamp and visible stitching around the perimeter of the toe box, creating a gathered effect.
Brands starting with M include Marc by marc Jacobs, Mad Rock, Mcbeth, Melissa, Mia, Mephisto, Moschino, Michelle K etc.
O
Oxfords – These are laced shoes defined by shoelace eyelet tabs. These are usually formal shoes made of leather.
Brands starting with O include Oakley, Orvis, Onex, Oh! Shoes, Ocean Minded, On Demand, O'Neill, Original Penguin etc.
P
Platform Heels – These shoes are enabled with thick soles under the front edge of the feet thereby not giving an elevated posture to legs unlike heels. These are among the most commonly used women's foot wear.
Peep toe – A shoe that has an opened toe in the front.
Brands starting with P include Puma, Paul Smith, Palladium, Playhouse Kids, Privo by Clarks, Paraboot, Pleasure USA etc.
R
Roller Skates – These are actually devices worn to enable the wearer to freely roll on the wheels.
Riding boots– These boots are designed specifically for riding horses. These shoes are usually knee-high and with a low heel.
Brands starting with R include Ralph Lauren, Red Tape, Reebok, Rocky, Red Wing Shoes, Roberto Cavalli, Rachel, Rocawear etc.
S
Saddle Shoes – These are similar to sneakers and are mainly defined by saddle-shaped panel and plain toe.
Sandals – These are open toe back shoes made up of leather, wood and come along-with fabric straps across the foot.
Suede Boots – These are favorite among the new-age fashionista. These boots are made up of suede leather with soft napped surface.
Brands starting with S include Steve Madden, Sudini, Sorel, Sebago, Sneaux, Scott David, Stacy Adams, Spira etc.
T
Tennis Shoes – These are athletic shoes, mainly designed for sports and physical exercise and are these days also used as regular wears. These are available with high-tops, low-tops, mid-cuts and also in calf length.
Thong- A sandal with an asymmetrical "y" strap that passes between the first two toes.
Brands starting with T include Timberland, Tommy Hilfiger, Ted Baker, Transport London, Totes, Trotters etc.
U
Brands starting with U include Ulu, Umi, United Nude, Unlisted, Ugg, Unisa etc.
V
Valenki – These are traditional Russian winter boots made up of wool. They are however not water-proof and are hence, worn with  galoshes to keep water out, protecting the soles from wear and tear.
Brands starting with V include Vera Wang, Von Dutch, Vaneli, Venettini, Vis Vie, Von Dutch, Via Spiga etc.
W
Wedges – These women's wear have heels that lie flat to the ground, extending from the shank to the back of the shoe.
Wellington Boots – These boots loosely resemble leather Hessian boots. These boots were mainly worn by the First Duke of Wellington and so got their name. In early 19th century, these were staple for hunting and outdoor wear.
Brands starting with W include Woodland, Walking Cradles, Woolrich, Wolverine, Western Chief, White Mt. etc.
Z
Brand starting with Z includes Zara.
Hope you found this post interesting!