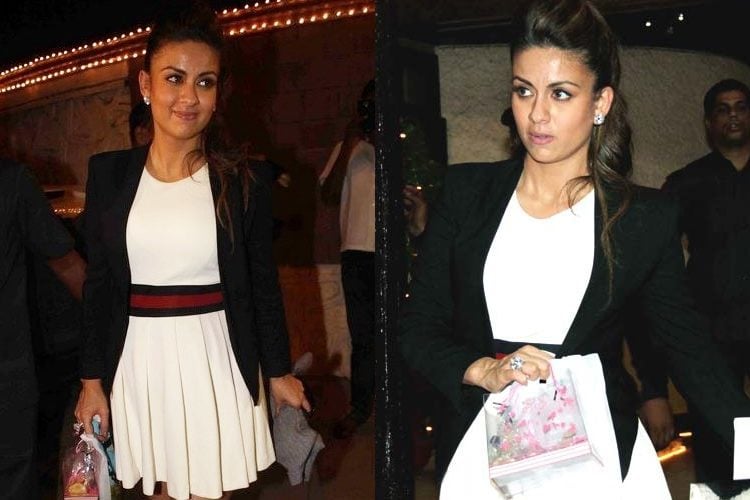 Natasha Poonawala is pregnant and we can feel the excitement in the air. Of course we get happy for everything, but pregnant celebrities get us excited like a cat on catnip! Why? Because they give us styling tips and we love to file them in our style files and use them for when we need it.
On side news – Kim Kardashian is also pregnant. But we can hardly follow her fashion now, right? Because she either covers herself in flowers, like so –
Or in body-con dresses like so –
So when the likes of Natasha Poonawala get dressed in a cute Gucci dress, we melt and start singing – my dil goes mmm..!
Take a look at what Ms. Poonawala wore for Aaradhya Bachchan's birthday bash!
[sc:mediad]
Doesn't she look adorable?!
To add a bit of glamour to her look she wore a black blazer on top of her Gucci dress and finished her look with knee high lace pumps. Dewy makeup (or perhaps it's the pregnancy glow), diamond studs and a high sleek pony finished her look.
She looked very cute!!
Alternatively, if you want a breezy and baggy look while you are preggers, you could wear what Genelia D'Souza wore for Aaradhya Bachchan's birthday bash –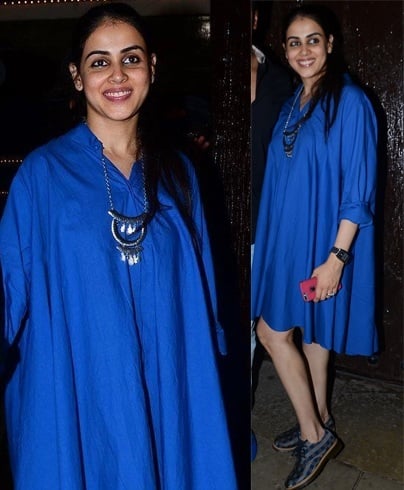 Her cobalt blue baggy dress came from the house of Bungalow 8. She finished her look with a pair of brogues and a silver tribal necklace. She looked good!
But wethinks Natasha looked better!