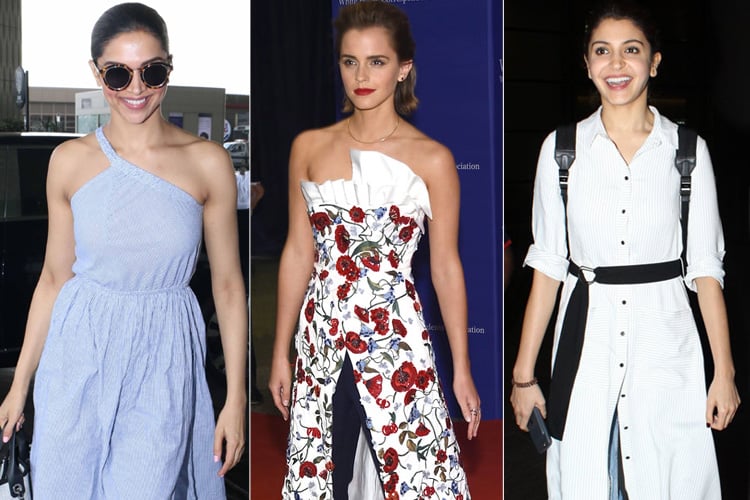 Layering is one part of styling that has always remained in trend. Perhaps the best part of layering is mixing various elements together. Basically, we all know the minimal ways of layering that involves wearing tees, denims, blazers or skirts with sweaters. But these tricks are mostly reserved for the warmer months. But don't you think there should be a layering trick for summer too and which also meet the trend? In point of fact, you can achieve that with the coolest pair up of dresses and trousers.
This fashion idea can also be more office appropriate than wearing a dress. And you can still remain comfortable and chic. Other than that, you can pull off your unlimited line of dress and create various combinations. You can pair this cool pair up with heels or without.
Dresses over trousers are in sync with the trend and these celebrities know how to work the trend. Just like how Shraddha Kapoor pulled off for her dress and pant combination with knee-high boots or Anushka Sharma's took off with her casual teaming. You can take inspiration from the versatility that these celebrities have shown through this visual treat.
Jacqueline Fernandez
Check out how Jacqueline Fernandez balanced off her voluminous dress with fitted denims. This is a great combination example to keep your ensemble together. You can also opt for well-fitting leggings instead of denims to recreate this look.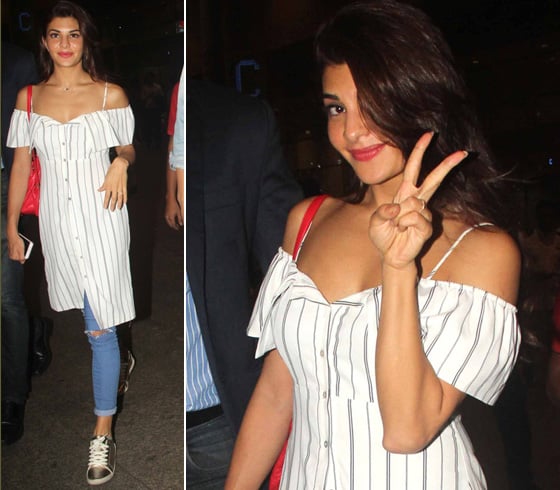 Deepika Padukone
Take cue from Deepika Padukone's airport look. She wore a pale blue flared dress with a high slit paired with denims, brown mules and a Chanel tote bag. The long slit allowed a subtle show of her legs and denims. This is what we love to see.
[Also Read: Deepika Padukone]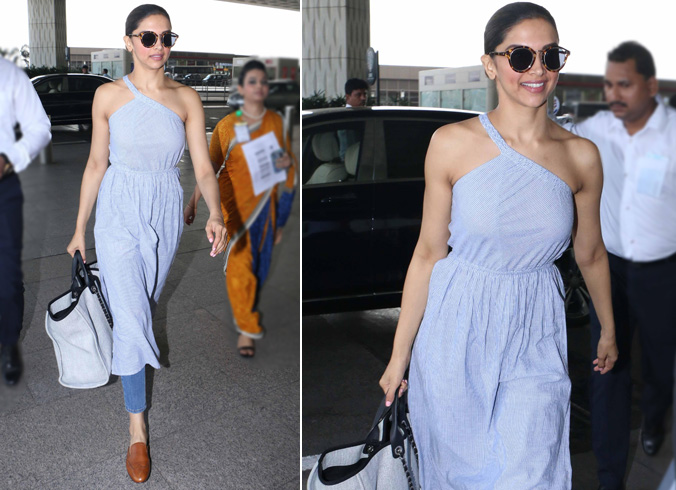 This is another of Deepika Padukone's airport look. She channeled a blue stripe maxi dress with a high knee slit and denims. Her retro shades is just the right kind of funk.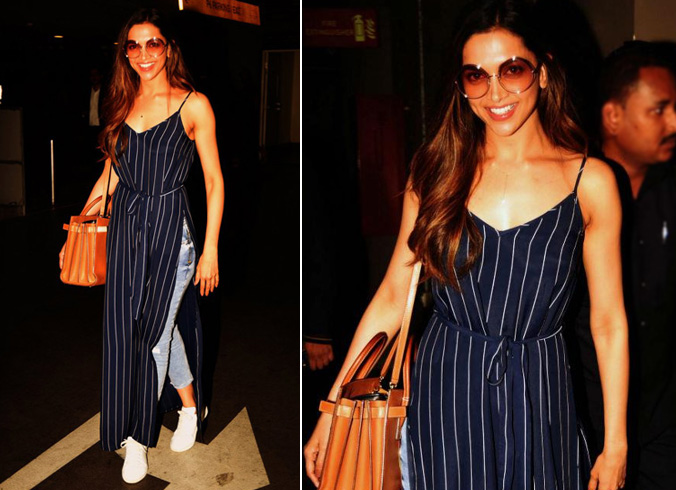 Anushka Sharma
So what if you are wearing ripped denims? You still can team it with a dress just like how Anushka Sharma flaunts it. Her button-down shirt dress is long enough to cover her legs but just the right fit to show a glimpse of her ripped denims. Inspired enough?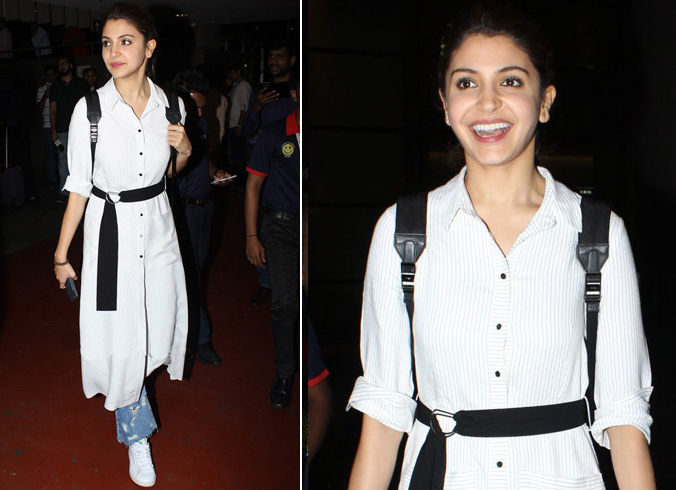 Alia Bhatt
Meanwhile at the Star Screen Awards, Alia Bhatt had a Kiernan Shipka moment during her past Emmy moment. Both actresses are seen wearing floral off shoulder dress with sleek black pants. While Alia Bhatt is wearing a Monique Lhuillier dress. Shipka, on the other hand, is seen in a Dior haute couture.
[Also Read: Alia Bhatt]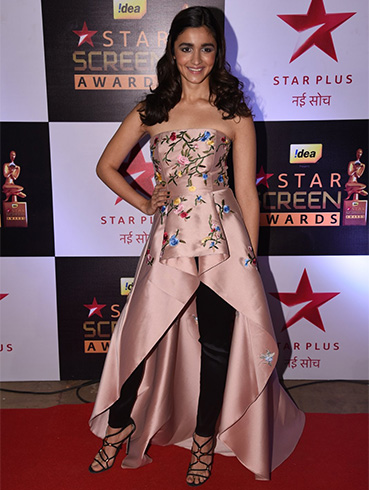 Kiernan Shipka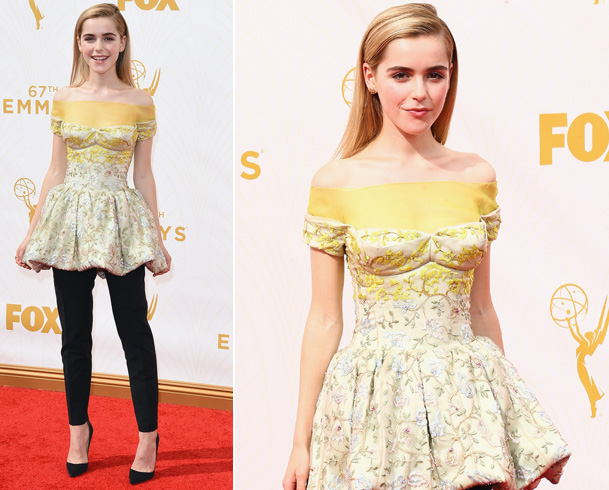 Emma Watson
Actress Emma Watson introduced the dress-over-trousers trend way back in 2014 at the Golden Globe Awards. She wore this unforgettable red dress combined with navy trousers.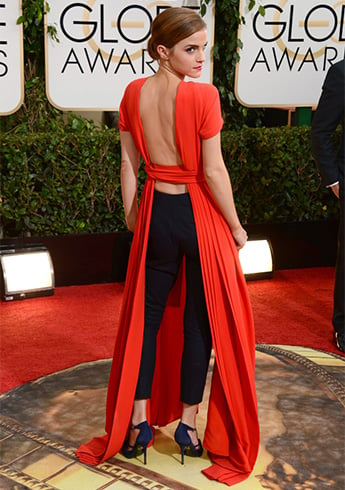 Watson's fascination for the trend did not stop there. At the 102nd White House Correspondent's Dinner in Washington D.C, she wore a floral dress with a high slit teamed with navy blue trousers and heels together. You can take inspiration from her various styles to master this trend.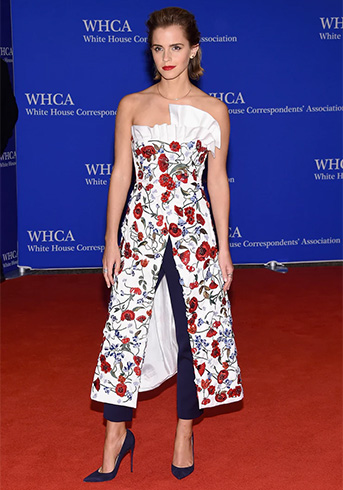 Allison Williams
Allison Williams looks ultra-modern in her dress-over-pants look. She has taken our inspiration to ten folds by making us rethink about our basic wear. Williams is seen wearing a split front black off shoulder gown and white pants to match by Gabriela Hearst.
[sc:mediad]
Rosamund Pike
Rosamund Pike chose to wear a dress-over-pants look designed by Riccardo Tisci. Her single strap white dress and sequined details and waxed ostrich feathers sat casually over her black trousers. She finished her look with a loose hair bun and rosy lips.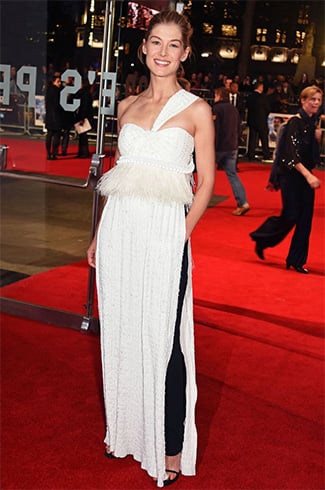 Solange Knowles
Solange Knowles boldly paired her CMEO Collective for Saint Heron flared pants with a strapless silhouette. You can reserve this style for your next party.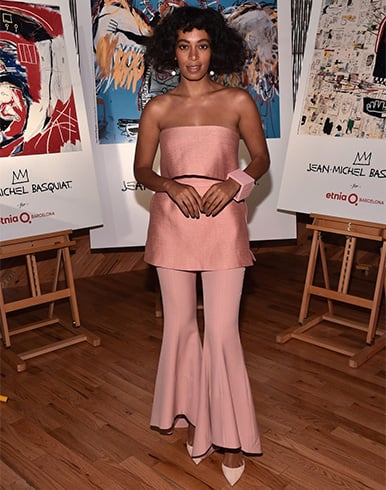 Here are few ways on how to recreate this trouser and dress combination:
One of the good highlights of wearing this trend is that you can either choose to wear a long or short length dress. If you choose to wear a long dress, then chances are there, your trousers underneath won't be visible. Hence, choose a dress that comes with a high slit to tackle the tricky part
If you want to pair a shorter dress, then you should go for cropped trousers. This can make a bold statement without trying too hard
You can wear your favorite summer dress with your denims as well. This relaxed attire can give out an effortless vibe
To bring about a playful balance, wear wide trousers paired with a well-fitted midi-dress. You can experiment with different styles, until you find the desired look
For an interesting and well-balanced look, you can mix various classy elements together. Whether it is choosing skinny denims and frayed denims with ruffled or silk dresses. All these pieces can come together to make your look more appealing
Pick a trouser with a well-streamlined cut. Avoid wearing an overtly embellished trouser underneath a dress to avoid lines and wrinkles
Accessories are essential to complete your look. Choose corset belts if you feel your dress falls too straight on your waist. Also, choose statement earrings for completing your look.
When it comes to footwear, you can choose between heels and flats. You can wear high heeled shoes for an evening look. Whereas choose to wear flat to keep it casual for a day time look
Selecting the Right Trousers Matters
Now that you have seen different styles of wearing this cool combination, you need to know a little more about wearing this trend right? Most fashion stylists have suggested selecting the right pair of trousers in dark hues. But how does wearing a proper trouser really matter? Here are the answers to it and more inspiration on creating your own style.
Though this pairing can make the chicest alternative, it has the chances to look slouchy when not done right. This can especially happen if you have not selected the proper pair of trousers. Here is a takedown on why and how to select the right trousers.
Sarah Hyland in Monique Lhuillier
Layering your dress with leggings like trousers can make a perfect combination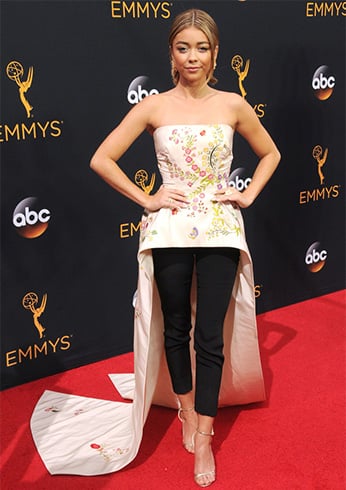 Rita Ora in Stella McCartney
Deepika Padukone in Stella McCartney
If you are wearing a slouchy top, then it makes more sense to pair it with an equally slouchy top or dress. This loose pair up can work well together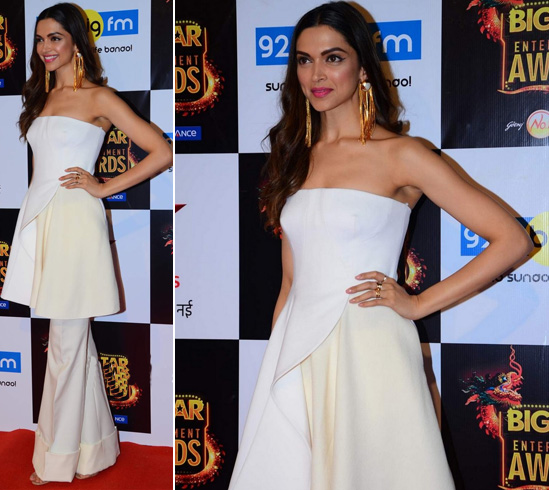 Shraddha Kapoor in Rohit Gandhi Rahul Khanna
Opt for a pair of simple trousers that do not feature pockets and belt loops. This way, your dress will be crease free underneath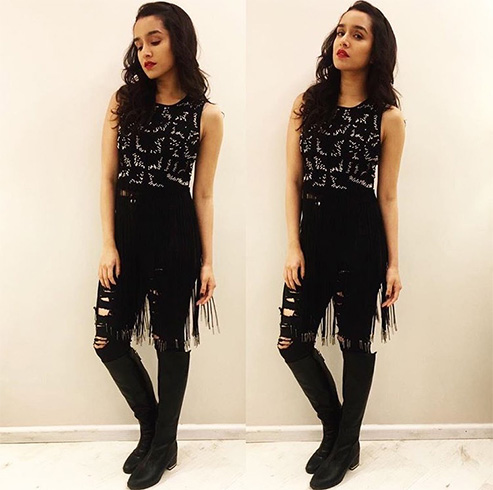 These are few tips and tricks you can try out. You possibly cannot disagree with all these ideas, right? If you like these ideas, then let us know how you intend to create your look. All in all, have fun with the trend.
Images Source: instagram