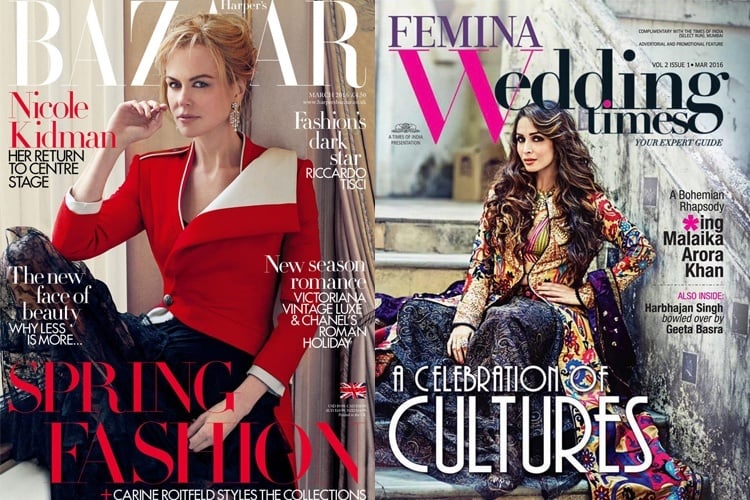 Take a look at who is on the Magazine covers for this March by delving deep into the article.
[Also Read: February 2016 Magazine Covers]
Deepika Padukone On Femina
Deepika Padukone, the current Queen of Bollywood posed for the Femina March 2016 Magazine. She looks as beautiful as a fine violin. She is the perfect pick on the cover page of the magazine. Isha Bhansali exhibited her mastery by styling Deepika in a black, strappy Salvatore Ferragamo gown with bare minimum touch up.
Here goes the photo shoot pictures and the video
Video:
[Also Read: Makes Your Heart Beat A Little Faster With Feisty Deepika Padukone Magazine Cover]
Alia Bhatt on Vogue, March 2016
Too hot to handle is how Alia Bhatt looks with Siddharth Malhotra on Vogue, March 2016 Magazine cover shot at Four Seasons Resort in Maldives.
Alia who is known to be as bubbly as champagne, gives a raunchy touch to her personality. Anaita Shroff Adajania, the stylist chose a pale blue jumper from Dior and an orange Seafolly bikini bottoms for Alia.
The unkempt look of the hair is specifically designed to give the summer beach look. Marco Antonio kept her makeup minimum making her look so luscious that no man can resist.
The Vogue Magazine cover looks smoking hot with the duo's perfectly chiseled bodies in a total drool worthy photoshoot.
Malaika Arora Khan on Wedding Times
An abode of seductiveness and sensuality, Malaika Arora Khan is the new cover girl for Femina's Wedding Times March 2016 Magazine.
[Also Read: Surrender Your Soul To Priyanka Chopra's Sizzling Looks On Magazine Covers]
Dressed in a tribal rhapsody by Rimple and Harpreet Narula Couture, the actress looks vivacious flaunting her perfect hourglass demeanor and sculptured features. The stylist gave her a rich guise in vividly colored lehengas touching the ethnicity. Her eyes are given a piercing black shade and she accessorized in the bejeweled antique allure. The magazine cover is definite to get the most attention with the wedding bells ringing all around during this season.
Photo shoot pictures follow
Kriti Sanon On Cine Blitz
The Dilwale girl, Kriti Sanon stole the hearts of all the youngsters. This energetic dame is the cover girl for Cine Blitz for March 2016.
[Also Read: Bollywood Magazine Covers June 2016]
Posing on a bike in eloquent colors, she is portraying 'the cool rider' image. The river of curls ran down in perfect fashion. Kept the makeup minimum giving her demeanor a sunny and glorious finish.
Following are many more of her cool rider poses
Jessica Alba On Cosmopolitan
Playing the roles of mom, business woman and an actress, Jessica Alba is on the top of the world. The Cosmopolitan Magazine decided to feature this strong lady as their new cover for March 2016.
She poses in a red blazer with matching pants and bra. The Lariat necklace that she adorned draws attention to the well chested cleavage. In the face of her smokiness, everyone is defenseless. The posture showcased her personality and the bossy attitude with a streak of femininity. Holding thoughts as high as the heavens, Jessica looks her best on the magazine cover.
She also posed for the Magazine cover in a navy crop top with matching pants and a blazer and also in a white cleavage baring top with black lace up trimming.
Nicole Kidman On Harper's Bazaar
The Australian charm, Nicole Kidman, is coming out this March as the cover girl for Harper's Bazaar. The first look shot by Norman Jean Roy beautifully captured the actress in an elegant Marchesa gown in a gothic look with the fading light and dancing crows.
Continuing this 90's look on the cover of the magazine, she looks royal in Alexander McQueen jacket. Stunning in red, the redhead posed in a sheer La Perla slip dress and Harry Winston jewelry. Her piercing blue eyes and the posture added an attitude stricken look to her.
Photoshoot pics
Madonna On Elle
Featuring as cover of Elle Magazine for March 2016 is Madonna. Rocking the world to her songs, this lady has never stepped down from the sights of fashion.
Completely casting an aura of brightness, she flashed in a stunning red V-lined outfit giving a glimpse of the cleavage. She built the radiance to the peak by matching it with the red lip and manicure. The eyes carried a gray and cloudy feel and her hair fell in blonde ripples like a liquid from a ladle.
[sc:mediad]
Olivia Palermo on Fashion
Mesmerizing everyone with her beauty spell is Olivia Palermo on the cover of Fashion Magazine for March 2016.
She slipped graciously into a floral print Dolce & Gabbana maxi dress. She worked along with her photographer and stylist and brought to us the dazzling look. The dark orange lip looks exotic on her and the hair has slight twirls which looks like the gentle waves of a poised sea.
The photo shoot involved capturing the looks of this damsel in Salvatore Ferragamo and Greta Constantine collections as well.
Selena Gomez on W
W uncovered the singer – actress Selena Gomez on their magazine cover this March. She graced the fashion issue with a sweltering beach pose.
She went with a Louis Vuitton top and bra. The hair looks simple, straight and sleek, topped with a Miu Miu tiara. She looks like she had a hot day down at the beach and yet her beauty is untainted.
For a beach based look also, the stylist made sure her brow gel, eye paint, bronzing powder, lip color and manicure are picked right and are intact.
All along the shoot, she displayed an erratic combination of colors, fabrics and accessories.
[Also Read: January 2016 Magazine Covers]
Gwyneth Paltrow On Glamour
Gwyneth Paltrow, a woman of many traits, is the cover of Glamour Magazine for March 2016. A perfect way of promoting her GOOP beauty and skincare line.
This Oscar-winner-turned-entrepreneur is seen in a gray slip dress and her hair is left mid parted and straight with a slight twirl to the end. The black rose bracelet is amazing.
All along the shoot she donned outfits from different collections and designers and brought life to them with her enigmatic smile.
Her photo shoot pictures
Hope this article on March magazine covers was fun to read. Leave your comments below.