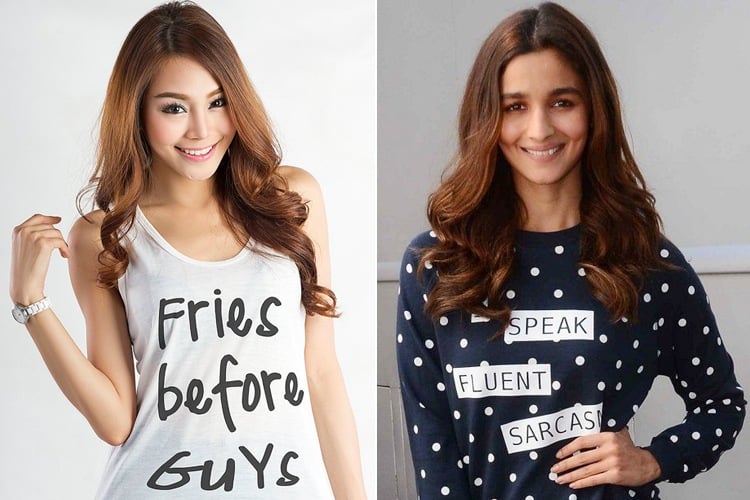 With the sun shining bright and making us sweat under its heat, we start going skimpy and loose on clothes. The wardrobe gets dominated by shorts, hats, crop tops and most important T-shirts! This egalitarian clothing item has always attracted controversy and attention and could never be dismissed or ignored. This season, they are stealing the limelight with attention grabbing fashion slogans emblazoned on them. Right from the celebrities to the street fashion, they are the top weapon of choice to express your moods, feelings, attitudes or simply to have fun! We present below our pick of fashion taglines for you to sport on our tees.
[Also Read: Helpful Tips On How To Take Care Of Your Clothes]
1. Keep Calm And Get Over It
While both Kapoor sisters wore the same sweatshirt, Karishma's 'Keep Calm' tagline certainly counts among top fashion quotes.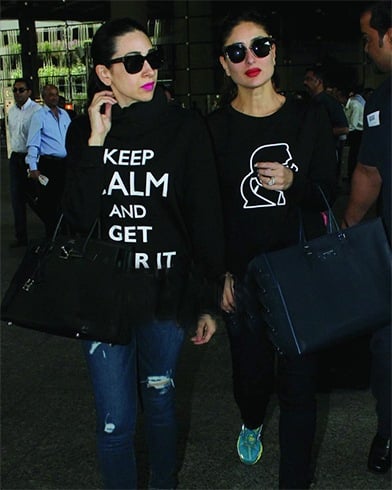 2. Are You Gluten Free?
Making a statement about lifestyle choices', Esha's monochrome T-shorts certainly drives the point home!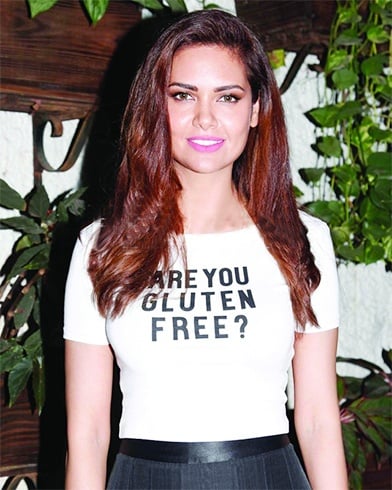 3. Art Is The New Black
While the slogan has been beautifully shown on a layered silk creation on the runway, such fashion slogan ideas can easily be translated to your T-shirt. It would look quite chic!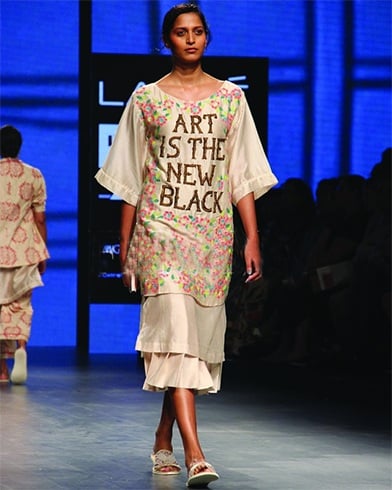 4. Snobs And Bitches Unite
With Kim Kardashian promoting such cool fashion slogan idea; is it any wonder it is becoming a hot piece!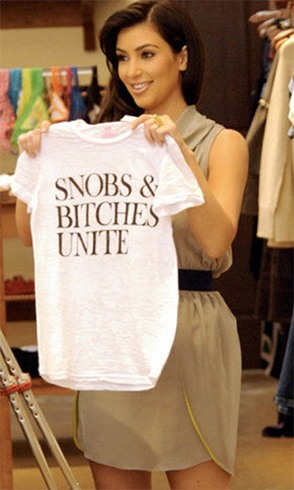 5. Only Child
This fashion tagline makes me wonder of Priyanka is flaunting her pampered status. Be inspired and show off your pampered side with it!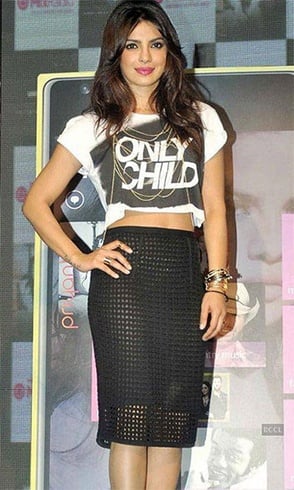 6. You Just Can't Beat The Person Who Won't Give Up
A very inspiring and statement fashion quotes that can show the determined and steely side of you. It definitely does so for our PeeCee!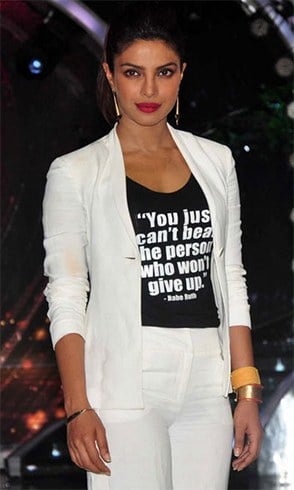 7. Like A Virgin
Quite a stylish and bold statement with a demure underlining! Wear it like Khloe Kardashian and show off your cool and carefree attitude.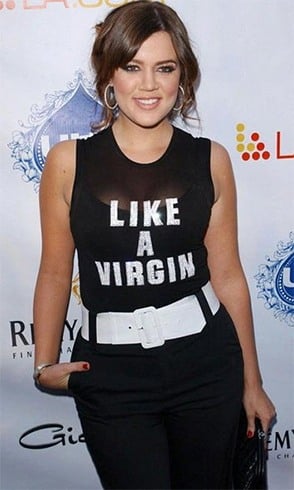 8. Happy Oceans, Happy Life
The slogan adorned by Sarah Jessica Parker is a wonderful way to express the serene and happy state of mind. You never know, it may just be infectious!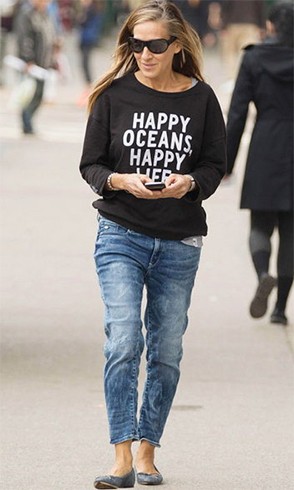 9. Good Witch
Many fashion slogan ideas today are an extension of your personality! Wear it like Jacqueline to flaunt your mesmerizing and bewitching inherent beauty and allure.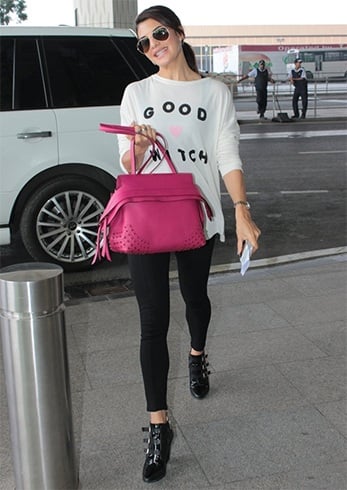 10. Brains, Beauty, Booty
Another personality defining statement slogan that you can't help but become a fan of! A fantastic way to flaunt the stuff you are made of!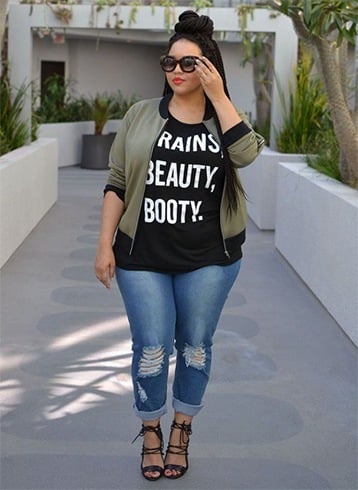 11. Cara Made Me Do It!
A cool slogan to flaunt on a cropped tee! Wouldn't you say!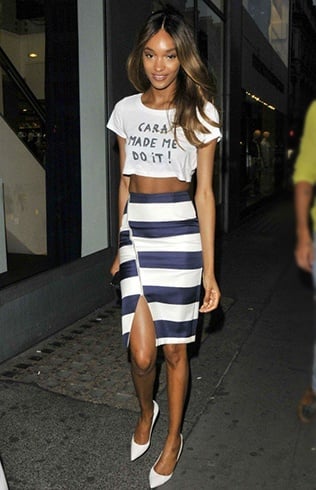 12. More Gratitude, Less Attitude
A beautiful thought to sport on a slogan tee and follow in life! This fashion slogan can speak tones about your inherent beauty!
[sc:mediad]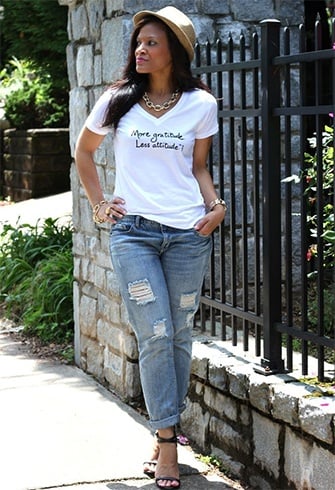 13. Slay Boo Slay
Show you're no nonsense aggressive side with this bohemian little funny fashion quote that will definitely keep the unwanted toe the line!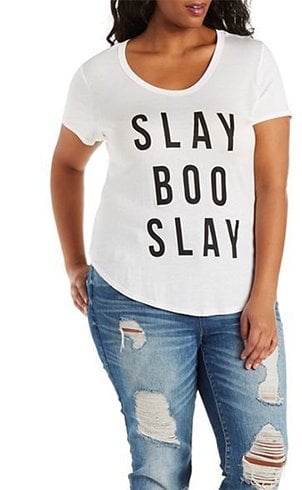 14. Buggin Out
Take inspiration from Alia Bhatt to pull off funny fashion quotes in style and attitude! Teaming the white tee with blue separates and that attitude definitely looks good on her!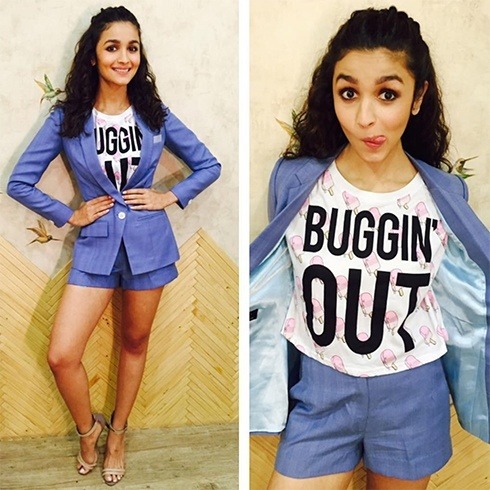 15. I Really Need A Day Between Saturday And Sunday
The slogan would work terrific for teenage and young woman in early twenties. With just the right humor and attitude, the slogan packs a punch!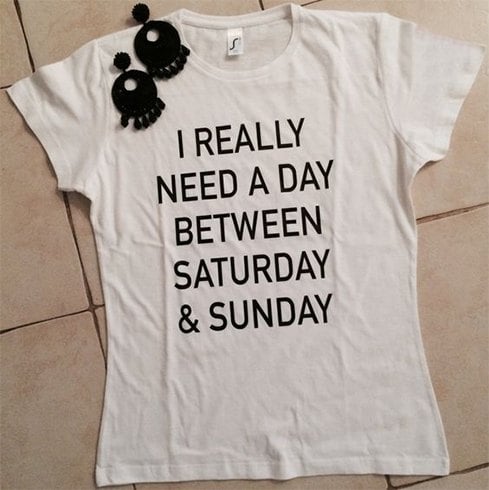 16. I Look Even Better In A Towel
Want to flaunt your inner sultry side? You tee could be a great point to hit conversation from or be used as a perfect cheeky line in situations demanding it! What say?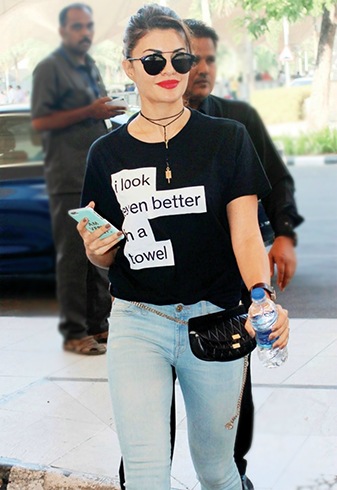 17. I Didn't Text You, Vodka Texted You
Let the party girl within you be absolutely unrepentant with this fun slogan and keep the guys wondering you as high on vodka!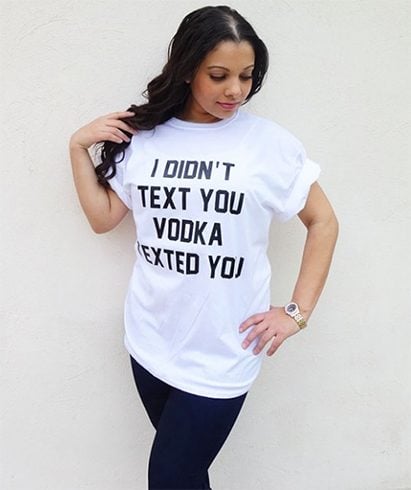 18. Fries Before Guys
A fantastic slogan for teenage girls that unequivocally announces what their preferences and choices are in no uncertain terms! If a group of girls adorn them together, it would definitely be an emphatic statement!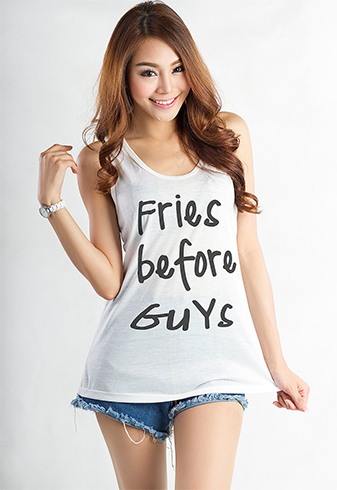 19. No Photos Please
Be it Kriti Sanon or Alia Bhatt, many celebs are sending quite an emphatic message to the paparazzi! A pretty cool way to make your demands known and claim your right for some privacy!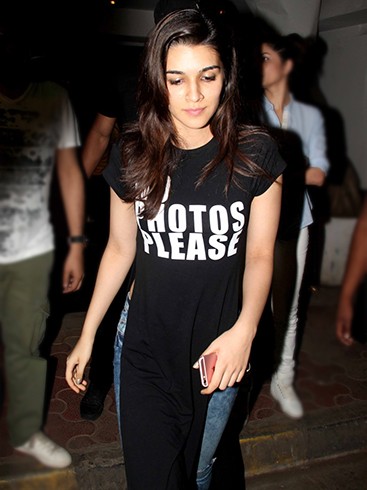 20. Girl Gang
With a cool attitude, Kareena make sure that all get clear on girl power ruling the world! A slogan right after any woman's heart! Don't you agree?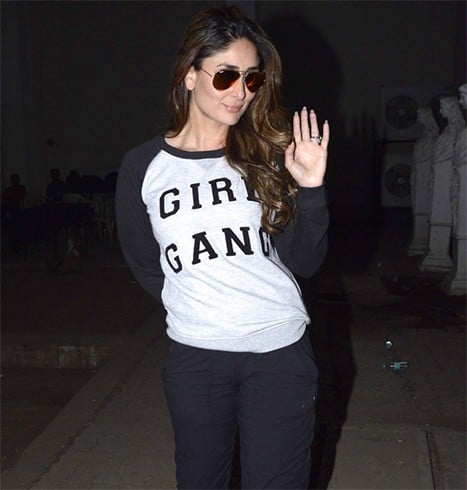 21. I Speak Fluent Sarcasm
All you peppy ladies would surely love this slogan on Alia Bhatt's tee! This statement slogan clearly reminds all to watch their steps!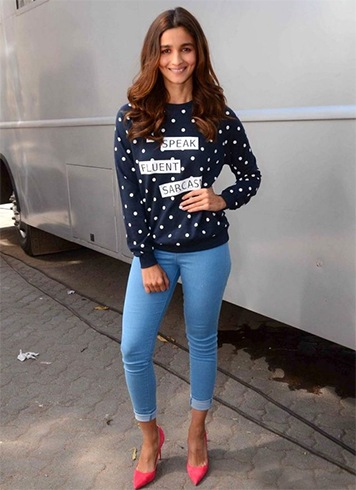 22. Try Better, Work Hard, Succeed In The End
No other fashion taglines can be more inspirational that this! Nargis Fakhri is perhaps the right steely lady to show her attitude towards life! Get the replica of the tee and flaunt your fighting attitude with steely confidence thrown in!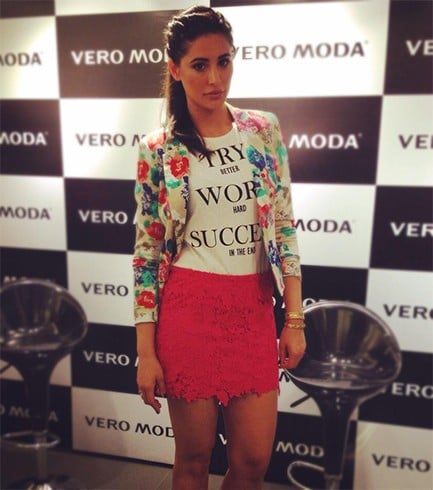 23. Shopping Is My Cardio
This slogan can be many female's mantra which males need to respect and accept! If you are the woman who loves to splurge in a shopping mall, this slogan tee is made exclusively for you!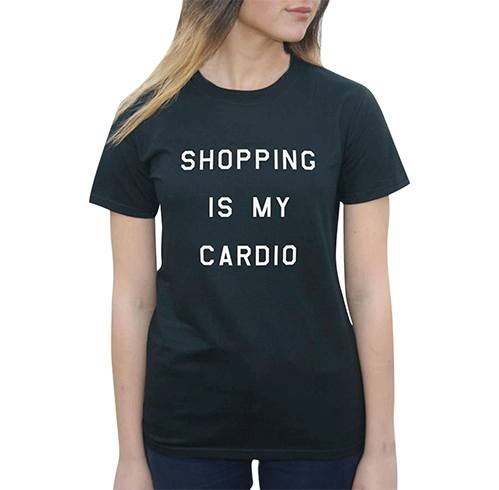 24. Big Fun In A Little Package
Show your quirky side with this fun slogan and be confident and sassy even if you lack a few inches in height!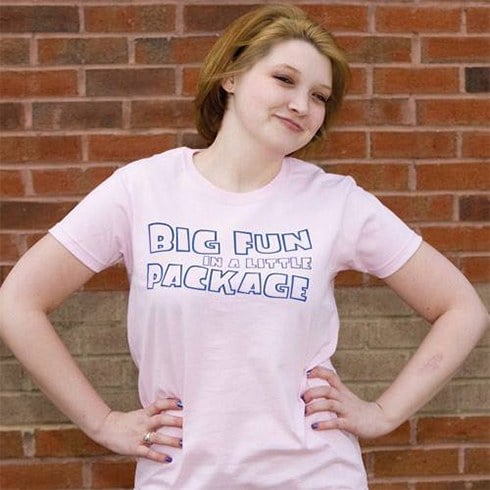 25. Feed Me And Tell Me I'm Pretty
A fantastic fun loving slogan ideal for any teenage girl to set the right expectations for all the opposite sex! It not only fun wearing it but sends out some cool messages about your attitude!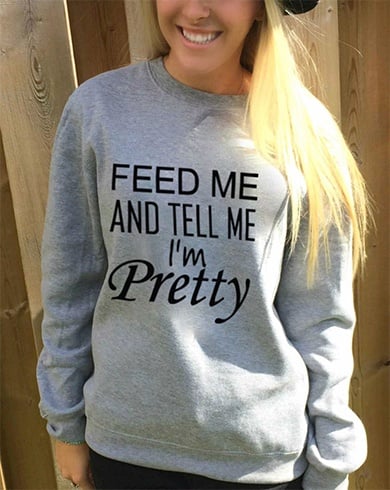 What is your favorite slogan? Have you come up with any innovative slogans yourself? Keep us posted!
Images Source: femina.in, dainikbhaskar.com, pinterest.com