Times are changing and the number of female anchors hosting IPL is only increasing. This is a welcome change from the times when male experts would offer us a deluge of their mundane cricketing views the moment the on-field action started.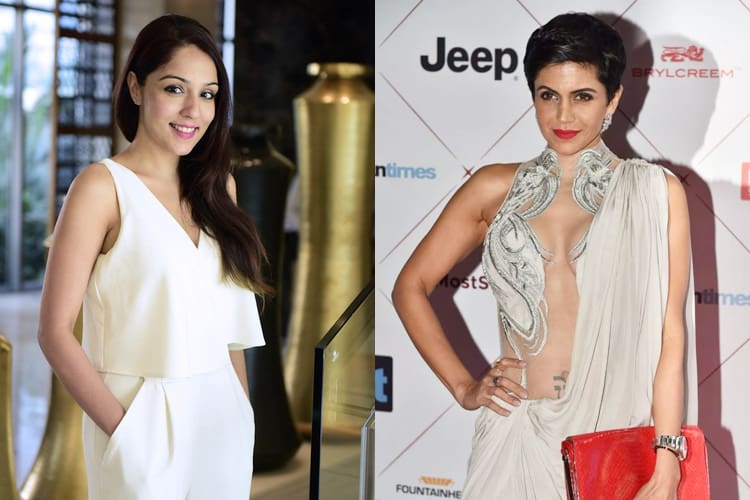 These ladies in question are not just pretty heads but know the game of cricket in great depth. In fact, they dodge off cricketing queries without batting an eyelid. Apart from being the face of IPL, they have had alternative careers and been highly successful at that!
Top 10 Glamorous Female Anchors In IPL:
Here is our pick of the top IPL female anchors who boast of stupendous abilities to knock off wickets both on and off the field:
1. Shibani Dandekar:
Shibani Dandekar absolutely deserves the spot in the list of the top 10 hottest IPL hosts female due to her astonishingly good looks and confidence as a major cricket-buff. She started her career hosting three national TV shows, Namaste America, V-Desi, and Asian Variety Show.
The Pune born actor has garnered attention for both her sultry looks and a good understanding of the sport and has appeared for five seasons of the IPL from 2011-2015. Her greatest assets are her charm and wit.
2. Archana Vijaya:
Without any doubt, Archana Vijaya is a hot favorite in the list of female IPL anchors. She started her IPL journey in 2011 and was in the thick of cricketing action until 2015.
She's one of those effervescent personalities that you wouldn't fail to notice and her long association with cricket explains her confidence. She often appeared on the IPL Extraaa Innings show and also traveled with the IPL teams to various parts of the country.
3. Mandira Bedi:
Mandira Bedi is one of the most popular faces from the Indian television industry. Previously, she worked as a TV actor and presenter for several big shows. Additionally, she has hosted the ICC Cricket World Cup in 2003 and 2007 and Champions Trophy in 2004 and 2006. Most of all, she is loved and remembered for her anchoring skills in the third season of the IPL for ITV.
She paved the way for other female anchors to give their expert opinion on the gentleman's game. And of course, who can forget her signature noodle strap blouses!
4. Karishma Kotak:
Karishma Kotak started off as a model and later moved on to anchoring. When questioned on picking a favorite between modeling, acting, and anchoring, she picks anchoring. She loves being a presenter on television more than anything else. So we're not surprised that she co-hosted the IPL cricket series.
Here is what she has to say about the game, "Cricket is very close to every Indian's heart, including mine. I got a taste of the game when I hosted the auctions on MAX recently and realized how exhilarating the tournament is going to be. I am definitely looking forward to hosting EI T20 and the opportunity to interact with so many cricketing stalwarts and experts on the show".
5. Shonali Nagrani:
Shonali Nagrani created history as the first female host on the U.K. version of IPL Extraaaa Innings for ITV. She anchored the show for four years. While being roped in for the show, Nagrani had to work on her accent. "We Indians talk very fast, but while on air, I had to deliberately speak slowly. I now round my words a little while anchoring and modulate my accent a bit. But because I'm anchoring this show since four years now, it comes naturally to me while I'm on air."
While hosting the IPL show, Nagrani was shown favoring both Indian and international fashion labels. While her everyday style is enough to grab everyone's attention, Nagrani made sure to top the style icon's list with her wardrobe choices as an IPL host. Channeling her love for Indian wear, the star went all out while choosing ethnic ensembles and even wore the exquisite Kanjeevaram saris. She further went on to experiment with pencil skirts and straight cut pants.
[Also Read: 10 Super Stylish Youtubers You Need To Subscribe To Today!!!]
One thing's for sure, Nagrani never had a dull sartorial moment in the IPL and that is what makes her one of the most desirable IPL female anchors.
6. Lekha Washington:
Lekha Washington is an Indian actress who has done a number of films in Hindi, Tamil, Telugu, and Kannada languages. She has essayed several leading roles opposite great actors like Amitabh Bachchan.
Apart from being an actor, she worked as a VJ and hosted the popular show PCO, Connect in 2006, and the Canadian T20 on international television.
Lekha also hosted the maiden season of IPL with Ajay Jadeja.
7. Mayanti Langer:
Mayanti Langer is one of the most popular sports anchors on Indian television today. She is also the wife of the Indian all-rounder Stuart Binny. She is known for her hosting skills across several tournaments including Football Café on Zee Sports, 2010 FIFA World Cup on ESPN, 2010 Commonwealth Games, 2011 Cricket World Cup, 2014 Indian Super League, and 2015 ICC Cricket World Cup. Quite an impressive line-up of hosting work, we must conclude!
8. Pallavi Sharda:
Pallavi Sharda made her IPL debut in 2016 and she did a stupendous job as a television anchor. Oodles of confidence added to her appeal as a TV presenter and that's because she has been around in the entertainment biz for quite some time.
[sc:mediad]
Born in Perth, Pallavi holds a degree in LLB, BA (Media & Communications) and a diploma in Modern Language (French) from the University of Melbourne. She also won Miss India Australia and moved to Mumbai. She soon did a cameo in the film My Name Is Khan. However, her big break came in the form of the film Besharam where she was cast opposite Ranbir Kapoor.
She was also among the lucky few chosen to host the IPL'S 2016 edition. This gave her a bigger platform to familiarize herself with the Indian audience. If you had been an ardent follower of IPL, we're sure you didn't miss admiring her fine hosting chops.
9. Rochelle Rao:
Former Miss. India International, model, reality TV star, and anchor, Rochelle Rao juggles many hats. She did a brief stint as an anchor during the IPL, 2013 season. It was in the VIVO IPL 2016 that she returned to the Extraaa Innings Team as one of the anchors.
In an interview, Rochelle shared her experience and excitement for cricket. Here is what she had to say, "I have been a big fan of the league since its inception. Being a part of this huge tournament has always been my dream. I used to watch Gaurav Kapur and Samir Kochhar host Extraaa Innings T20 live from the ground. Now, I'm really excited to co-host the show with this brilliant duo. The countdown to Pepsi IPL and Extraaa innings T20 has begun and I am really looking forward to being a part of this electrifying atmosphere".
10. Isa Guha:
The lady in question is also a former England cricketer. Isa Guha added a mint fresh appeal to the women's commentary box with her in-depth analysis of the game. And it was a welcome change watching this beauty with brains exchanging notes and bytes with other international players. Presently, she is also part of the ITV Sport's IPL coverage team. Apart from taking pertinent questions on the game, Guha exudes all the charm of a well-rounded host.
These are the names of our favorite IPL anchors female. Besides, dispelling the old fact that hot women don't know a thing about cricket, these women have added lots of glamour to the game. It is safe to conclude that a great part of the IPL viewership comes due to them. Don't you agree? Tell us who is your favorite from the above list in the comments box below.