If sarees are the perfect traditional attire for a woman, then a blouse is the critical piece of creativity and artistry to enhance her ethnic look. A blouse design holds equal importance while wearing a sari for any occasion.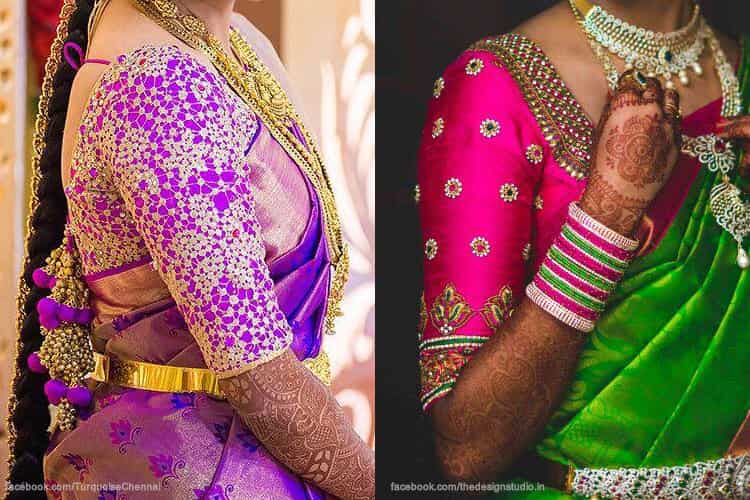 There are full-sleeved blouses and half hand blouse designs – fantastic choices that are wooing us day by day. Wondering what are the new pretty half hand blouse designs? Go ahead and check out this post.
Top Half Hand Blouse Designs:
Catch a glimpse of half hand blouse designs images below and you will be happily impressed.
1. Select A Sheer Sleeve:
These blouses capture the old world charm. The almost-transparent sleeves are made of lace, net or sheer fabric – and the beauty of them is that they hide and reveal your arms at the same time. Call it a hint of mischief! Who minds? But yes, it does add to the elegant look of a sari. That is why it is one of the most liked and favored sari blouse design for cocktail parties and evening dos.
2. Go Bold With Animal Motifs:
Seen more on the 'big, bold and adventurous' side, animal motifs add a unique and creative dimension to the blouse designs that are half hand. That is one reason why the half sleeves can make a saree look dramatic.
3. Add A Little Bling:
Most B-town divas love bling and prefer this half hand blouse design with stonework. Rajasthani women originally wore it. Because of the eye-catching color, embroidery and interesting cuts, these pretty half hand blouse designs turned out to be a hit among the masses. You can wear these blouse designs on festivals and weddings and enjoy being the cynosure of all eyes.
4. Don't Shy Away From Experimenting:
This half hand blouse design is good to go for celebrations – big or small, provided you know the jewelry, makeup and hair accessories that will go well with it. It is a great option for occasions where you want to make a quirky yet traditional style statement.
[Also Read: Blouse Designs For Cotton Sarees]
5. Add A Pop Of Colorful Embroidery:
Want to know how to turn an ordinary blouse into a spectacular one? Get embroidery done. It is good enough to make the blouse look dazzling. The workmanship and vibrant vibe of an embroidered blouse make it one of the most popular and latest half hand blouse designs.
6. Puff Up In Style:
This is a classic half hand blouse design. Nothing can challenge its feminine appeal considering the "puff" at the shoulder. Very traditional and very chic at the same time.
7. Go Classic:
Here is a new twist in half hand blouse – a creation with Kundan work on the sleeves and border too. Truly breathtaking it is. The silver thread work and Kundan fixations make this type of blouse not just apt for party nights but for afternoon festivities and celebrations too.
8. Up Your Elegant Appeal:
I know you must be wondering – first stonework, then embroidery, then Kundan, and now zari. The zari blouses give a classy appearance to your ethnic ensemble. Undoubtedly, this regal blouse style makes a woman look and feel like a queen.
[sc:mediad]
There is also a full zari work blouse. Imagine a red colored traditional wear blouse with zari work on the half sleeve. Phenomenal it looks! An ideal pick for Indian weddings.
9. Try The Magic Of Maggam Work:
The intricate maggam work is one of the latest half hand blouse designs that is steadily climbing the popularity charts. Pair a half hand blouse rich in maggam work with a silk or a net sari and you will surely be the center of attraction.
10. Bow Down To The Boat Neck Design:
Need a semi-formal look to go with your sari? Go in for a half hand blouse with boat neck design. It is perfect for office parties.
11. Zero In On Zardozi:
Donning a zardozi blouse means you are going to look resplendent. Ever wondered what is zardozi? It is a metal embroidery done on fabrics. In earlier days, gold or silver threads were used for adding embellishments to royal garments.
Today, zardozi is done using a combination of silk thread and a copper wire, which is coated with gold or silver color. Opt for it to give your ethnic wardrobe a timeless appeal.
12. Gild It:
Ask your mom for her silk saree and pair it with a half hand blouse replete with a gold coin border. The gold coin like motifs on the sleeves and the bottom of the blouse will surely add to its beauty and enhance its rich appeal.
So dear, which one from the above list is your favorite half hand blouse design? Tell us in the comment box below.