Navratri is worshipping Maa Durga in her nine forms. It also means nine back-to-back nights which promise you endless fun, music, dance beats, sweets n mouth watering food. But if there is one thing that makes Dandiya fantabulous looking each year, it is the colourful traditional chaniya choli designs.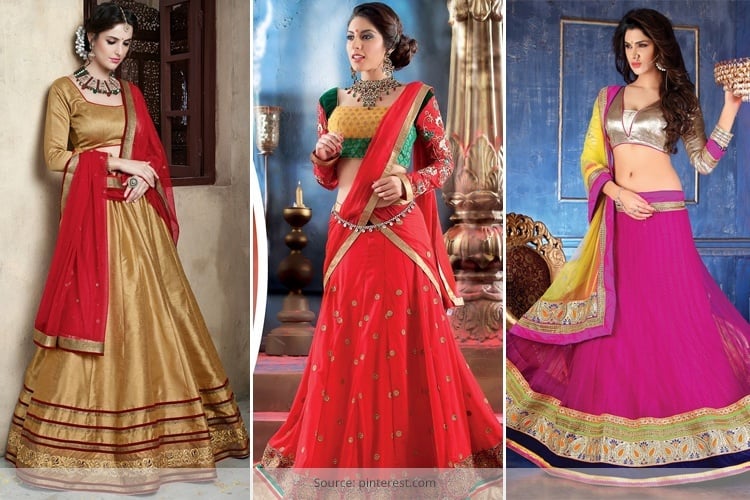 Truly, it is the chaniya choli that makes this festival an all-time favourite for everyone, be it kids, women or adults.
It goes without saying that girls and women eagerly look forward to this occasion each year. So that they can flaunt their looks each night dressed in chaniya choli for navratri. Dandiya as you know is a dance in which both the genders participate. This dance is generally done after the aarti and customary rituals are performed. The dance is performed with two decorated sticks as props held by the dancers.
Here Are Some chaniya choli designs for navratri:
To help you put on drop dead gorgeous looks this Garba, we have rounded up various chaniya choli patterns. They will not only make you look your fashionable best, they will further inspire you to glam up your style this Navratri.
[Also Read: Navratri Day 1 Color – Grey]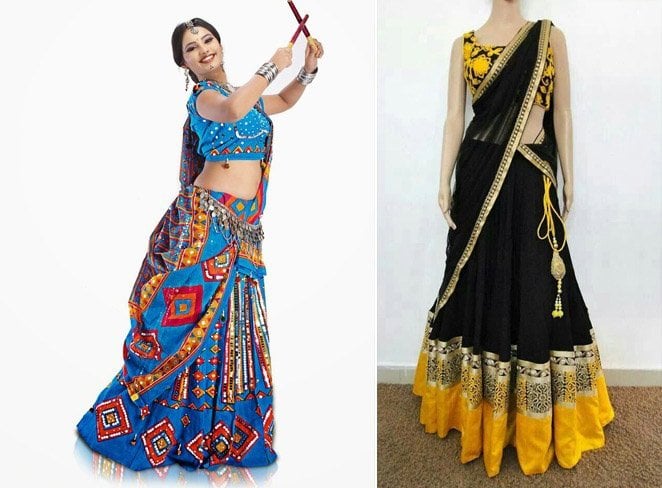 1. Layered Chaniya Choli:
In this typical garba outfit, you can easily put on a traditionally exotic look like the sexy and colouful Deepika Padukone. Her multi-layered ghagra in the picture is a feast to the eyes.
Further accentuated with embroidered hemline and waistline, this designer chaniya choli comes with a beautiful matching blouse that has detailed work on the sleeves and neckline. The coloured chunni in bright contrast has all the makings to put you in the limelight.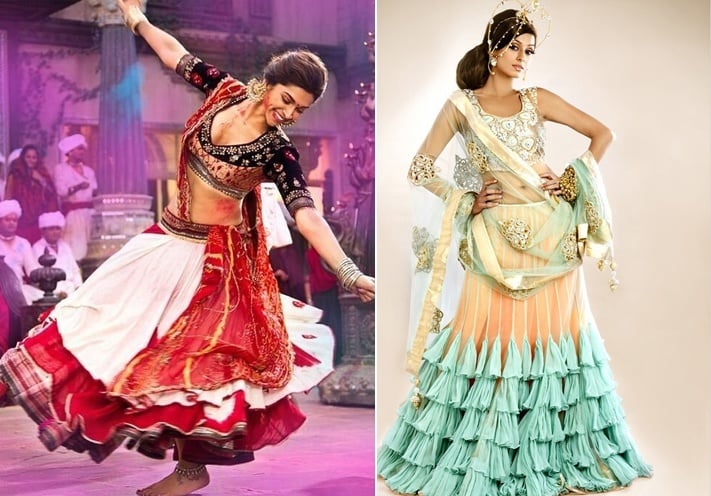 2. Lehenga Set With Designer Chaniya Choli:
Let everyone go gaga over your style when you don this dark blue lehnga that has been crafted with all possible embellishments such as zari, resham, sequins, stone, lace, cut bead, and patch border work. The fuchsia pink faux chiffon dupatta takes the beauty of this designer chaniya choli many notches up whereas the full-sleeve choli with contrast horizontal stripes would leave you amazed at the workmanship.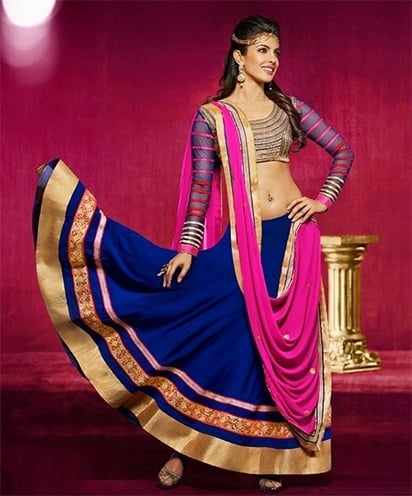 3. Kali Lehenga With Kutch Embroidered Choli:
Sophistication is in details. This simple chaniya choli for navratri is bound to turn heads. If this hand-embroidered blouse with vibrant looking kutch work is irresistible, the plain kali-style lehenga with a wide contrast border instantly turns you into a style icon! So, go ahead and flaunt your curves in this Kutch choli and kali lehnga and see how you look a girl with sinful curves.
[Also Read: Navratri Day 2 – Orange]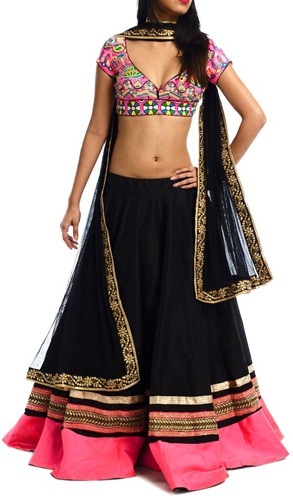 4. Royal Black And Red Lehenga Choli:
Rule the night with this chaniya choli for navratri. The full flared lehenga looks a rage with floral embroidery and gold lace work on its border. Pair it with a full-sleeve choli having gold stripes on its sleeves. Team it up with bordered dupatta to floor admirers.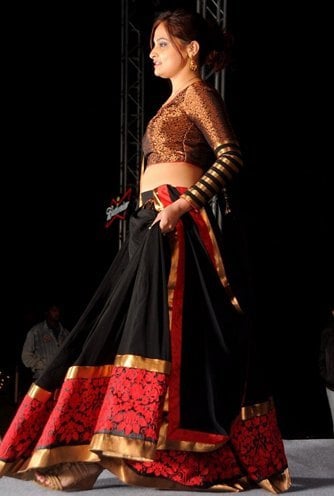 5. Gleaming Multi-Colored Lehnga Choli:
Swirl around in tradition with this vibrant looking chaniya choli. The A-line lehnga is paired well with amazing looking Kutch embroidery, but it is the designer chaniya choli that holds your attention with embroidery and mirror work. The contrasting color dupattta makes you look 'wow'!
[sc:mediad]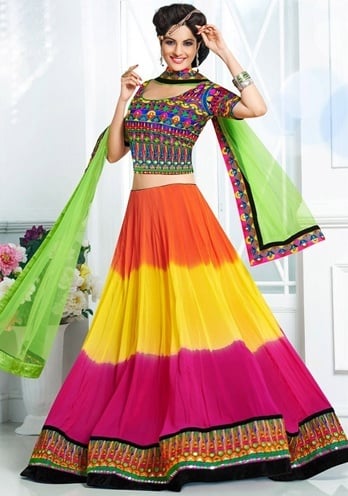 6. Peacock-Shade Ombre Lehnga Choli:
Look the glamorous diva in this stunning ombre lehnga. It has a stripe pattern in multi-color shades. Then there are gotta lines and can-can under-layer to give it a fancy look and feel. To top it all, gold sequin floral motifs on blouse and dupatta make you look the royal queen in no time in this chaniya choli for navratri.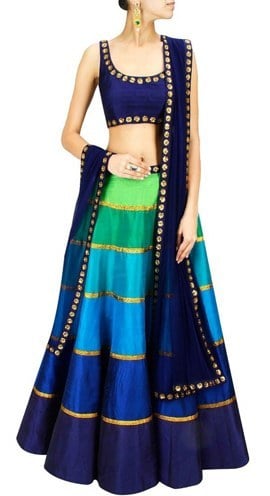 7. Net Lehnga Choli:
Go dazzle everybody at Garba in this celestial orange designer chaniya choli. The net lehenga that you see has banarasi jacquard lining and details such as stone, dori, lace work and patch border work to get you that stunning ethnic look. A contrast color choli and dupatta adds further vibrancy to the chaniya choli designs.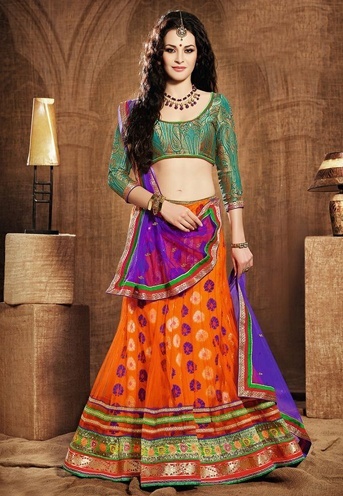 [Also Read: Navratri Day 3 – White]
Things To Keep In Mind While Wearing Chaniya Choli:
In this festive occasion, how to wear chaniya choli for navratri is not an uphill task. We all know that these cholis are embellished with beads, mirror work, embroidery, sometimes shells and so on. What you need to keep in mind are the fashion accessories that need to be worn along.
Before stepping out for a puja or for a dandiya night, wear comfortable chaniya choli designs so that this festival attire does not trouble you while dancing.
When wearing chaniya choli, make sure you pin your dupatta in an appropriate and accurate way, so that it doesn't fall off while you are busy dancing to the Dandiya tunes.
Look around for vibrant chaniya choli patterns and colors so that your choli makes you stand out in the crowd.
Jewellery accessories such as kadas, jhumkas, maang-tikas have all the elements to beautify your designer chaniya choli. Same is with kamarbandh and payal which are conventionally worn by the Gujarati women during Navratri festival. Oxidised jewellery further adds glitter to your chaniya choli designs.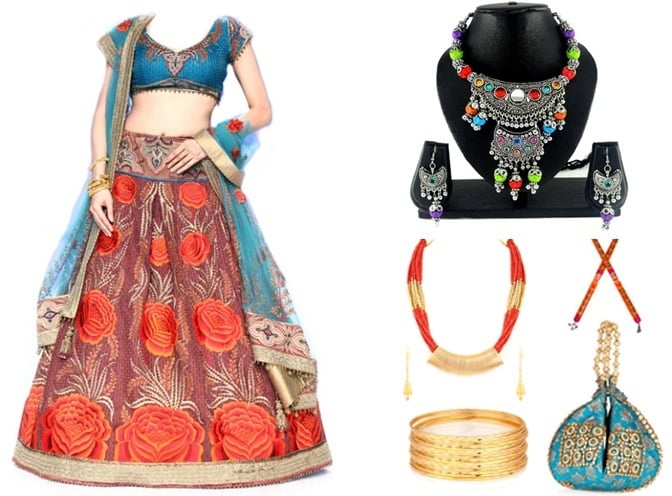 The current breed of fashion designers are introducing ombre-coloured lehengas for the Navratri occasion. Style yourself in these to win attention.
Apply mascara and eye-shadow to get that beauty edge.
Your dandiya night can turn all the more special if you pair your ensemble well with that of your dancing partner. For instance, if you have picked red and white, he can wear white or red. Avoid looking matchy, or else it might l end up making the two of you twins.
Now is the time to go have some real fun this Navratri. Just slip into the rollicking designer chaniya choli and dance, dance, dance.