When travelling abroad, aren't we eager to buy good perfumes, creams, sunglasses and lipsticks? Even back home, most of us are on the lookout for foreign cosmetic brands. With the booming fever of foreign cosmetics in India, aren't we anxious to know about the most wanted French Beauty products which can be bought online? Your wishes are fulfilled. Read on.
Best French Beauty Products:
It's no secret that the French make some of the most loved brands in cosmetics. That's why they have flawless complexions and hair to die for. Curious to know? Keep reading.
Here is our list of best 15 French Beauty products that you can find at the ease of being at home. So step up your glam game with French cosmetics available in India which will happily save you the trip to France.
1. Vichy Eau Thermale Thermal Spa Water:
This product line is known for using thermal spring water from the hot springs in the French town of Vichy. No average water it is, but the purest rainwater from the mountains and valleys. So your skin gets the best of nature-sourced minerals.
Pros:
Vichy's best seller in India.
Mineral-fortified spa water.
Contains over 15 natural and rare minerals beneficial to the skin.
Refreshes, cleanses and calms the skin.
Reduces any rashes or dry patches on the skin.
Speeds up the regeneration of skin cells.
Spray packaging makes it convenient to carry.
Preservative-free, fragrance-free.
Light-weight, since it's water itself.
Cons:
None as it is mostly water.
Estimated Price: INR 1,299 for 50ml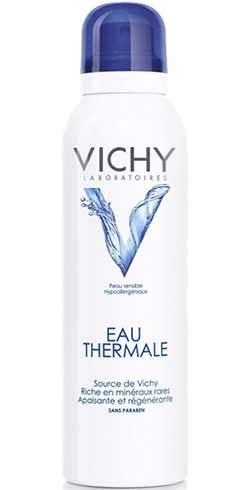 2. Bioderma Sensibio H2O:
The Ultra-mild cleansing formula for eyes and face, this magical cleanser can be found in the travel bag of any model or makeup artists such as Pat McGrath.
Pros:
Micelle solution for sensitive, normal to dry skin.
Gently cleanses face and eyes.
Removes heavy-duty make-up with one swipe.
Needs no rinsing.
Fragrance-free.
Made in France.
Cons:
Estimated Price: INR 990 for 250ml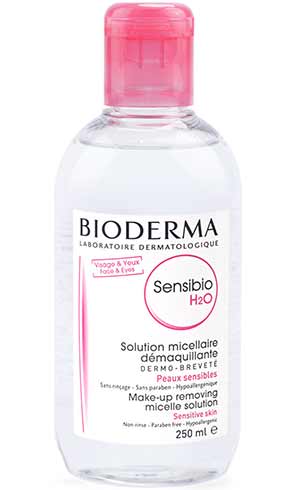 3. Yves Rocher Hydra Vegetal Gel Cream:
Enriched with Organic Witch Hazel Water and Maple Sugar, this France Cosmetics is your go-to product for moisturizing skin all day.
Pros:
24-hr intense hydrating gel cream.
Leaves skin replenished, radiant and fresh.
Paraben-free.
Best for normal and combination skin.
Tested under dermatological supervision.
Cons:
Estimated Price: INR 990 for 50ml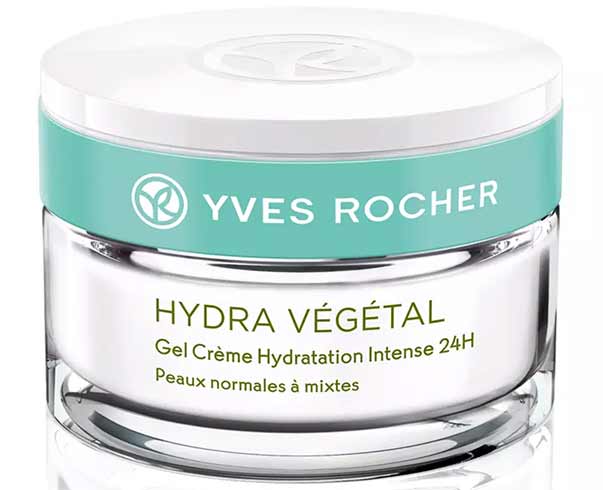 4. Avene Eau Thermale Thermal Spring Water:
Captured directly at its source, this best French cosmetics gives you skin-soothing softness. Your best travel companion if you want to keep your skin cool.
Pros:
Soothing source for sensitive skin since 1743.
Natural pH of 7.5
Long-lasting protection from skin irritation, sunburn, diaper rash.
Rich in silicate and trace elements.
Low salt mineral content, therefore no drying of skin.
Can be used after shaving, hair removal, make-up removal, on damaged skin/wounds, allergic reactions, itching, and after sun.
Recommended for the sensitive, allergic or irritated skin.
Clinically proven.
Preservative-free, hypoallergenic, non-comedogenic.
Safe for infants, children, and adults.
Cons:
Estimated Price: INR 2000 for 300 ml

5. La Roche-Posay Effaclar Duo:
The most raved-about product from LRP, the Effaclar Duo caters to the oily and acne-prone skin. The best French cosmetics to combat acne.
Pros:
Quick-absorbing and mattifying gel cream.
Unclogs skin pores.
Corrects acne marks.
Has Procerad™, an exclusive anti-marks active ingredient.
24 hour hydration.
Non-sticky, non-oily finish.
Nickel-tested, No paraben, Hypoallergenic, Non-comedogenic.
Cons:
Estimated Price: INR 2,599 for 40 ml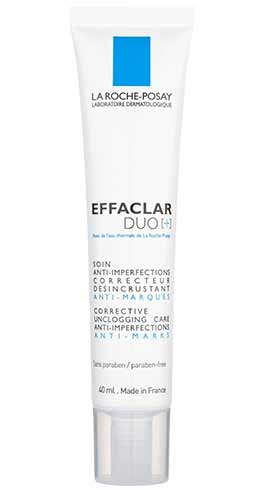 6. Eau de Beaute Caudalie:
This is a beauty elixir well-loved in France. It gives a nice radiance to the skin and improves skin texture. To set your makeup, spray this France Cosmetics before applying powder.
Pros:
A beauty enhancing mist that promotes a glowing complexion.
Natural refreshing & nourishing face spray.
Formulated with extracts of grape & rosemary.
Tightens skin pores.
Ideal as a makeup base.
Suits every skin type.
Spray it on the face before applying the moisturizer.
Free of parabens, sulfates, synthetic fragrances, synthetic dyes, petrochemicals, and phthalates.
Applied backstage by professionals at runway shows.
Cons:
Estimated Price: INR 3,174 for 30ml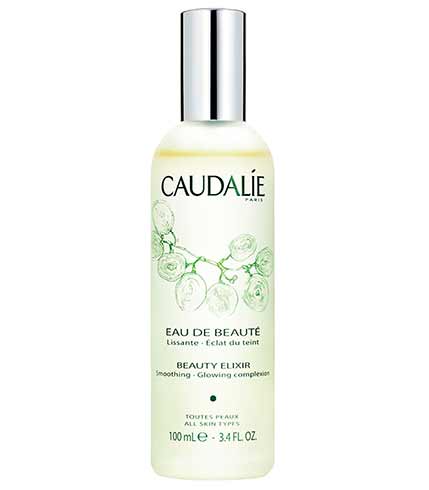 7. Nuxe Rêve de Miel Lip Balm:
The best overnight lip treatment for dry, chapped and damaged lips, Nuxe Rêve de Miel Lip Balm can easily be tagged as best French cosmetics available in India. Definitely worth the splurge.
Pros:
A lip balm with honey and precious oils.
Meant for dry and damaged lips.
Repairs and restores the skin of lips.
Has tiny little exfoliating beads.
Cons:
Estimated Price: INR 3,739 for 15gm

8. Shampooing Sec Au Lait D´avoine:
What is the secret of the effortlessly chic hair of French ladies? Shampooing Sec Au Lait D´avoine. Just spray it evenly on your hair, about 10 inches away from hair. Let it stay for 2 min, then brush it thoroughly until the powder gets removed.
Pros:
Dry shampoo with Oat Milk.
Absorbs the oil of your hair leaving it fresh and clean.
Suits all hair types.
Since 1971.
Cons:
Estimated Price: €10.50 for 150ml
9. Embryolisse Lait-Crème Concentre´:
One of the makeup artist staples, this French cosmetics available in India is touted as a perfect hydrating primer. It is best for thirsty worn-out skin complexions.
Pros:
Rich and emulsive formula which gets absorbed beautifully.
Provides great moisturization.
Can also be used to remove makeup.
Superior composition that's feather-light.
Cons:
Estimated Price: INR 2,200 for 75ml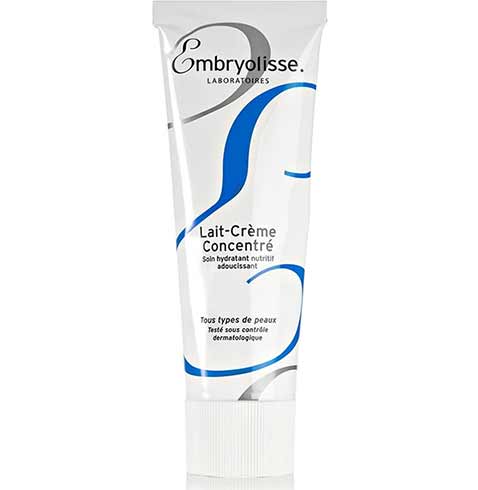 10. Luminescence by Lierac Illuminating Serum Complexion Corrector:
For starters, Lierac is a well-known French brand in skin care. Therefore, a go-to brand for any skin concerns and flaws such as redness, dark spots, uneven texture, etc.
Pros:
Milky serum which restores skin radiance.
Smoothens fine lines and wrinkles.
Diminishes pigment spots and redness.
Makes your skin the best it can be.
Cons:
Estimated Price: INR 8,853 for 30 ml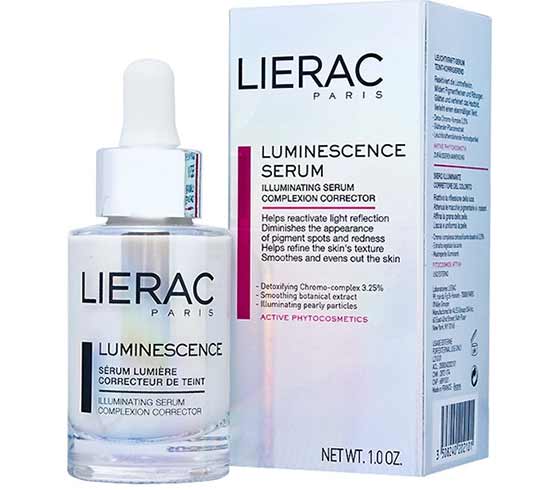 11. Nuxe Huile Prodigieuse:
This best French cosmetics brand has been around for ages. Now available in a shimmery bronzer formula, this dry oil from Nuxe is a legend when it comes to silk-silkening. Not just an oil, it is an experience!
Pros:
Multi-usage dry oil.
Super-nourishing cocktail of 6 oils – macadamia, sweet almond, hazelnut, camellia, st. john's wort, borage) and vitamin E.
Softens and repairs skin.
Can be used on face, body, and hair.
Silicon-free, no preservatives, ingredients of natural origin.
Cons:
Estimated Price: INR 5,016 for 50ml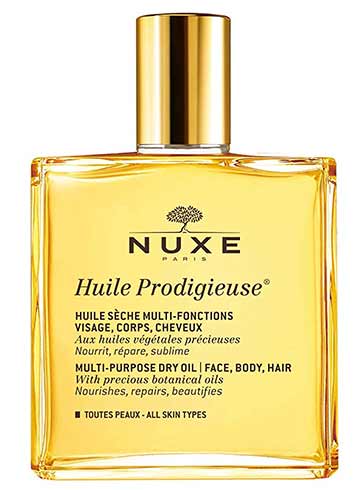 12. FILORGA Time-Filler:
Are wrinkles bothering you? French cosmetic brand FILORGA is your answer to reducing all types of wrinkles – dryness wrinkles, contraction wrinkles and hollowness wrinkles.
Pros
Hailed as the anti-aging cream.
Gives radiant skin.
Contains a powerful peptide which stimulates the synthesis of collagen and hyaluronic acid.
Botox-like peptide relaxes the skin.
After 28 days, there is a noteworthy reduction of all types of wrinkles.
To be applied morning and/or evening to the face, neck, and neckline after prior washing.
Cons:
Estimated Price: INR 15,018 for 50ml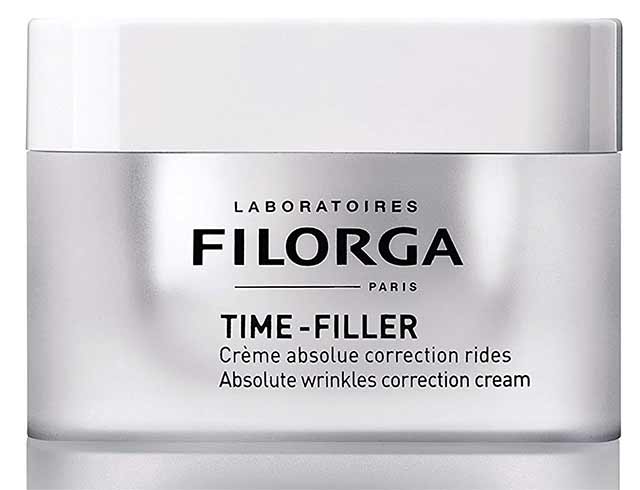 13. L'Occitane Almond Shower Oil:
Expect satiny softness all over the body with the Almond Shower Oil from reputed French brand L'Occitane. Wonderful for dry skin, this French product makes your baths far more relaxing and exciting.
Pros:
Luxurious cleansing and softening shower oil.
Rich in Almond Oil and nourishing lipids.
Smells like fresh almond.
Lathers when in contact with water.
To be used in place of a shower gel.
Can also be used for shaving.
Cons:
Expensive than many body washes.
Can make the bathtub or shower floor very slippery.
Estimated Price: INR 5,653

14. Bourjois Paris Rouge Edition Velvet:
The common fear with lipsticks is the short time they will last on the lips. Bourjois Rouge Edition Velvet series is a long-lasting lipstick that leaves a velvet feel on the lips for up to 24hrs. That's one of the many delicious reasons to buy this reputed France Cosmetics brand.
Pros:
Beautiful matte finish and weightless texture.
Glides on lips softly.
Intense color up to 24-hour hold.
Enhanced formula with bold pigments for rich color.
Enriched by evanescent oils, so no constant touch-ups required.
Soft foam applicator.
Adds a brightening effect to your face.
Cons:
Estimated Price: INR 1,564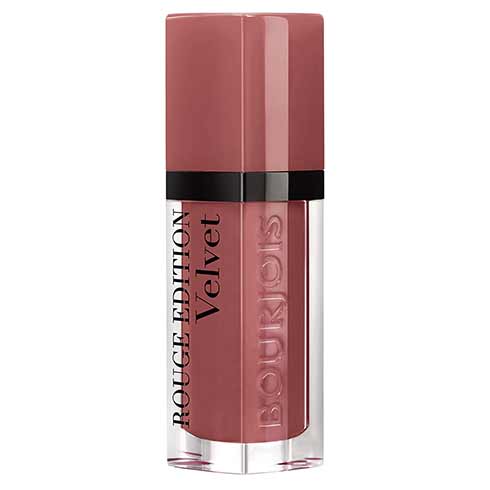 15. Caudalie Polyphenol C15 Overnight Detox Oil:
Now you will love to sleep for a beauty reason as well. Caudalie Overnight Detox Oil is a powerful detox facial oil that has five essential oils and three vegetal oils to promote cellular renewal.
Pros:
Meant for overnight use.
100% plant-based formula.
Smells like a spa.
Soaks right into your skin leaving no residue.
Renews and rehydrates skin while you sleep.
To be applied on the face at night or before applying moisturizer.
Avoid the eye contour.
Dermatologist-tested.
Cons:
Estimated Price: INR 8,596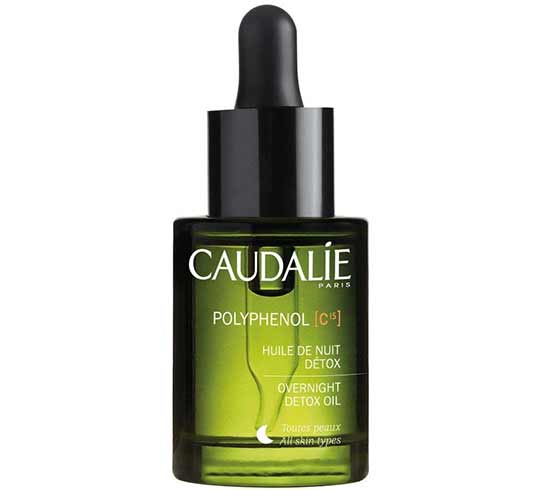 Disclaimer:
The content provided for this article is for general information purposes and should not be considered as medical advice. Product information is not intended to treat, cure, or prevent any skin ailment. The effectiveness of any product is based on customers' opinions and trials and should not be seen as final. Do read the labels and ingredients carefully. If you have a health problem of allergy or sensitivity, do not use products that may trigger off a reaction. Go in for an allergy patch test if you have any doubt or a history of skin reactions. Discontinue the product/brand use if a reaction occurs.
Hope this blog on French Beauty products helps you make an informed decision about the beauty product you are looking for. Write in and tell us your comments/feedback on the French beauty brands shared. Have you tried any of them? How was your experience? Share them with us as we will love to hear from you!