Besides finding the perfect gown, having the right hairdo to suit the look is extremely crucial. Be it an evening cocktail gown or a wedding gown, without the perfect combination of the hairstyle and dress, the look would remain incomplete. Before you would even know, your look would be immortalized on all your social media feed and a bad hairstyle would be a scar for a lifetime.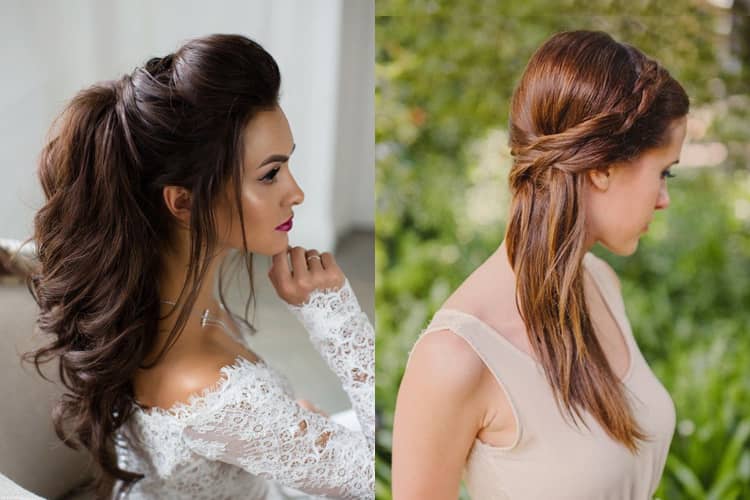 So in order to ensure you take all the essential measures for selecting the best hairstyles for gown, we have listed some time-tested and ever beautiful ones for you. Have a look!
From braids to curls, up-dos or waves, gowns can inspire the hottest hair looks for a formal do, prom night, evening out, or whatever glam evening you have planned. And to help you choose the best, our curated list is right here.
Different Hairstyles for Gowns:
In an effort to make things simpler on you, we've put together a guide on how to match the style of your gown to your hairstyle. We are here to help you avoid mistakes that could turn into a fashion blunder. So here are our pick of top 20 Hair styles ideas for evening gown.
1. Sculpted Twists:
The twist and turns of this double knot hairdo are truly a work of art. The sculpted twists style needs to be in place with wax, pins, and lots of hairspray.
We love singer Hailee Steinfeld's Sleek, Sculpted Oscar Hairdo. Her bold style complemented the classic and modern vibe from the gown.
2. Bun with Side Swept Tendrils:
The 90s trend of side swept tendrils leave some tresses loose in the front. You can make it look dressier to suit with the gown by parting yours at the front of a sleek bun.
Ashley Graham's side swept tendrils is giving us all the good feels. We love how simple this is to re-create.
3. Sparkly Side Bun:
You can add a vintage, Gatsby inspired touch to a standard low chignon by tucking the hair into a pretty headband. Keep your makeup simple for the evening to prevent overpowering your look.
4. Double Braided up-do:
For the perfect hairdo to wear to a spring or outdoors, try a double braided up-do. A bonus trick is to match your lipstick with your hair accessories.
5. Wavy Lob:
To balance out a deep V-Neck gown material on your shoulders, style your hair into a fake long bob with plenty of waves with side parting. The glam look is perfected with deep burgundy lips.
6. Side-Swept Waves:
The side-swept waves can be paired perfectly with your body hugging mermaid gown.
7. Bombshell Waves
Simple, sultry waves go perfectly with backless gowns. The waves make a great statement without going overboard.
Below, singer Iggy Azalea is seen in a modern evening wear classic gown and blonde locks in tumbling waves.
8. Giant Ballerina Bun:
While wearing a one-shoulder gown, it is important to keep your hair off your neck. To add spotlight on the dress, wear a giant ballerina bun like the one shown below.
9. Sleek Ponytail:
Trying a turtleneck gown, tie your hair into a sleek ponytail while keeping the focus on your neckline for all the attention you deserve.
10. Pumped up Ponytail:
If your sweetheart's neckline is on a ball gown, a pumped up ponytail can make the hairdo look chic and elegant at all times.
11. Bun with Floral Pin:
The sweet and simple bun as shown below is brought to the next level with the sparkly flower pin right at the top.
12. Rosebud Bun:
This gorgeous hairstyle works perfectly with any designed gown. Pick this hairdo for events when you want to feel like a ballerina. This is also one of the favorite picked hairstyles for wedding gown.
13. Cascading Half Up-do:
You may add drama to a super-long half up-do by creating a bouffant like volume at the front.
14. Doughnut Topknot:
A pretty, full hairdo that gives you a fun silhouette, the ballerina doughnut topknot is perfect to wear with gowns on a formal occasion.
15. Finger Waves:
Look like you just stepped out of yester – years by styling your hair into beautiful finger waves. Perfect for an evening out, wedding or prom, finger waves exude a vintage appeal and timeless elegance.
16. Low Beehive:
Channel the 1960s with this gorgeous beehive with bangs. The main key for this hairdo to work is by looking modern without going overboard with the teasing. You may add a little more volume for drama.
[sc:mediad]
17. Side Twist:
Want a sexy twist on the regular up-do? Try the side twist hairdo as shown below.
18. Voluminous Low Bun:
There is a saying, go big or go home! If you relate to this and love voluminous up-do, then you can make a big statement with this huge, low bun style.
19. Inward Twist:
Are you looking for hairstyles for evening gown? Exchange the average up-do by twirling your hair inward rather than around it. Secure using bobby pins.
20. Bug Bun With Bejeweled Base
Why wear a headband the regular way, instead wear a sparkly one around the base of your big, teased bun, for a super-glamorous look.
Conclusion:
The next time you need to dress up wearing a gown, try one of these hairstyles to make a major impact. Do you want to try anyone of these hairdos? Write in to us at the comment box below.