Wedding times don't call for experiments, do you agree? Be it the bride or the groom, everyone would prefer to be absolutely sure of their choice of outfit, accessories or style. But we encourage you to stay away from your signature style to make a lasting impression on the on-lookers on your big day. How about beginning the exploratory road with wedding hair color ideas? Interested? Dive deep with us for some insights and tips.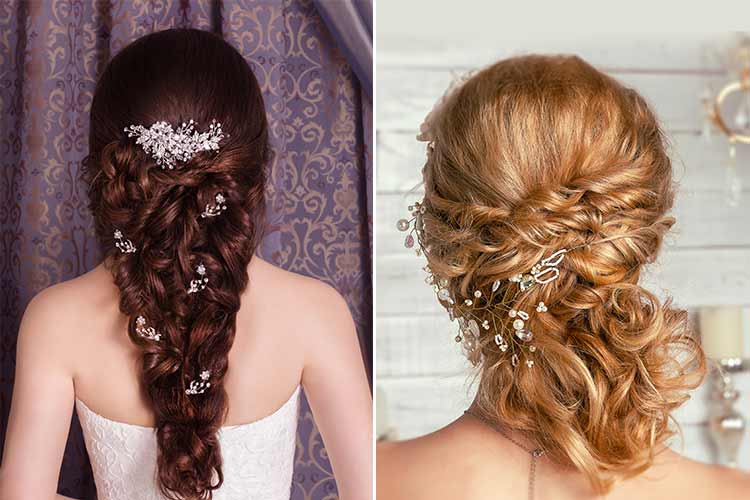 Hair Color To Be A Head-turner:
If the truth is to be spoken, every girl finds herself dreaming for ages about her wedding day that includes her mom's wedding sari, ancestral jewelry, and even the fairytale venue. And off late with the social media giving us the platform to share ideas, wedding affair has become even more interesting. However, the most fascinating concept of the weddings that gave us a jolt was the wedding hair color ideas and here are a few for you to nibble on.
1. Ethnic Theme:
Clad in an embroidery rich lehengas/saris with traditional looking ancestral jewelry, the bride might lack dimension and perfect facial contours. A deep colored tone might keep the ethnic vibe intact while adding a whole new dimension to one's style. It will also render well-defined facial lines whether you choose to pin up the hair or let it roll down those shoulders.
2. Contemporary Theme:
With the fashion world exploding with modern day bridal couture, it gets challenging to present ourselves in it with perfectly tuned makeup and hairstyle. For today's world bride, the best choice would be to delve in copper or jewel tones. It would bring a sparkle to the bride's eye and give the style a trendy finish.
3. Romantic Theme:
If you find yourselves not too modern and definitely not too traditional, you might enjoy the romantic theme of wedding hair color ideas. Opt for the browns to highlight sections of your hair that will add width to the face and charm to any hairstyle. It will add great depth to your brunette wedding hair and will render an elegant touch to your bridal style.
4. Beach Theme:
When playfulness is in the mind with your wedding, switch over to the beach wedding hair color idea. Go over the board a bit more and add multiple highlights to your well-nourished tresses. Toss in few waves and curls to add a swing to the style.
[sc:mediad]
5. Hair Coloring Tips Before Wedding:
If your wedding is right around the corner, don't rush into experimenting with hair colors. It is very important to look yourself on your wedding day. However, dab in some shine rendering serums that add volume and elegance to those lovely tresses while you flounce them walking down the aisle.
Although we have given you our thoughtful hair color ideas, we insist that being a bride, you pick your color ahead in time and try it at least once before the big day.
On a final note, don't forget to protect your color-treated hair from the sun, salt water, and chlorine. Wondering how? Here is a quick tip – A well-chosen conditioner will prevent discoloration. Skip the heating tools which will leave the hair looking dry and dull and toss in a shine rendering serum.
The wedding is the most important day in anyone's life and we all wish to roll back into happy memories when we think of our wedding. While the first step to having a perfect wedding is the planning and being unique, dance to the steps of the evolving fashion and style games by playing with your hair color. Match the tone of the hair with the twinkle in your eye and watch the show turn magical. Hope you found the wedding hair color idea that you were on a witch hunt for!