The enthusiasm of expressing patriotism by wearing the colors of our Nation and flaunting them with pride is one of the nicest feelings ever. Be it the ethnic way or the modern twist, wearing the tricolor is matter of immense valour ! While most opt for traditional outfits; trying a modern outfit could be a great idea too. But there is a thin line in being liberal with your fashion choices and going all wrong. So here we have a checklist for all our lovely ladies for them to stand out in the crowd, to look their beauty best.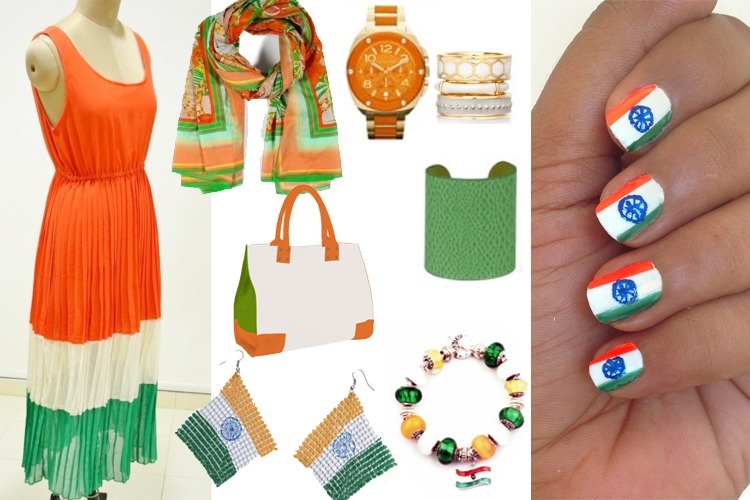 The Must-haves:
The trick is to incorporate three colors in your wardrobe – white, saffron and green. You will be all set to go by just mixing and matching multiple elements for your outfit to look to grace the occasion. Now, lets look at the western style check this Independence Day.
1. The Chic & Casual Look:
If you are keen on wearing the Indian tricolor but without showing off much, this casual look will keep you comfortable in your own skin. A floral orange skirt with a floral printed white crop top, and a green scarf will certainly keep the patriotic feel high without comprising on the fashion and style quotient. You can team this look with a chic white strapped wrist watch and black belly shoes.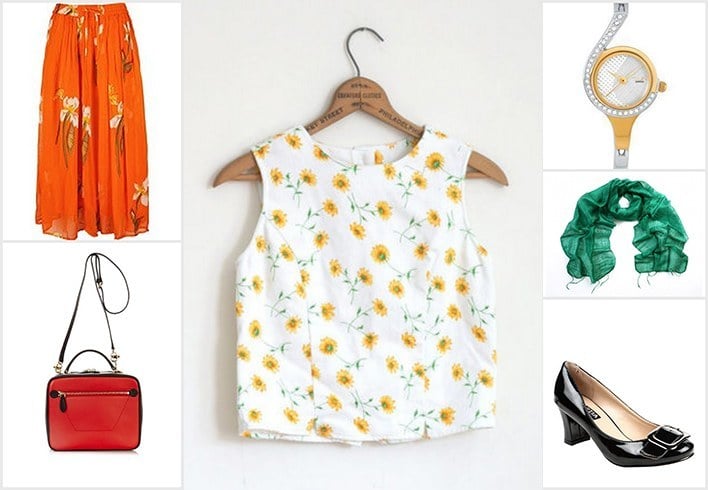 2. A Sporty Diva:
Some women like to wear a casual look over dressing dramatically for occasions. Hence, wearing a green or saffron colored shorts with a white tee will be the best attire to show your love for the tricolor. You can team that look with either a green scarf or a green necklace or a green bag. You can also swap the colors for the different ensemble looks. If you wish to wear two bold colors, then donning a saffron tee with green shorts would do wonders! If you don't like to wear shorts, don't worry! Simply, wear pyjamas with the given ensembles.
[sc:mediad]
3. A Party Diva Look:
Partying on Independence Day? We have got this chic look for you! Flaunt the green dress you recently bought or from your old wardrobe and team it up with a white jacket! Saffron bag will add the patriotism touch without you over doing it.
While dressing up is just one way to celebrate Independence day, there are other amazing ways to portray patriotism. Here is how you can do that!
Other ways of carrying patriotism on your sleeves –
4. Hair Highlights:
You need not go overboard while sporting a hair color for independence day. Just a few hair streaks in the tricolor and it would look perfect. You could also try the temporary highlights that would just last for a week.
5. Nail Art:
It is one of the simplest and interesting ways to go patriotic with your look! What better than painting your nails in the Indian tricolor and flaunting them. Try it and grab everyone's attention instantly with this innovative way of expressing love for your country.
6. Tricolor Scarf Or Band:
When Mr. Narendra Modi could wrap the Indian tricolor scarf around his neck, then why can't you give it a try? While scarves are amazing, a hair band, a wrist band, a belt or any other accessory in the tricolor would look incredible. This would one of the most modest ways of going patriotic in style.
Note – Please avoid wearing the tricolor as a dress. It is considered disrespecting in our country and we wouldn't want anyone to get into any kind of trouble trying to look their patriotic best.
Let the fashionista inside you be colored in patriotism, this Independence Day! We wish you a very Happy Independence Day.
We hope this article on western style check this Independence Day could give you the inspiration for your outfit. Let us know in the comments.