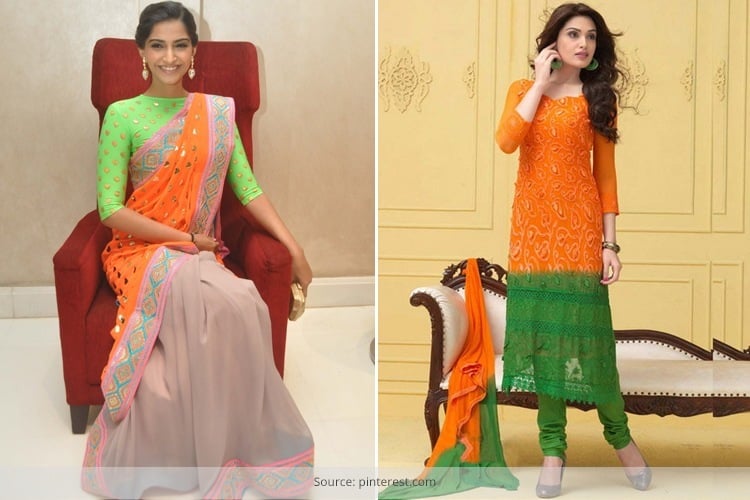 'Freedom at midnight' is the most beautiful and awaited day that an Indian looks forward to every year. It is the day when India became awake, free and independent in the year 1947.
This year again at the turn of the midnight hour, it would be time to celebrate, dance, fly kites, and wish everyone 70th Happy Independence Day.
With the tricolour fluttering against the blue sky, what are your plans for the day? Go to the Red Fort to hear the speech of Prime Minister Modi, or go out to eat basmati rice in the Indian colours; watch movie with your friends, visit a mall or generally hang around?
[Also Read: A Western Style Check This Independence Day]
With so many options in hand, there are many patriotic ways to give your dress code an Independence Day feel. Here are some interesting ideas to celebrate Swatantrata Diwas in a savvy and memorable way.
Wear Colour-Blocked Salwar Kameez
This is a beautiful, thoughtful and easiest way to show off the tricolour. Wear shades of the Indian flag. It will certainly make you look in-sync with the patriotic fever.
[Also Read: Master the Art of Colour Blocking]
Pick a green churidar and pair it with a plain white kurta having self-embroidery. What's more, you can accentuate the look by wearing a saffron dupatta.
Allow your dupatta to flare across your body. This will get you better and much larger visibility than you would imagine. In fact, it's a combination that can never go wrong and will look very appealing and awesome on you.
Drape Around a Leheriya Sari
The Indian sari brings out the femininity of a woman like no other contemporary outfit. When you wear a beautiful leheriya sari on Independence Day, it would make you look fashion-pro and Indian at heart.
A leheriya is normally available in colour combinations of two. So you can find a saffron and green, saffron and white, or green and saffron sari. As for the blouse, wear one having the third colour in the flag. But yes, don't forget to put your bindi. This would make you look a devout patriotic in heart and spirit.
Multi-Coloured Dupatta
Yet another classy and understated way to carry the Independence Day look is to wear a tricolour dupatta.
Think of a beautiful leheriya dupatta that has saffron, white and green prints on it. It will make a fantastic, colourful and memorable option for the day.
When you decide to wear a tiranga dupatta, make sure your kurta is white and simple without any colour blocks on it. This will serve as a wonderful stylish twist – white kurta with churidar, topped with a leheriya tricoloured dupatta.
Printed Tee
Okay, we know you love your casual wardrobe. When you put on a tri-coloured t-shirt, you are almost wearing your love for your country on your sleeve.
[Also Read: Fashion Must Haves – 5 Essential Teenage Items]
So it's a good idea to invest in a simple printed tee that boasts of the national flag. Pick a tee that is on the subtle side. It will help give a sense of respect to the flag rather than flaunting it in a jarring way.
Bangles
Fashion accessories will make a wonderful subtle statement on Independence Day. Bangles are a beautiful thing to express your love for the tricolour.
They are a symbol of femininity and symbolic of Indian culture. Wear a set of saffron, green and white bangles, separating them appropriately. This will look traditional yet glamorous and simple too.
Nail Art
With nail art being in trend, this would be the perfect way for you to showcase your patriotism along with indulging in your love for nail art.
You can either color block your nails by painting each nail with a different color of the flag or show off your creative side by painting the flag on your nail tips. Whatever you choose, we are sure it would reflect your love for the country perfectly.
Eye Makeup
For all you beauty lovers who swear by their makeup, we have got some eye makeup ideas which you really should try out. Let your eyes speak the language of patriotism!
Do a smokey eye makeup by combining the flag colors and a touch of glitter to make your eyes sparkle. And, if glitter and sparkle is not really your thing, we have this sober eye makeup which will eloquently express the spirit of independence.
Fashion Accessories
When we talk about dressing up for Independence Day, it also means that along with the attire you should pay attention to your accessories too.
You don't have to go OTT with it. A pair of cute earrings in the tricolor or a neck piece or bracelet made of tricolor stones would be an apt choice.
Taking it one step ahead – you can celebrate Independence Day office party with 'tricolour' as the dress code. Salwar kurta, saree, angrakha, there are many versatile ways in which you can wear the patriotic colour, yet stand out.
As we celebrate the spirit of independent India, let your eyes be moist and hearts emotional by wearing the colour of the Indian flag in different permutations and combinations.