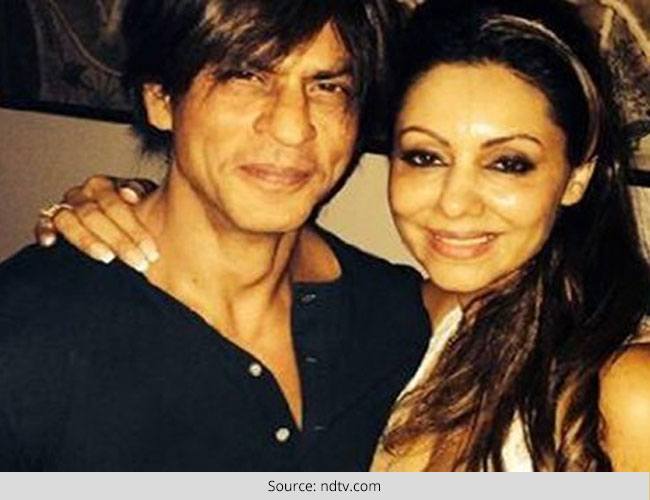 The Independent woman, a stunning wife, an established entrepreneur, a super mom, a hard – working producer, just turned 44 today. She is truly an icon for the most balanced women when it comes to her personal and professional life.
Gauri Khan, wife of Shahrukh Khan turned 44 and none other than her very close friends Sanjay Kapoor and Mahdeep Kapoor hosted this special birthday bash for the leading celebrity birthday girl.
Although she looked a little tired, we must admit that she does not look 44! She wore a brown tee layered by a white lace over coat and a simple pair of what seem to be really comfy denims.
Shakrukh Khan Tweets:
This surprise Birthday Bash of Gauri Khan was made special by all her close and dear friends. Hrithik Roshan, who recently went through with a divorce with Susanne Khan, his childhood love, attended the party and was also seen talking pictures with Gauri, Shahrukh and other friends at the event.
Some of the other invitees at this surprise bash included the Happy New Year Director Farah Khan, Sonakshi Sinha, Arjun Kapoor, Chunky Pandey, Parmeshwar Godrej, Amrita Arora, Sanjay Kapoor, Karishma Kapoor, Amitabh Bachchan's daughter, Swetha Nanda and many more.
AbRam, the son of Gauri Khan and Shahrukh through surrogacy was also spotted smiling in the arms of Shahrukh Khan at the event.
Both Gauri and Shahrukh are extremely busy with their upcoming film Happy New Year by Red Chilles Production where Shahrukh Khan is in the main lead while Gauri is the Producer of the most awaited film that is due to be released on 24th October, 2014.
Let's look at some more pictures from the Birthday Bash with the pretty Birthday Girl, Gauri Khan.
We hope that this special birthday is followed by a super Blockbuster at the Box Office for her film, Happy New Year.
Wonder if Salman Khan wished her on this special day? What do you think?