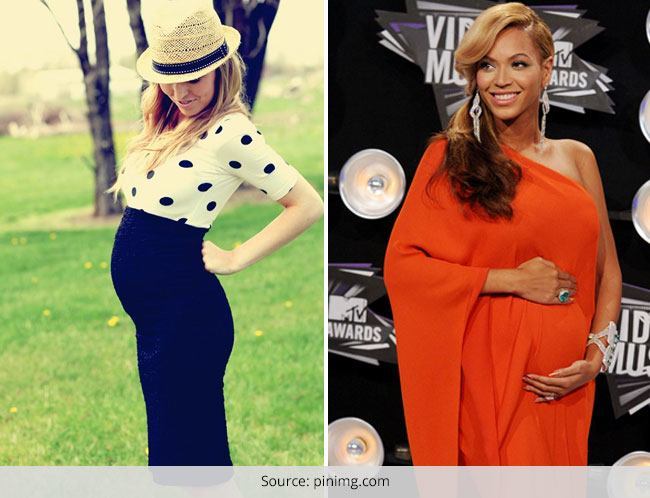 When you're pregnant and start sporting a baby bump, do not shy away from flaunting it. Let the world know you're expecting and don't let anyone miss noticing your adorable baby bump.
Celebrities seem to have moved on from wanting to hide their baby bump from the paparazzi for as long as possible—by wearing loose clothes that cover up the bump. These days, most celebrities proudly share pictures of their baby bump with none of the yesteryear reservations about opening up about their personal life. This is in part due to the huge way in which social networking has taken up residence in our lives. So instead of trying to play it down, go ahead and take a leaf out the celebrities' book and proudly show off your baby bump with panache. Let us look at some of the ways in which you can ensure your baby bump grabs the spotlight.
1. Place Your Hands over the Bump
Gently place your hands over the baby bump. This pose frames the baby bump and makes sure everybody notice it. Check out how Beyonce shared her happy news with a subtle placement of her hands.
2. Wear Stripes
Wearing stripes helps accentuate your baby bump. When the material stretches over your bump, the stripes look distorted and hence make your baby bump immediately noticeable.
3. Wear Figure Hugging Clothes
Instead of opting for maternity wear and clothes that will accommodate your baby bump, wear your regular clothes that stretch across the bump. This will make your baby bump blatantly obvious. Look at Jessica Simpson rocking a tight dress that puts her baby bump into plain view.
4. Post a Picture on Facebook or Twitter
The easiest way to ensure everybody knows about your baby bump is to put up pictures on social networking websites. Before you know it, the news will spread like wild fire. Snooki, the former Jersey Shore's star did exactly that. She shared her selfie with all her followers on twitter.
5. Get a Henna Tattoo on Your Baby Bump
What better way to grab attention to your baby bump than to get a henna tattoo on it? Your baby bump will be all your friends can talk about. It creates a strong impact.
6. Wear Black
There's something about wearing a black dress that is just so classy. While it will still make your baby bump visible, it does so in an understated way. Heidi Klum sure knows how to work the baby bump in this full-length gown.
7. Avoid Large Patterned Clothes
Refrain from wearing clothes with loud prints and other distractions as they will end up taking the attention away from the baby bump and may even end up camouflaging it. Lycra is your friend while satin is not. Stick to solid colours or smaller prints that complement your baby bump.
8. Wear a Wrap Dress
A wrap dress is the perfect choice to show people how big your baby bump is. It also enhances your pregnancy cleavage and makes you look full and very, very pregnant.
9. Opt for a Tunic Top
Tunic tops are your best buddies when it comes to comfort and style. They are extremely comfortable as well as being incredibly stylish. Pair them with leggings for the ultimate baby bump look. Here Jessica Alba pairs her maroon tunic with black leggings and a black woollen shrug.
10. Stage a Cute Baby Bump Photo Moment
Check out Megan Fox and Brian Austin Green in this sweet picture. There is no way you'll overlook that baby bump she's sporting. Capture your sweet moments with your loved one and have the world take notice of your baby bump.
Baby bumps are being celebrated. From the Hollywood A-listers to the British royalty, everyone's showing off their baby bumps. And why wouldn't they? It is such a momentous and joyful scenario. So go ahead and chart out your plans to flaunt your baby bump. High fashion and high emotions are what it's all about. So let the world know that you're expecting, and do it in style! Maternity wear is no more about just comfort, the focus is now on comfort added with style. So join the stylish mommy-to-be bandwagon.
Document your pregnancy through lots of photographs that can later be put together as a scrapbook and shown to your baby.
Do not forget to eat right, follow a good beauty regime and make sure you have the most beautiful experience during this wonderful period.