Bollywood actors, in order to always look their best, have to follow a healthy lifestyle. This eventually also helps in coping up with stressful shooting schedules. However, many of them take to the refugee of cancer sticks to bust their stress and some do it sheer out of old habits. Yet they are counted among the fit Bollywood celebrities and looked up to for their well-maintained bodies.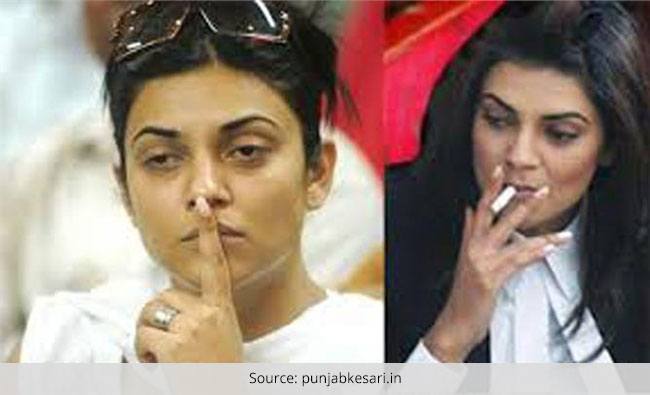 Here are the list of some smoking hot Bollywood celebrities!
1. Sushmita Sen
Who tops our female smoking celebrity list: Former Miss Universe: a smoker and is proud of it too. She says she has chosen this lifestyle for herself and will not do anything to give it up. This mom of two, and former beauty queen still gets hearts racing, whether she is smoking or not. And at the age of 38, she still looks gorgeous and maintains an absolutely athletic figure to die for!
2. Rani Mukherjee
The new queen to the Chopra Empire is quite a find among the group of Bollywood smokers. But maybe the glamorous lifestyle just leads to the habit. Word has it that Rani cannot go a day without her smoke; she can't even begin her day without it. Needless to say, her family is not appreciative of this habit, but she continues her way nonetheless. We didn't know this Bollywood actress smoking habit will go so far.
3. Kangana Ranaut
Next in the list of celebrity chain smokers is Kangana Ranaut. She has played a many distraught roles in films, portraying a person addicted to smoking and drinking; but little do people know that Kangana is a heavy smoker in real life too. This simple small town girl rose to fame with her back to back box office smashing performances. Whether it is the glaring success, this lifestyle or just something she enjoys, we don't know, but she does love herself a good puff once in a while.
4. Tanuja
Yes! You read it right. She is also among the list of celebrities that smoke. The yester year actress smokes too. Hang on! What is even more shocking is that this actress was seen openly smoking at a charity event for children. Well, she should have been a little more careful is what we honestly feel.
5. Ranbir Kapoor
All the girls go crazy for him, and he goes crazy for a smoke. Rumour has it that he often held up the shooting schedule on the sets of 'Rajneeti' because of his smoke breaks. But whether he smokes or not, you cannot deny he is one of the fittest and most attractive actors of the current generation. And his versatile acting talent has got us all overlooking this little flaw.
6. Arjun Kapoor
Arjun Kapoor rose to fame right after his debut film 'Ishaqzaade' and managed to gain a huge female fan following! Like many other Bollywood star kids, he too went on a transformation phase from being a fatty to a fit personality. He may have dropped all his bad habits to lose weight but one thing that seems, he may not have been able to quit is to smoke. Yet, he has a chiselled physique enough to flat his fans!
[sc:mediad]
7. Shahrukh Khan
Badshah Khan of Bollywood probably leads the smoking genre as well! All his fans know the fact yet the king Khan keeps on fascinating us with his immense talent and confident attitude. Shahrukh Khan's day doesn't complete without a smoke and at times, he even finishes 4 packs in a single day. But who cares until he continues to charm us with his performances and unapologetic wit!!
8. Salman Khan
Everyone knows how high Salman Khan is into smoking! He says that he tries to quit but have not been able to do so successfully. All his fans (male & female both) adore his fit physique, which Sallu bhai never forgets to flaunt in any of his movies, though it may be only for a moment.
9. Ajay Devgan
It may not come as a surprise to many that Ajay Devgan smokes. He is quite open about it and it's a widely known fact. However one thing many people may not know if that he has been trying to kick the habit. His little daughter has been pushing him to rid himself of the habit, and he has tried hard; but looks like it hasn't worked yet. We guess Singham will continue to do smokin' for a while.
10. Arjun Rampal
Arjun Rampal's sculpted looks and chiselled muscles are adored by all of his female fans. Crowned as an actor with Greek God looks, Arjun Rampal is quite the hot favourite among the eye candies of Bollywood. He has also been a chain smoker for a long time. But all that bad has not hurt any of the good. He continues to look like heavenly perfection every day.
It is known that even Manisha Koirala was a smoker. Not sure if she still continues to smoke, but we really hope and wish that she has stopped. At least after she was diagonalised with cancer and was treated for the same.
Please Note – Smoking is injurious to health and cancerous. You must not do it. Those who do should quit it before it gets dangerous and affect your health and fitness.