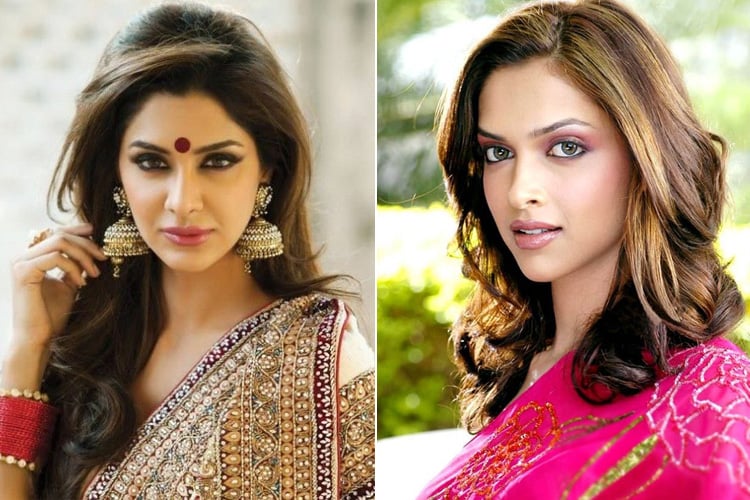 Believe it or not, there are many interesting hairstyles that can be explored for long faces. What's the long and short of it? There are hairstyle for long face thin hair, short hairstyles for long faces and of course best hairstyle for long face. Let us find out how hairstyles for long faces can be made charming and attractive.
Back To School Bouffant Ponytail Hairstyle
Old school Ponytails are back. Just add a little twist like the gorgeous Deepika Padukone did in this picture and you land up with a heart-winning hairstyle. Yes, add a pretty bouffant to your regular high-ponytail and you will leave everyone speechless. In short, this hairstyle for long face Indian is a perfect match to Ms. Padukone and perhaps the best hairstyle for long face. It also shows how a ponytail hairstyle can go very well with a saree, what say?
Half Up Half Down Hairstyle For Long Face
Wondering what hairstyle will go with this pretty long face? BANGS is all it needs. Style the long hair just like the charming Shruti Hassan did with her astonishing half up half down hairstyle. Easy and attractive, this contemporary hairstyle needs you to tuck your hair from both ends in a clutch or band. Then let the rest of your hair be turned into soft waves. Your party look is all ready! Try it.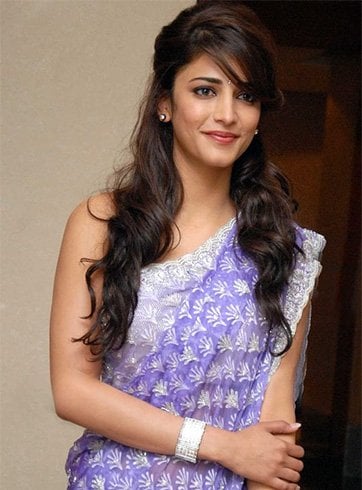 Braided Crown with Low Bun For Long Face
Alright, we know how hot Sonam Kapoor has always been. Whether due to her appearances at the Cannes or her upcoming movie Veere Di Wedding or her rumored news of wedding with Anand Ahuja in March this year, she has always proved it. This time again, she was her stunning best when she adorned her hair with a crowning jewel-like braided hairstyle which she dutifully complimented with a low back bun. Get Sonam's look by wearing a statement saree and you will surely steal the spotlight effortlessly like the young and beautiful actress.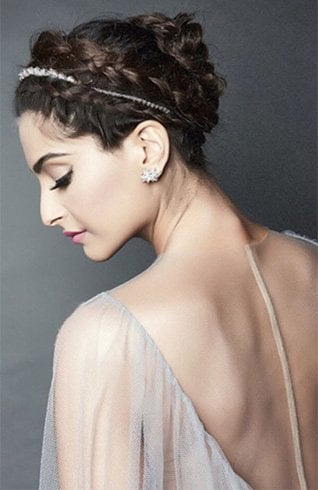 Side Swept Open Hairstyle
Open hairstyles look glamorous with sarees. Impress your everyone with this side swept open hairstyle on one side of the shoulder and light curls at the end (which add to the length of the hair). This hairstyle for long face thin hair is simple and easy to get and can go well with any type of saree. But yes, do not forget to add the curls using a styling rod.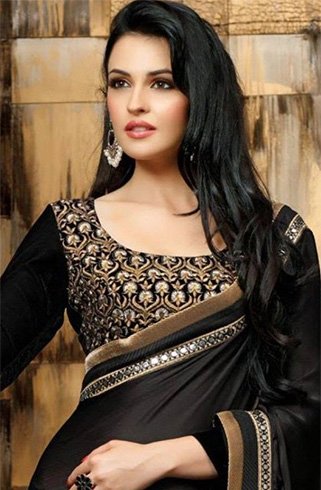 South Indian Braid With Middle Partition Hairstyle
This Pattu saree looks gorgeous and heavenly, but so is the braid. The South Indian braid is not just an easy hairstyle for saree, but one of the best choices at hand. The braids always give you different variations to try out. In this one, hair has been parted in the middle. Then light puff has been created at the front through the side. All the hairs collected at the back of the head have been divided into three sections, followed by a simple and tidy braid. A band secures the end of the braid and a lovely kundan accessory amps up the look. When you leave a few locks loose at the front, you invariably add softness to the look.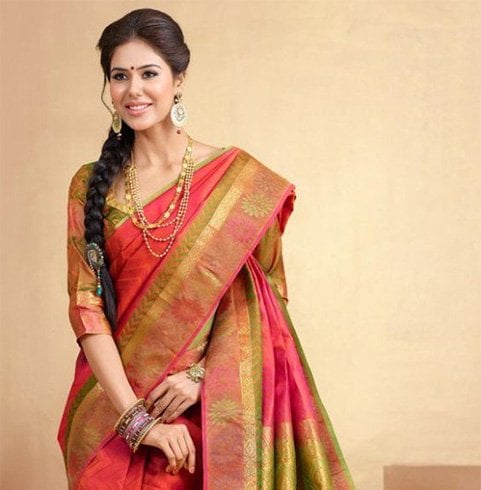 Open Hairstyle With an Updo
The beauty of this open hairstyle is the up do from which the hairs flow down. Instead of the back of the head, hairs have been collected at the crown. The making of light tapered puffs from both the sides, the securing of hairs on the crown itself and the whole length of the hair left hanging loose right from the up-do, all add up to the charm. This easy-to-get hairstyle looks gorgeous with a saree.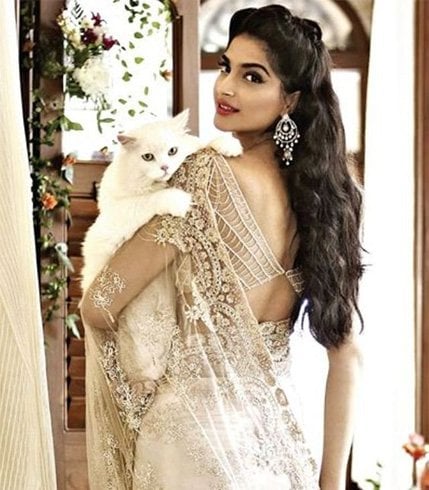 Loose Side Tie Hairstyle
Talking of easy hairstyle with sarees, this side tie style makes a good choice. The best part about it is that it looks fabulous even with the simplest sarees. Here the hairs have been swept to one side and then tied at one side of the shoulder. As for the rest of the length of the hair, they have been left loose.
[sc:mediad]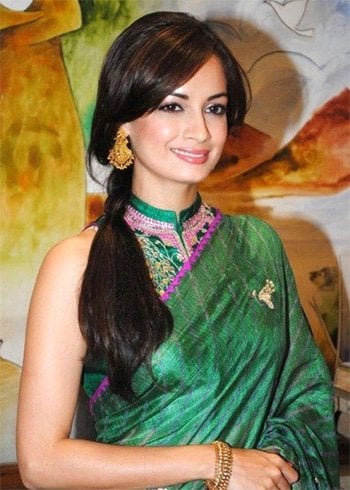 Side Swept Short Hairstyle For Long Face
No worries if you have short hair. You can style them rightly with a saree. Part the hair to the side and bring hair to the front to get a face framing look. The natural curls on the hair look absolutely gorgeous. Make it a point to pair a short hairstyle with a stylish blouse. This will put in the glam factor.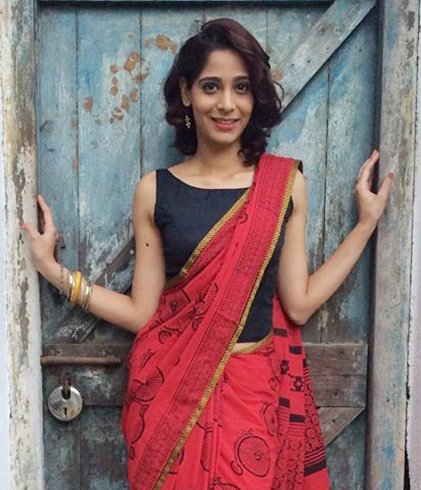 Low Side Bun Hairstyle For Saree As Partywear
To get a soft look for sarees, low side buns are easy to make and perhaps the winning style. To get this hairstyle, collect all your hairs to one side of the head and then make a low bun. Get some bobby pins to keep the bun in place.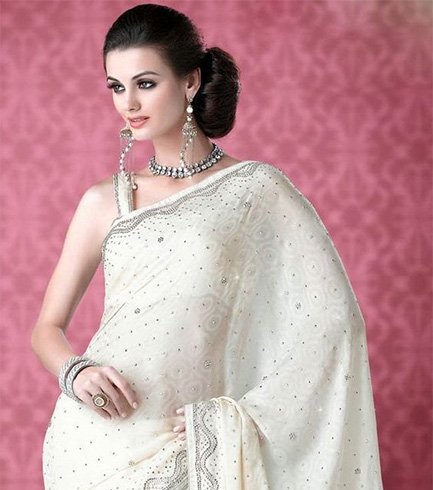 Chignon Bun Hairstyle
Chignon buns look very very classy with saree. They can add a zillion dollars to your look. Collect two small strands of hairs from the two sides, and tie them at the back of your head. Now tie up the length of your hair at 1/3rd using a band. Pass the hairs twice to get the round look and secure it with bobby pins. In the end, let the locks at the front hang loose.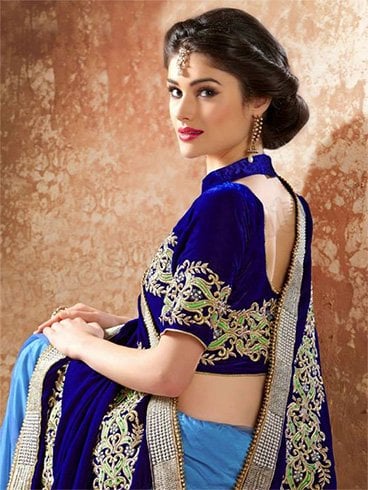 Top Knot Hairstyle
Every girl dreams of straight and heavy hair. In fact, you can follow different hairstyle for long face Indian with simple straight hair and twisted on top as shown.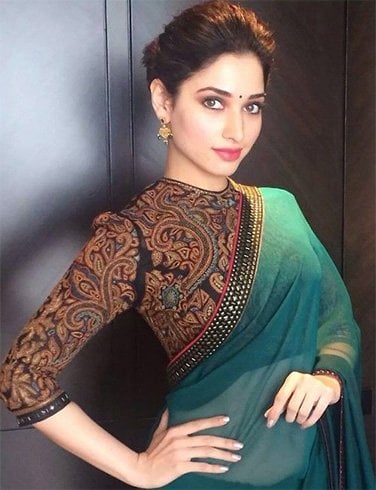 Simple Side Messy Braided Hairstyle
If wearing a chiffon silk saree is on your mind, then sporting a side swept messy braided hairdo is enough to make you look breathtakingly beautiful. The Bengali tant saree worn by Sagarika Ghatge brings a quaint touch with this hairstyle.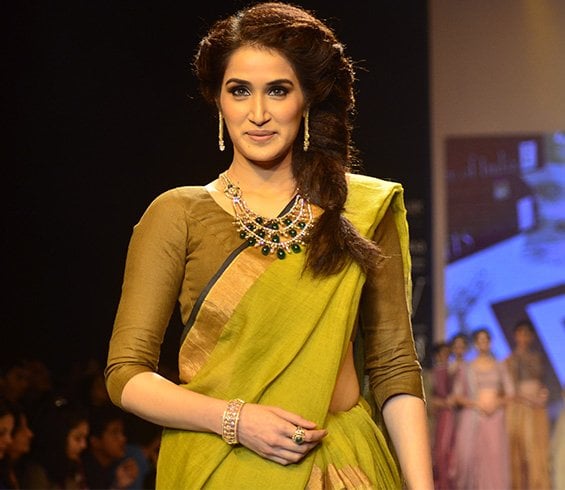 Hanging Back Bun
Regal it is! Not just the aristocrat silk saree but the hanging back bun. Both go very well for longer faces. The hanging back bun done in a messy way hangs right on the neck, adding dimension to the longer face shape, making it look more contoured.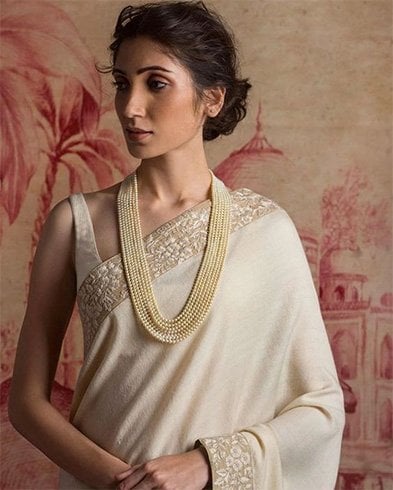 So which hairstyle for long face Indian do you plan to go for? The options shared are heartening enough as you can see. Tell us your opinion in the comments below.
Images Source: beautyhealthtips.in