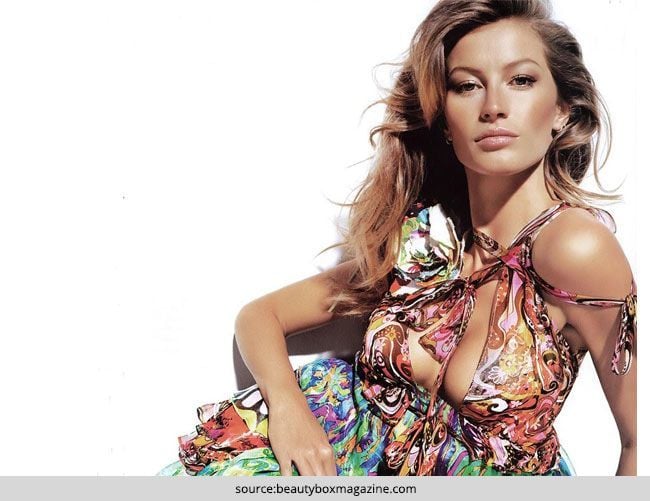 If movie stars make millions every year, models too rule the moolah charts globally. Only Gisele Bundchen knows how it feels to top the Forbes Highest Paid Model list every year since 2002. Now that's crazy amount of money. Let us look at the Forbes 10 highest-paid models of 2014. Thanks to modeling, various endorsements and shrewd business tactics, these top models in the world are living what we call a dream life.
Gisele Bundchen
This 34 year old Brazilian beauty took home an astounding $47 million pre tax and fees in 2014. How? Apart from lending her presence for H&M, Chanel and Carolina Herrera, she also makes good money by designing jelly sandals for Brazilian shoemaker Grendene. If this wasn't enough she has a line of Hope lingerie called Gisele Bundchen Intimates. Here's to leave you gasping for more – she made six times more money than her closest rival last year!
Doutzen Kroes and Adriana Lima
Second position with $8 million annual income was shared by Victoria's Secret Dutch supermodel Doutzen Kroes and her Brazilian counterpart Adriana Lima. While the latter has been a longest running Victoria's Secret favourite, Doutzen Kroes is also an actress; thus adding more riches to her kitty.
Doutzen Kroes
Adriana Lima
[Also read – 5 ways to look like a super model]
Kate Moss and Kate Upton along with Miranda Kerr and Liu Wen
[sc:mediad]
The third spot was shared by four exotic beauties from across the globe with an earning of a cool $7 million each. While Kate Moss has been Britain's longest reigning supermodel, American model and actress Kate Upton is a constant Sports Illustrated fave and a newcomer on the Forbes' list. Miranda Kerr whose personal life makes more headlines, ensures her paychecks are strong too. She launched a very successful cosmetic brand Kora Organic in 2009. First model from China to walk for Victoria's Secret, 26 year old Liu Wen is a huge sensation back home.
Alessandra Ambrosio
Next up is a stunning Brazilian model and mother of two Alessandra Ambrosio. She made a neat $5 million in 2014. She has clothing giants like Pinko and H&M in her kitty and also has her own clothing line with Planet Blue.
Karlie Kloss and Jourdan Dunn
Another newcomer on the list is American model Karlie Kloss. She took home a sweet $4 million in last 12 months. Again a Victoria's Secret discovery, she is also the face for Jean Paul Gaultier, Coach and Neiman Marcus. Also sharing the position with Karlie with same amount of money is British sensation Jourdan Dunn. She was the first African British model to walk for Prada in over a decade, which garnered a lot of attention worldwide. In July 2014 models.com declared her an icon.
These divas made it really big last year. With more fragrances, clothing and cosmetic brands wanting none but the best faces, these supermodels will simply add loads to their fortune year after year.