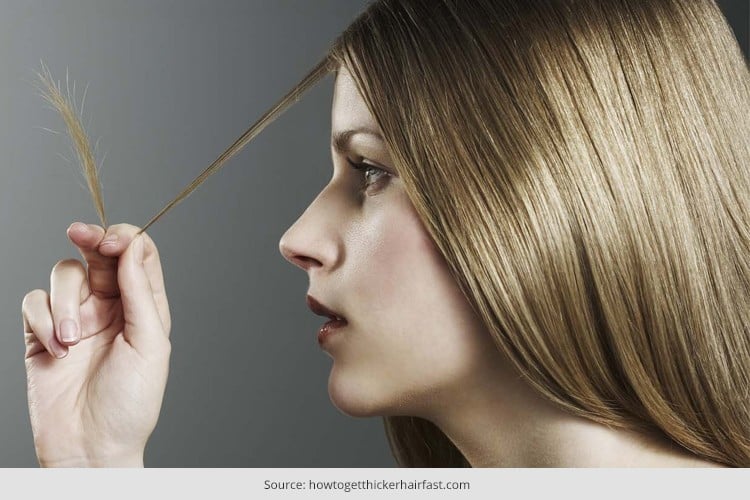 If you are in search of home remedies for hair breakage you have the hit the right link. We have all the information that you need to treat those manes. Be the damage due to excessive use of heated tools, chemical treatments, poor diet or exposure to dust and UV rays, every single thing you might need to undo the damage is present right now in your own kitchen.
How To Stop Hair Breakage
Mentioned below are seven home remedies that will help you learn how to stop hair breakage. Read on.
1. Use An Egg Mask
Eggs in themselves are great for depreciated hair. And when you combine them with other healthy products they work like magic. Add a few drop of essential oils to two eggs and beat them into a smooth hair mask. You can also add eggs to your regular henna mask, or mix them with plain curd. Squeezing a lemon into this pack will also cut off the typical egg smell. Once a week treat your hair with a thick hair mask that has one or two eggs and let it dry for one hour. Rinse with a mild shampoo and follow up this step with a good conditioner. And all you have left is silky softer hair which stays more on your head and less on your comb.
[Also Read: Honey, Egg, Coconut Oil Hair Mask]
2. Hot Oil Massage
Going on with treatments for hair breakage, hot oil messages are one of the easiest and comforting things you can do. Not only is this a great remedy for breaking hair but also for the one that is dry like a wood. Usually natural oils like olive, corn, almond, lanolin, coconut and castor oils are used for hot oil massages. They are superb in repairing the damage and moisturize the hair eventually stopping weakening and falling of hair. These oils also nourish the stands with vitamin E. You will have to warm about 4 to 6 tablespoons of the oil of your choice and massage into your scalp head. Then wrap up with a warm towel so that oil penetrates deep into your scalp. Leave it overnight and wash off in the morning with a gentle shampoo. As I always say, don't forget the conditioner.
3. Eat A Balanced Diet
The easiest way to repair hair breakage at home is to eat healthy. Ensure your diet includes the ingredients needed for strong and healthy hair which won't be brittle enough to break at the drop of a hat. A balanced diet is the best home remedy for hair breakage which we often oversee. Your plate should be rich with lean proteins, biotin, iron, beta-carotene, omega 3 fatty acids, and zinc. Drink at least eight glasses of water every day. If getting these through your regular diet isn't easy, consider going for vitamin supplements which provide the body with vitamin B, A, E, CoQ10 and iron, biotic. But it is always better to go the natural way by including loads of fresh fruits and veggies in your eat chart.
4. Try The Olive Oil, Mayonnaise And Vinegar Mask
Mayonnaise is great not only in your sandwich and salad but also on your hair. Make a mixture of Mayonnaise, olive oil and vinegar. Beat the mixture enough to even out its consistency and apply the mask all over your hair and scalp. Olive oil works as a great moisturizer for your hair, mayonnaise has the goodness of eggs and vinegar will prevent the hair stands from tangling and give them that extra bit of shine you always wanted. Once the pack dries on your scalp, use carbonated water to rinse it off.
5. Blend Vitamin E Capsules with Your Shampoo
Nothing like vitamin E for skin and hair. Vitamin E capsules are easily available at any pharmacy near you and are very cheap. Break two capsules and mix them with your shampoo every time you head for a hair wash. Not only will your hair be clean, but also boosted with vitamin E. within a month you will see noticeable decrease in your hair breakage.
[Also Read: Causes Hair Breakage]
6. Apply Baking Soda Before Hair Wash
The list of things you can find in your kitchen for hair breakage is limitless. And baking soda is just another product on this list. Dilute one cup baking soda with honey and water, and apply as a mask on your hair. Let it stay for 10 minutes. This mask will clean your hair of synthetic hairstyling products and dead skin gathered on your scalp. A dirty scalp is a cause of massive hair breakage hence cleaning it can only lead to a major drop in hair fall.
7. Treat Your Hair With Onion Juice
Onion can make you cry but it certainly makes for a great hair breakage product. This vegetable, rich in sulfur, encourages the growth of baby hair and also strengthens the roots. Girls around the globe resort to this home remedy and treat hair breakage. Grind 3 to 4 onions in a mixer and spread it all over your scalp. Yes, the smell of onion can be a little nasty, but who said beauty was an easy game. And you will wash it off after 30 minutes anyway. Repeat it every week.
Stick to any of these solutions for at least six months. It is safe to say that when repeated at least twice a week, any of these home remedies will render amazingly visible results. These will not only stop hair breakage but also make your strands more soft and shiny. You will know when they reflect the sunshine, how healthy and beautiful they are.