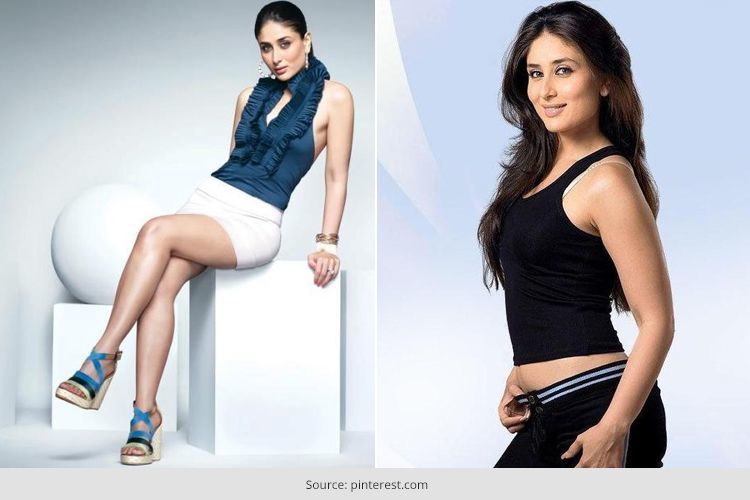 She is the one who brought size zero figure into limelight. Her glowing cheeks fade away the importance of artificial makeup. Is there a special diet that Bebo has or is there any such secret in Kareena Kapoor diet that makes her look the gorgeous diva each time she performs?
[Also Read: Best Looks Of Kareena Kapoor Fashion In Indian Wear]
Yes, Kareena Kapoor Height might always be the talking point in press besides the fact that she is the reigning queen in Bollywood. But she knows how to keep up in shape.
Let us find out more about Kareena Kapoor beauty secrets, Kareena Kapoor Workout Routine, Kareena Kapoor's fitness and how to glow like Kareena Kapoor.
Kareena Kapoor Workout Routine
We all know Bebo from her Refugee days, a film which marked the beginning of her career. It was the movie Tashan which brought her slim avtar into the limelight. According to rumours, Kareena apparently lost 20 lbs for the film Tashan. But it was due to a healthy diet plan and Fitness Workout that made her pound shedding worthwhile. Even though size zero is a thing of the past, Kareena Kapoor's fitness is something to take lessons from.
All credit for the slim and trim figure of Kareena Kapoor goes to Rujuta Diwekar who is a renowned nutritionist and dietician. She monitored Kareena Kapoor diet and Fitness Workout like an able taskmaster. Kareena had to say goodbye to fatty foods such as butter, cheese, pasta and parathas and go for low fat foods such as soups, salads, yogurt.
Diet Secrets Of Kareena Kapoor
It might amaze some of you but Bebo is a strict vegetarian. Which is why she includes all possible health meals and veggies such as spinach, broccoli and fenugreek in her food.
Here is a snapshot of Kareena Kapoor diet that might help you follow hers.
She starts her day with milk or fruit juice, not tea or coffee. Simple and healthy diet is the formula that she sticks to. The food consumption of Kareena on a daily basis is like so:
Breakfast includes muesli, bread slices or paranthas with milk, soya milk
Lunch includes chapattis and dal, green salads and soup in adequate quantities
[sc:mediad]
For Snacks, Bebo goes in for protein shake, nuts and fruits
Dinner largely comprises of chapattis, dal or vegetable soup
And yes there are 6-8 glasses of boiled water that Bebo has everyday
Things Kareena skips are high calorie diet in the form of rice, though she does take a slice of cheese in breakfast with sandwiches and paranthas. She likes to take meals in small portions after every three hours so as to stay energetic throughout the day. Sugar and ghee she takes in moderate quantity.
The logic that Kareena applies to eating is impressive – the food to be consumed should be proportionate to the physical activity done in a day.
All this is thanks to her dietician, Rujuta Diwekar, who has helped Kareena to eat in a balanced manner.
Workout Regime Of Kareena Kapoor
The fitness formula of Bebo is largely a mix of cardio exercises, cycling, yoga and dance. Kareena puts one to two hours of Fitness Workout on a daily basis.
Power yoga and hot yoga are an integral part of Kareena Kapoor Workout Routine which explains glow like Kareena Kapoor. In fact, Bebo swears by yoga which she feels adds to her sizzling look.
Payal Gidwani Tiwari is a renowned celebrity trainer for Kareena. In the beginning, Kareena was not a yoga fan and left it after practising it for a month. But she got back into this body shaping natural exercise and has ever since stayed addicted to it.
Did you know that it was the power of yoga that helped Kareena tone down her bulky thighs?
Beauty Regime Of Kareena Kapoor
When it comes to Kareena Kapoor beauty secrets they are very simple. Keep having plenty of water in your daily work routine to get glowing skin, never step into the sun without dabbing sunscreen, use minimal makeup, have regular head massage and keep having small morsels of nutritious food throughout the day.
Tell us what you think of Kareena Kapoor's fitness and beauty mantra. Planning to use them for yourself?