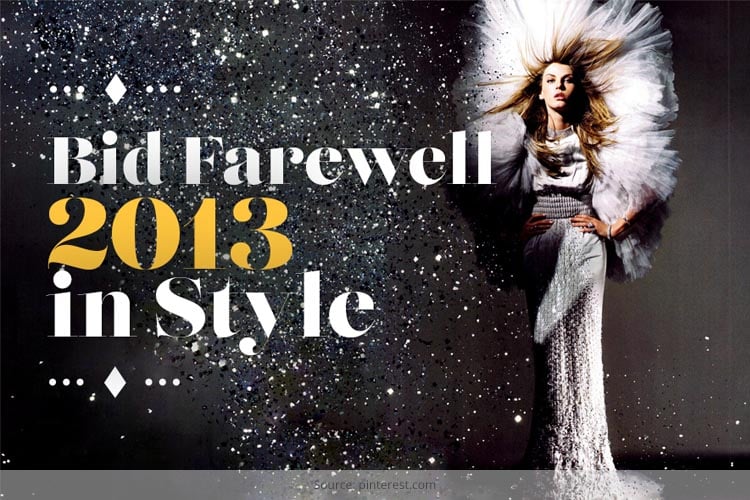 While we are on the verge of the 2013, I have something very interesting and fun way to bid this year farewell in style. The Fashionlady team has always tried to help their readers with the appropriate get-up for every occasion, be it Navratri, Diwali, office holiday party or a simple family gathering. We are always here to help our patrons with their fashion emergencies. Anyways let me come back to the topic.
In this post, I will just help my readers end this fabulous 2013 with a strong dose of fashion to cherish it for the coming years. All you need is strike the right cord between partying around, attending pre-bridal showers and even tackling the wintry days. Let me just take you through a fashionably correct December. Do have a read!
Jackets and Turtlenecks
When it's winter, it's time to take out your favorite jackets and waistcoats from your closet. These fabulous outer wears can go with almost any outfit and not to mention these are your winter essentials.
This month, you can pick your cashmere tops or sweater with skinny turtlenecks, which have made a huge comeback this season. Believe me, you'll only give a classic vintage touch – the Audrey Hepburn way to your style quotient.
Go for tailor-fit woolen jackets to create an impact, as they can make you look streamlined, keeping you away from all the hassles of layering, which can make you look bulky!
[sc:mediad]
Pair your statement jackets with skinny jeans, jeggings or leggings, anything that can enhance your stature.
When in doubt wear red!
The LBD is a passe now. This winter you should go for a Little Red Dress to jazz up your look. A red dress can always make you stand out in the crowd, provided you have the know-how to pull it off. Since it's winter, you should not torture yourself in the name of fashion, so avoid too short dresses. Make sure your dress fall comfortably on your knees, thereby creating a balance between classy and sexy!
Maxi dresses are trending this season, so you can pick one and pair it with a chic waistcoat, which is an appropriate choice for your winter. Even crop tops are the flavor of the season.
You can pair your crop top with a sequined pencil skirt for your party look. Make sure your party classics are of best quality, as a cheap quality can quickly bring you down in the fashion meter.
And if you are not in a mood to flaunt your legs then you can go traditional way by pairing your skinny turtleneck tunic with churidar. Remember the 70's actresses, Bobita and Rakhi? Keep your hair sleek or else you would end up looking like a 70's fashionista. Complement your look with onyx ear studs, berry lips and a box clutch to give an edge to your overall look.
Bring in bling this month apart from prints, which should not a regular in your fashion routine. It's time for shimmer, bling and sparkle for your new year bash!
Heel the world with your sole companion!
When it comes to footwear, you must be bit practical to keep the comfort level intact, so that it should not spoil your party gigs. Occasion and place are considered first when it comes to choosing footwear. even though heels are always fashion saviors, make sure to consider the hours of your activity. if it's more than 2-3 hours or you are going to party night long then carry an extra pair of flats in your car to change them when your feet start aching.
Some added tips: If you have experience in getting sudden invitation and you are forced to head straight from your work then this party season, it's better you have stashed up your car with some good pair of heels. Sometimes great makeup, accessories and heels can create wonders making you always ready for any party to let your hair down.
Hope you enjoyed this post!
Happy reading!