Indian bridal attire is no more confined to the mandaps and the new bride's wardrobe, but has gone global being eyed upon by almost every prominent fashion house as a source of inspiration. Apart from our Desi designers, even international fashion experts have come forward to give a try to this intricate Indian wedding attire.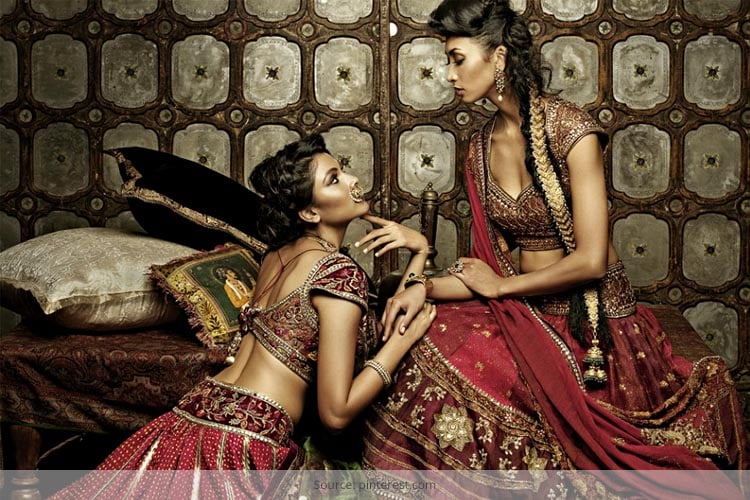 While Tarun Tahiliani goes global along-with Rohit Bal, Ritu Beri and Manish Arora; Chanel along-with their creative head Karl Lagerfeld have taken cues from bridal wear and ornaments for their fashion shows. The maang tikka, which was exclusively used in the Chanel's Paris-Bombay show was an indication that international fashion domain is showing huge interest in our tradition.
I have rounded up three ace fashion designers for Indian wedding trousseau. If you're looking for designer wedding lehenga or gown then better check out these designers' boutiques first.
Tarun Tahiliani
Purest in oddity
The free-spirited Indian bride, who still loves to show up on her D day in a traditional yet breathtaking lehenga, will definitely fall in love with the Couture King's works. While the silhouette and fit are paramount, comfort is another key to keep up the bride's graceful stature. As per Tarun, the wedding attire should not be based upon what's trending but what particular style suits the bride's body and personality.
"I hate to see my bride looking like a vintage grandmother", says Tarun. He further adds on that his bride should look Indian as well as modern.
Tarun's USP lies in his 'East meets West' funda. His signature embroideries are now getting global recognition, as these are now seen in European gowns as well.
"Bridal fashion is not about trends, but more about individualism and being true to one's personality and ideals. It is about celebrating our cultural heritage and our incredible tradition."
His latest collection features Indian fabrics with traditional embroidery along-with European-style silhouettes through impeccable technical finesse.
In order to make his creations flawless, Tarun has traveled to Italy's fashion capital Milan. While strolling across the Via Monte Napoleone and Piazza Duomo, he discovered some of the region's best local artisans, who assisted him in conceiving such superb collections.
 Ankur Batra
Schooled in Ecru
The way Ankur Batra makes use of Ecru, nobody does that. Each and everything Ankur creates is exquisite and classy!
[sc:mediad]
What is Ecru?
As per Wikipedia,
"Ecru is the shade greyish-pale yellow or a light greyish-yellowish brown. It is often used to describe such fabrics as silk and linen in their unbleached state. Ecru comes from the French word écru, which means literally 'raw' or 'unbleached'."
Ankur's clientele includes brides from India's opulent families from Delhi, Mumbai, Indore, Raipur, Nagpur and Banglore. His designs suit the likeness of those, who are looking for bling-rich and unique lehenga designs in soothing colors. If you're not following Indian bridal designers then Ankur must be a new name for you. But after reading my post, make sure to include him in your wish list, as his designs are slowly taking the Indian wedding fashion by storm.
The designer prefers to maintain low profile and is hardly seen at any fashion shows and not to mention does not like sharing pictures with media. Probably this is the reason, his name is not familiar with every fashion enthusiast, but one glance at his work and I bet you'll fall in love with his works.
Ankur runs two labels along-with his partner Amita Shukla – Ecru and Amber. While Ecru is aimed at couture and bridal wear, Amber is a luxury prêt label. Let me tell you his wedding attire starts from 8 lac on-wards.
With a conjuring intuitive approach, Ankur uses instant diamante trims and cuts to beautify the feminine curves, thereby highlighting small waist and also an elegant neck with prominent collarbone.
Atsu Sekhose
Understated with elegance
The 'Seven Sisters' are slowly showing their eminence in the Indian fashion domain and their presence is already personified by the Nagaland fashion designer, Atsu Sekhose, a graduate from NIFT Delhi. Atsu, who had dreamt of YSL and Gorgio Armani in childhood is now counted among the prominent fashion designers of India.
His collections are usually a mix of Asian and Western elements and are primarily based on chic and understated clothing. His modern silhouettes and breathtaking embroideries along-with a sensible use of color make this designer stand out among other designers, when he exhibits his shows in various fashion weeks.
Apart from his ready-to-wear and haute couture designs, Atsu has stepped into the Indian wedding fashion world. His tailor-fit chic blouses and lehengas in soft shades of  champagne, rose pink, lavender and mint, accentuated with muted embroideries and floral motifs give a western touch to his ethnic creations.
As per Atsu,
"In my designs, you will find a great deal of hand embroidery, Indian techniques like zardozi and Chikankari, that I have clubbed with more modern embellishments—laser-cut flowers, cutwork and intricate beading."
His forte lies in sophisticated silhouettes with subtle embellishments.
Hope you found this post useful!