When you are hard pressed for time, you just tend to run a wobbly hair brush through your hair, apply kohl only to smudge it badly and make a hurried swipe of lip color over your lips. The end effect tends to be a devastating let down and gives you the appearance of someone who has just been out of a storm. Now, we don't want to look like that to work, college or running an errand, do we?
Whether you are a busy mommy juggling careers or a not-a-morning-person college girl, sometimes you just don't have the time for an elaborate round of make-up especially when there are only five minutes left to catch the cab or reach in time to the class.
Therefore, my dear fashionistas, we present to you a magical way to artfully apply make-up within 5 minutes and get ready to be be on the run! If this line elicits incredulous expressions and question marks popping up in your mind, then read ahead to find out how do we achieve this mean feat:
2-in-1 make up products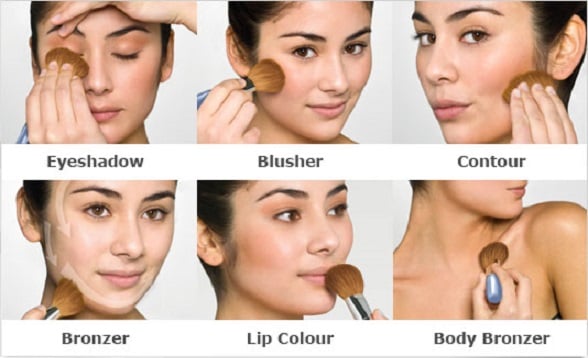 When you are in a rush, you do not have the time to sit and patiently pick up different bottles of foundations and concealers. Instead, you keep wishing why doesn't the make-up just magically apply leaving you with a sparkling, pretty face? Well, you don't have to go through the exercise of painstakingly applying a separate foundation or concealer every time you want to head out!
Just invest in a make-up products which packs the action of 2-3 make-up works into one. How about buying a super cool stick which does the job of a concealer, compact and foundation?
Lotus Herbal Stick Foundation, is one such product, which comes in a stick package and does the work of a foundation, concealer and compact. Plus you don't have to worry about it being runny or being cakey on your face. It blends in beautifully with the facial skin and your face won't stand out like a globe of light in photographs! This one even has a SPF 15 to give you the much required protection from the harsh Indian heat.
You could also opt for BB creams which not only moisturize your skin but also make it even-toned, fair, add an instant glow and protect your skin from sun rays. Go for Garnier Skin Perfector BB cream or Maybelline clear glow BB cream.
This way you can hide the imperfections, cover up the blemishes, hide the dark circles and look a shade fairer!
Applying Blush the Simple way
When you don't have much time, just pick a neutral, bronze hued mineral blush and use a puffy brush to apply some on your cheeks. Do not press the brush too much into the mineral blush and keep the touch as light as possible. After all, you don't want to apply too much in a hurry and waste time wiping it away !
Also, you don't want to disturb your perfect and smartly applied coat of foundation-cum-concealer. Revlon ColorStay Mineral Blush Deep is a great choice which will give your cheeks a soft and radiant feel which won't fade or smear throughout the day.
A quickie coat of Kajal & Eyeliner
Even if you are in a rush, do not neglect your eyes which are the best way to accentuate your features, add beauty and definition to your face. If you are tired of picking up the mascara wand, then switching over to eyebrow pencils and finishing off with coats of kajal and carefully applied eyeliner, we have a solution for you!
Invest in a make-up product for eyes which has dual action I.e Kajal cum eyeliner. How about trying Lakme Eyeconic Kajal which is smooth, has a creamy texture and glides buttery soft on your eyes? It can be used as both kajal and eyeliner which works well for your eyes.
On the lips, a single swipe will suffice
When in hurry, do not go for hasty application of lip liners and painstakingly perfect filling in color with lipstick. Instead, rely on those splendid, gorgeous glossy lip liners whose one swipe will give your lips the required gloss, shine, radiance and color.
Invest in a quality lip gloss from brands like Lakme, Mac, Chambor, Maybelline to gloss your lips for a long lasting effect. Make sure you buy a lip gloss which on application does not become sticky, runny, bleed or does not ebb away after eating or drinking.
Spray on some lovely fragrant perfume and you are set to go! This simple routine will hardly take you few minutes and make you gorgeous in just no time! You are set and ready to go:)