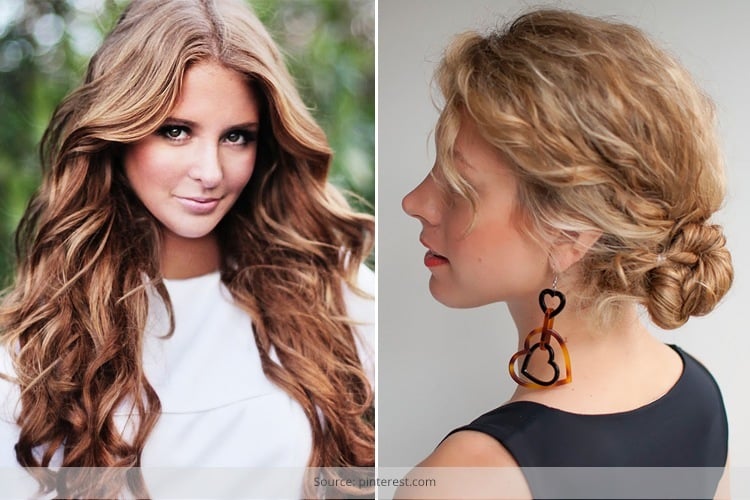 Curly hair is fun, sassy and full of oomph but monsoons is perhaps one of the worst nightmares for those with curls. Your hair changes in texture and a halo of frizz surrounds your head making you dread the monsoons. But don't let rains be a dampener. If you are blessed with the curls then we have some tips to make you look swashbuckling and ready to take on the world every time you step out.
How To Avoid Frizzy Hair
1. Hair Conditioner Is Your Best Friend
Make hair conditioners your best friend to prevent your hair from turning into a curl ball. Dab conditioner after every wash and rinse it with water. Use a leave in conditioner to keep that fizziness at bay. Go for a conditioner enriched with protein for a dazzling scalp and keeping the frizz in control. Make sure to use alcohol free products to prevent your hair from drying.
2. Say No To Hot Hair Treatments
We know you love your perfectly ironed hair when you step out and those tousled waves are just not possible without curling iron. But for rest of the monsoons say a big no to curling irons or straightener. They expose your hair to abnormal heat levels which can make your hair brittle, causing them to break more often. So, the best option is to keep them packed in your cupboards until those dark gloomy clouds are looming.
[Also Read: Anti Hair Breakage Products]
Hot Oil Massage
Remember what your grandma said about hot oil massages? They might be little tedious but it is your best defence against fizziness. Massage your hair once a week with hot oil and say good bye to that fizziness. But remember to not leave oil for too long in your hair. Oiling an hour or two before the wash is beneficial to keep frizz at bay.
Style It Right For Monsoons
If your hair is long and you dread leaving them open for the fear of fizziness, toss it into a bun and voila you are as effortless chic as it can get. If long hair isn't your thing and managing unruly locks gives you jitters then opt for a stylish short haircut. Think lobs, bobs; not only are they easy to manage but they also ooze style.
Avoid Styling Products
Styling products like serum and gels flattens your hair and makes your hair sweaty and sticky. It is best is to keep your hair au natural and free from styling products in the monsoons. Swap Your Brush For A Comb Using brushes tend to cause more breakage than the combs. Swap your brushes with wide tooth combs to detangle your locks. Avoid combing or tying your wet hair.
[sc:mediad]
Cover Your Hair
Bandanas and scarves should be your best friend during those downpours. Not only do they keep frizz at bay it is also a stylish choice for the days when your hair refuse to behave.
Keep Your Scalp Clean
Constant downpour hampers the scalp which becomes moist and flaky during monsoons. To avoid dandruff, wash your hair with a mild alcohol free shampoo 3-4 times a weak. But if the problem persists then go for a DIY anti dandruff techniques.
[Also Read: Home Remedies for Dandruff]
Eat Right
Last but the most important way to get shiny, healthy and flake free locks is to eat right. Nothing, we repeat, nothing can substitute a good diet. Include lots of fruits, veggies in your diet. And don't forget to drink enough water which will keep your hair hydrated.
So, follow these simple tips for frizzy hair and we are sure surely you will fall in love with the monsoons again.
Hope this article on how to prevent frizzy hair is helpful.