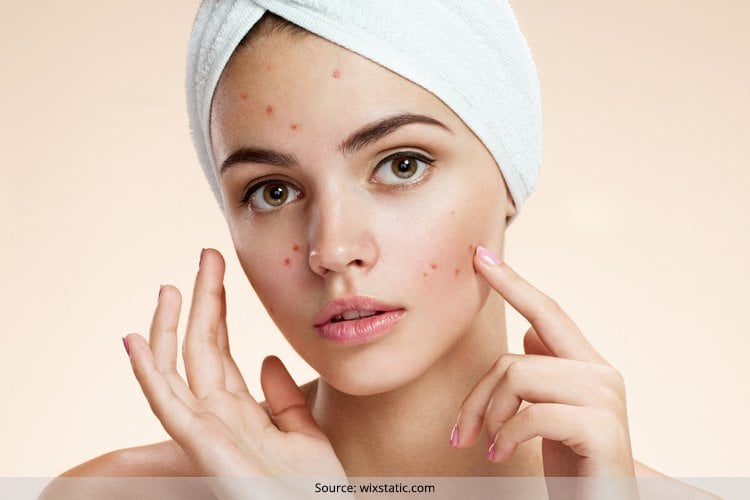 Probably the most feared and one of the biggest nightmares for anyone – Pimple! It's a persistent problem, especially for those with oily skin.
[Also Read: Rosacea Skin Treatment Tips]
Reasons for Pimples: Pimples crop up due to many reasons such as stress, lack of sound sleep, increased level of hormones, unhealthy food habits, junk food and many more. To prevent and minimize the effect of the 'ugly foe', there are many effective pimple treatments that have absolutely zero side effects and are totally natural.
Read below some the ingredients that can be easily found in your kitchen and can effectively help to get rid of pimples for oily skin.
How To Get Rid Of Pimples
Lemon and Honey
Not only is this a best remedy for oily skin, lemon can also reduce pimples effectively. The citric acid present in the lemon can neutralize and control the oil secretion and help to kill the harmful acne causing bacteria. It also helps to lighten the acne scars. Honey moisturizes and gives a radiating glow to the skin. The antibacterial properties of honey help to reduce pimples and its effects.
[Also Read: DIY Beauty Products Using Lemon]
What you Need:
Method: Take a clean bowl and squeeze fresh lemon juice. Mix it well with same amount of honey and form a thick paste. Apply it evenly on affected and acne prone areas using a cotton ball. Leave it for 15 to 20 minutes and then rinse it with cold water. You will notice immediate effects. This remedy helps to prevent pimples if followed regularly.
Besan and Curd
Also known as Bengal gram, Besan is a rich source of proteins and vitamins. It helps to take out excess oil from the skin, whereas, curd, rich in vitamin A and C keeps the skin soft and is known to kill the acne causing bacteria instantly. Together they are one of the best remedies to get rid of pimples on oily skin.
[Also Read: DIY Beauty Projects]
What you Need:
1 tsp. Besan (Bengal gram)
1 tsp. Curd
Honey
Turmeric
Method: Add besan with curd. To this, add little honey and a pinch of turmeric powder. Mix this mixture well to make a thick paste. Cleanse your face and apply it evenly on your face and neck. Let it dry for at least 20 to 30 minutes and then gently rub it with wet fingers to loosen it. This will help to remove dead skin cells and lighten acne scars too. Finally, wash your face and neck with cold water. Repeat it twice a week till pimples are controlled. Continue reading for more pimple treatment for oily skin.
[sc:mediad]
Fuller's Earth
Also known as multani mitti, fuller's earth is a great remedy for oily and acne-prone skin. It absorbs excess oil from the skin and unclogs the pores. Not only this, it helps to improve your complexion too.
What you Need:
Fuller's earth (Multani Mitti)
Rose water
Sandalwood powder
Method: Take a bowl and simply mix equal parts of Fuller's earth (multani mitti), rose water, and sandalwood powder. Apply this face pack to your face and neck. Rinse it with cold water after it dries up. Repeat the process once a week to see the desired result.
Tea Tree Oil
You may have noticed Tea Tree Oil as a major ingredient in many cosmetic products. Brands like The Body Shop have recently launched their range of Tea tree oil skin products owing to the fact that it acts like an antiseptic and is a great choice for acne treatment for oily skin. It helps to kill bacteria causing acne, hence keeping pimples at a bay. Simply apply one to two drops of tea tree oil to the affected area twice a day.
[Also Read: Benefits of Tea Tree Oil]
Peppermint Toner
Another effective remedy to get rid of pimples on oily skin is peppermint, also a natural astringent and a wonderful toner. It is used to treat acne, pimples, itchiness and sunburn. It helps to shrink open pores and controls sebum production. To make this toner, put few leaves of peppermint in a cup and pour boiling water in it. Leave it for half an hour and strain the liquid. Let this liquid cool for a while and then apply it as a face toner using a cotton ball. Pour the remaining liquid in a bottle and store it in a refrigerator. Repeat it two to three times daily to notice the result.
Hope this post helps you to get rid of pimples on oily skin. Share with us your secret home remedy for a clear and glowing skin.