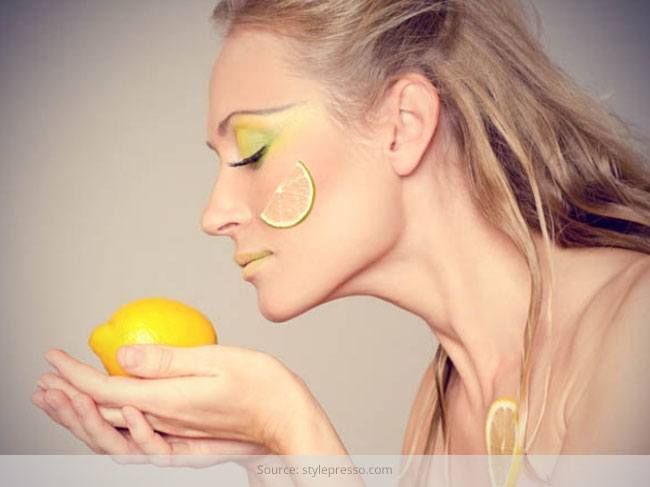 Would you believe us when we say that there is one thing kept in your refrigerator that could make you not only healthy, watch you weight, but can also add oodles of magic to your at-home beauty routine? Yes, that is possible. We are talking about the ever-so-loved food of all time, citrus aka lemon. There are several miraculous benefits of lemon juice for skin and hair. From natural toners, to banishing oily skin and brightening up your skin within seconds, lemon can do wonders. To top it all, they are extremely cheap too. Without any further ado, read on about list of top DIY homemade beauty products you can make from lemon.
1. Lemon peppermint foot scrub
Just use the goodness of this foolproof method and be rest assured to get smooth and silky feet every single time. Mix together coarse sea salt, lemon and any variety of cooling peppermint essential oil. Be peeptoe read any time now!
2. DIY Brightening and tightening face mask
What happens when you mix lemon juice, egg white and raw honey in a bowl and apply all over your face for 15 minutes or so, washing it off post that? You get smooth skin, sans dark spots, acne scars and wrinkles. The addition of egg whites to the natural kryptonite of lime juice is a sure-shot recipe to tighten your skin, shrinking the pore size.
3. Lemon cream body butter
This body butter makes for a classic at-home beauty solution that would give you a spa experience, all at the comfort of your home. For this, just mix together lemon juice with cream moisturizer and rose water. Apply a good layer of it on your skin and experience silky, smooth skin every single time.
[sc:mediad]
4. DIY lemon hair gel
One of the best ways how to get rid of frizzy hair, this DIY hair gel would make for a classic go-to hair fix product. Just mix together gelatin in water along with lemon juice and salt. Apply this mixture on your hair, before you wash them and let them stay on for 15 minutes or so. Wash, condition and, voila! Your silky strands are ready to brave the day!
5. Easy-peasy cuticle cream
Yes, not only your hair and skin, your cuticles can even bask in the glory of lemon leaving an instant brightening effect on your nail. Strengthen your tips and the quality of your mails by mixing a few drops of lemon in your cuticle cream to groom your nails nicely.
[Also read: How to care for your cuticles]
So, these were some of the homemade lemon juice benefits. The next time life gives you lemons, you know what to do with them. Stay beautiful, you gorgeous!