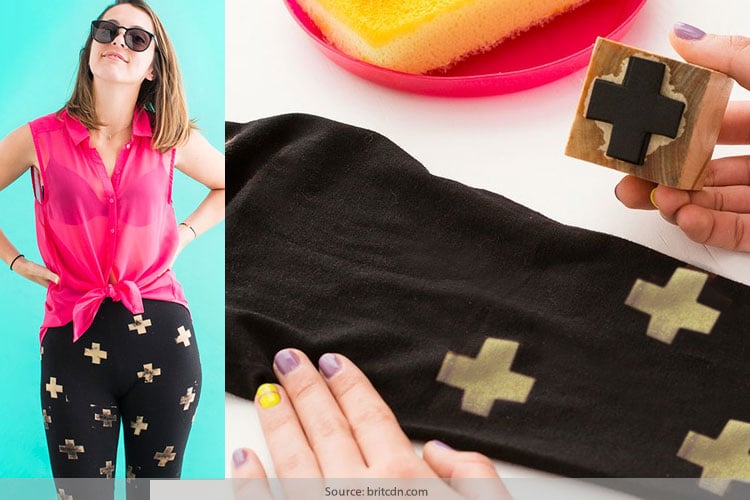 Every woman/fashionistas faces the same problem in her life- I don't have clothes to wear, she will lament, at least one point in her life. But we have a fix for you. In this article we will give you some tips on how to update old clothes and give your clothes a new boost of life. Yes, we know that your cupboard is not that updated, but you will need just a few things to actually create clothes which look totally new!
If you want to know how to make your old clothes new again, grab your pens and paper- we are just about to get started!
How To Update Old Clothes:
When we say we have got the simplest, easiest and cheapest way to update your new clothes, we really mean it! You just need a few simple things to get started and then your clothes will look as good as new. Here is what you will need:
Some simple and plain clothes which need some serious revamping (preferably cotton clothes because it is easier to style them)
Stamps of your choice (you can get them at any stationary shop
Bleach
Some sponge
A hard surface like a cardboard
How To Stamp With Bleach:
The second part of this DIY process to change the way your clothes look is to stamp your clothes with the help of bleach. Pour some of the bleach into a shallow dish and allow the sponge to soak in the bleach. If you do not want any other designs on your t-shirt, you can just use the sponge to bleach your shirt.
Just insert that cardboard piece onto one side of the shirt and start stamping on the T-shirt. You will see that over a short period of time, the T-shirt will change its colour over the places you had used the bleach. Wash the T-shirt and use it!
Do You Want Some Designer Stamps?
Well you can either create your own stamps to use on your T-shirts or you can get them on any of the stationary shops. Just use a wooden block and stick the print of your choice on to it. Now this one will act as a sponge. Dip this block into the bleach and start stamping away. You can create as many stamps as possible provided you know how to carve them right. If you are not that good with carving, you can buy those readymade stamps because they work in the same way and sometimes you may end up getting better designs!
While making any of these stamped clothes, make sure that the bleach is completely dry before you try and wash your bleached cloth item. In case it isn't dry, you are risking your clothes. The bleach will run out once you try and wash it! So make sure that the bleach is completely dry before you put in your bleached cloth for washing!
[sc:mediad]
Here are some tips you should keep in mind before beginning your DIY bleaching:
Get all your supplies ready before you begin your stamping
Use cotton clothes as much as possible. They are easier to design
Remember to get some clothing bleach instead of some industrial grade bleach. Industrial grade bleach may damage your clothes instead
Always use a cardboard or something hard in between when stamping your t-shirt. This will ensure that the stamp does not leak to the other side.
As we already mentioned before, the bleach should dry completely before you decide to wash it.
Washing it before drying will damage the design!
Now that you know all the tricks, start your stamping project now and breathe in a new lease of life for your old and boring wardrobe. Happy Stamping!