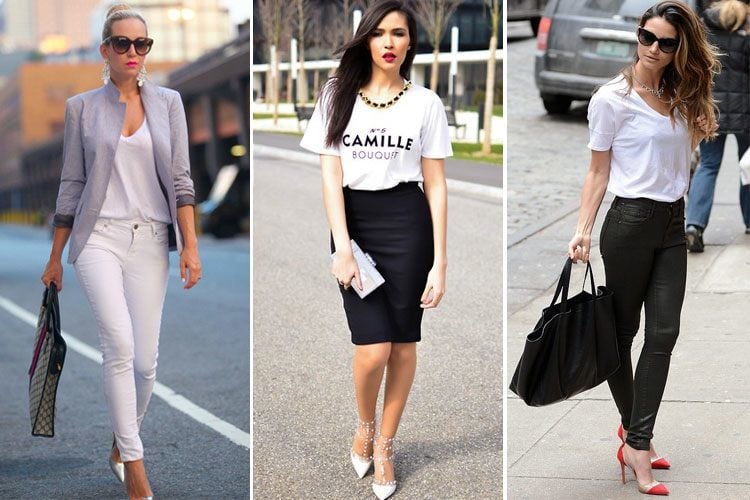 If you have a t-shirt that looks great on you and you lament the fact that you can't wear it to work, then it is time to reconsider. T-shirts have been categorized as casual wear for so many years that we haven't taken the time to process the fact that most work places now have a dress code that can be termed a 'business casuals'. This means that your t-shirts can now find their way into your work wardrobe. All you need to do is a little planning and tweaking here and there to make your t-shirt a respectable work wear item.
Wear It with a Blazer
The easiest way to make a t-shirt work-appropriate is to pair it with a blazer. This serves to instantly make it look more dressy and less casual. Blazers with t-shirts is a super cool combination that you just ought to try. We assure you that you will love it and it is sure to become a staple combo for your work wear.
[Also Read: 25 Fashion Tips for Women on How to Look Fashionable]
Go Black and White
A black and white combination worked great with a t-shirt. Pair a white t-shirt with black trousers or vice versa for a look that is sophisticated yet casual.
Wear it with a Pencil skirt
When it comes to formal wear a pencil skirt is one of the items at the top of the list. So why not combine your t-shirt with a pencil skirt? The resulting look is so awesomely chic, you are sure to set a trend in motion among your colleagues at work.
Add a Scarf
Sometimes something as simple as adding a scarf to your look can do wonders for it. The next time you wear a t-shirt, be sure to wound a scarf around your neck. You will notice that that simple addition is enough to take your look from casual to fashionable. There are several different ways to wear a scarf.
[sc:mediad]
Opt For a Monochromatic Look
A monochromatic look works really well for office wear. Pair a t-shirt with trousers and a blazer of the same colour for a look that is put together and neat. Black, white, grey and blue are some colours that look awesome in a monochromatic ensemble.
Wear Heels
When you wear t-shirt to work, be sure to wear heels instead of flats. Heels are definitely more sexy, and will balance out the casual t-shirt look so you do not look like you just couldn't be bothered to make an effort to dress up neatly for work.
Opt For Dark Jeans
When wearing t-shirts with jeans, always opt for dark jeans. Dark jeans look more formal. Also, remember to steer clear off washed out or ripped jeans. Just because your office allows you to wear casuals doesn't mean you have to push your luck.
Add a Piece of Statement Jewellery
To keep things interesting, add a piece of statement jewellery to your work wear. It can be anything from a chunky watch to an eye-catching necklace or a stunning pair of earrings. But be careful to not go overboard with it. One statement piece should do to make your outfit dressy; anything more than one will just end up looking tacky and OTT.
T-shirts are so easy to style and are so convenient to wear. So stock up on well-fitting t-shirts in different colours that you can wear to work. You will realise that not only are you saving time that you would otherwise be wasting on ironing your formal shirts, you are also looking more laidback and cool while still looking professional.