It is rightly said that fashion is all about dressing according to what's fashionable. A fashionista is always up in the hunt for what's new and is always ready to try what we call as 'fashion dares or risks'. And this trait simply makes them ultra-stylish.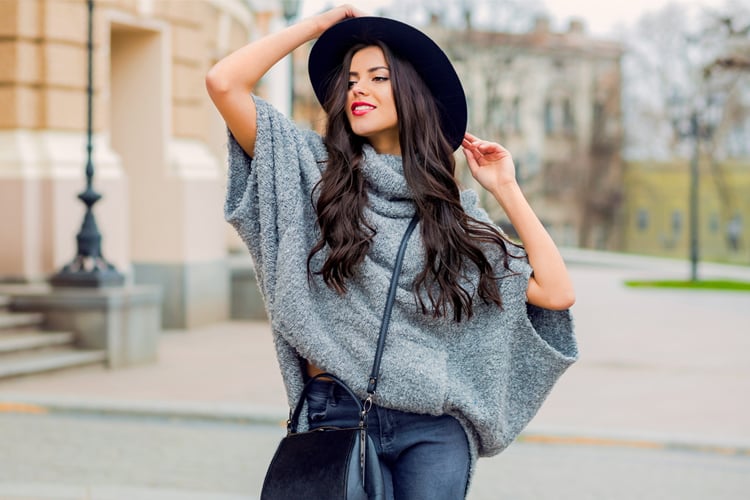 Fashion tips and Styles for Women
To help, we have compiled few fashion tips for women on how to look fashionable, especially for ultra-stylish girls. Carry it with élan and you can effortlessly rock any look.
1. Rolled Up Sleeves
Roll up the sleeves to add a dash of stylish factor to your classic button down shirt. It infuses comfort and coolness to your mundane stiff shirt. If you have plaid or gingham check shirt, rolling up sleeves can look ultra-chic.
2. Cuff The Bottom
There are many stylish ways to cuff the bottom such as single cuff, double cuff or twist cuff. Cuffing the bottom gives a new meaning to your regular jeans and can encapsulate your look with an edgy factor. Also, you can flaunt your heels confidently.
[Also Read: Gypsy Fashion]
3. Draped Shoulder
This is an interesting style that portrays true sense of elegance and flamboyance. Drape your outerwear such as jackets, blazer and capes over the shoulder leaving the sleeves free. Crazy, but true – it instinctively make it look more chic.
4. Belt It!
Belting up your outerwear, scarf top or classy tunic at waist accentuates your curves and add refinement to the casual ensemble. Opt for an edgy and polished belt to complete the look.
5. Go For Clash Of Stripes
It may sound a bit insane – but playing with horizontal and vertical stripes can redefine your look. Wear horizontal and vertical stripes together and pair it up with solid colour accessories and footwear to make you look ultra-stylish.
6. Wear All-White
The idea is to doll yourself with white on white to create an effortlessly elegant look that you could carry all day long. The key to rock this trend is to keep it as simple as possible. Complement it with sleek edgy jewellery and red lips.
7. Yes To Knot
Another way to define your waistline is to knot your shirt at the middle. It's a creative and playful fashion to titivate the ensemble and to add a twist to the look. Try knotting a shirt over a dress or wear it as a crop shirt.
8. Peter Pan Collars
This ultra chic trend can revamp a basic tee into a signature piece. Choose from wide variety of styles, such as the one with dainty lace or the one with leather trim. You can also go for floral or tartan prints or for the stone studded one. Trendy peter pan collars are available in the markets or you can make a DIY Peter Pan Collar too.
9. Neck Scarves
This summer trend is for the ultra-stylish girl to add refinement and oomph factor to the entire look. Choose from wide variety of vibrant neck scarves, and tie them stylishly around your neck following some DIY videos.
10. Unusual Colour Combination
Step out playing safe with white-blue or red-black; it's time to try unusual colour combination. Wear rust or Marsala with lavender or go for baby blue with yellow or pale blue with indigo or plum with mustard. With few trials, reconsider your ensemble.
11. Statement Necklace Over Turtleneck
Another trend that is emerging is wearing statement necklaces over turtleneck tees. Layering necklace over a nice backdrop instinctively gives a high impact and looks uber chic.
12. Mix Basics And Sequins
Sequins shouldn't be reserved only for night time, these shimmery outfits can even look better during day. The simple rule to follow is to pair them up with super basic staples in neutral colours. You must read our style guide on how to wear sequins.
13. Vintage Pieces With A Contemporary Twist
To bring another decade to current era, blend vintage or retro piece with modern high-end clothing. For example, pair swingy vintage midi skirt with leather jacket and sleek pointy-toe heels.
14. Mixing Prints With A Thought
To look ultra stylish, don't go for random mixing of prints. Try chic combination of print such as floral or ditsy print with stripes or polka with checks and it can look extremely fresh and classy.
15. Going Denim
Embrace various denim and chambray pieces in your wardrobe like denim jumpsuit, denim corset top or denim shirt dress. Also, look out for pieces like panelled chambray shirt or floor length denim capes.
16. Make Way For Co-Ords
Co-ords undoubtedly stand out in crowd, making you look more polished and chic. You can easily find the wide assortment of co-ordinates from shorts, midi skirts, minis, crop tops, bralets and blazers on online stores.
Continue reading for more fashion tips for women.
17. Holographic Items
This shimmery and magical trend effortlessly infuses exuberance to the look. Pair up a holographic piece like a skirt or a top or a bag with neutral staples so that you don't overdo it.
[sc:mediad]
18. Distinct Edgy Shoes
For the ultra-stylish look, go for a pair of shoes that has interesting element in it. Be it blade heels or wedge heel with a hollow, it should immediately catch everyone's eye.
19. Slicked Back Hair
Wet back-styled hair is ideal for hot summers. This fresh casual style suits all length of hair and looks uber cool.
20. Cat-Eye Sunnies With Mirror Lens
The incredible trend of cat eye sunnies with mirror lens makes you feel as though you can conquer the world. They can act as style weapon and undeniably make you look fabulous.
21. Hairstyle With Front Bangs
Whether you have curly or straight hair, front bangs look equally flattering. Front bangs can enhance any hairstyle and softens angular facial features, making you look ultra-stylish.
22. Just One Earring
As they say, imperfection is beauty. Express your strength and beauty with just one earring.
23. Bag It With Love!
It's all about what you carry and how you carry. Go for essentials with innovative spin. The trend of bucket bag and boxy structured bag are big this season.
24. Dramatic Proportions
Add drama to your mundane outfit by layering on a floor length cape or extra long sleeveless coat. You can also try a top with back side touching the floor.
25. Structured Silhouettes
Say hello to architectural and structured silhouettes! They can unsurprisingly look ultra-chic.
26. Jeans And Boots
Wondering how to be fashionable or how to be stylish with jeans and boots? Simple! Just tuck your jeans inside your boots. It's an oomph-worthy look.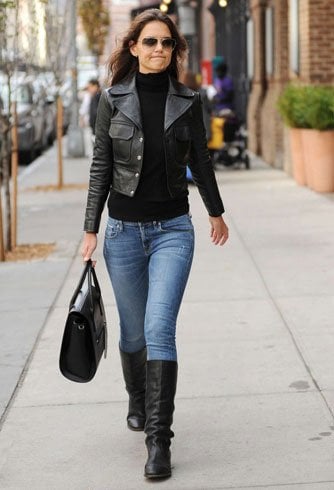 27. Bra Strap Concealer
Here is a fashion tip for women who are fed up of their bra straps peeking out of their perfect outfit. You could either buy some concealer clips or try a cheaper method of sewing on a piece of fabric with press studs.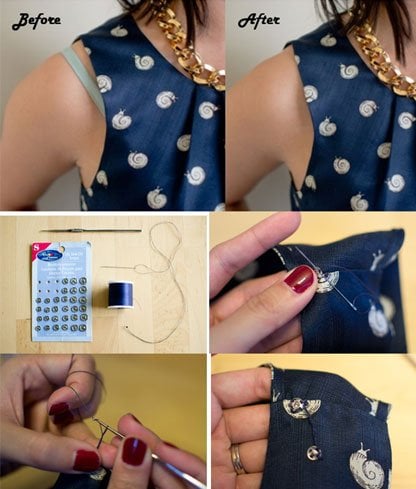 28. Zipper Hack
This fashion advice can save you from a lot of embarrassing situations. How many times have you faced a situation where your zipper has slid down leaving you all embarrassed and flustered? Well, the below image shows an easy way to overcome this fashion disaster.
29. Choosing The Right Necklace
This is one of the best fashion tip for girls. Young girls and women can choose from a number of necklines these days. So the key here is to ensure that you choose the right kind of necklace to go with your top or dress.
30. Reusing Old Sweaters
DIY projects are great for style and fashion tips. You can come up with a lot of fashion ideas for women by checking out various DIY tutorials. One such DIY project would be to make your own boot warmers. All you need to do is just cart part of your sleeves.
31. Ripped Jeans
We are totally in love with the ripped jeans and we are sure you are too! Every girls has at least one pair of ripped jeans that she loves to flaunt at every given occasion. But, have you ever wondered how to dress fashionably or how to dress stylish with those ripped jeans? Well, all you need to do is just wear tights under your ripped jeans. You can either opt for plain tights or go bold with lace, fishnet, animal print, etc.
32. Scarfs To The Rescue
Scarfs are not meant to be just draped around your neck or shoulders. There are a number of ways in which you can tie a scarf. The below fashion style guide is the perfect style guide for women to learn how to tie their scarfs in different ways.
33. Nude Pumps
An essential style idea for women is to always remember that whenever they are unsure about which colored shoes they should wear, just opt for nude pumps that match your skin tone.
34. Plus Size Fashion Tips
There are certain do's and don'ts that plus size women should keep in mind so that they can look fashionable and stylish.
35. Fashion Tips For Short Women
Petite girls often end up passing on some of the fashionable clothes owing to their height. But with the right style ideas for women who are petite, they can also look super stylish.
Tell us what you think about fashion tips for women. But make sure you consider fashion for body type before just blindly following these.
So, what are your fashion styling tips?