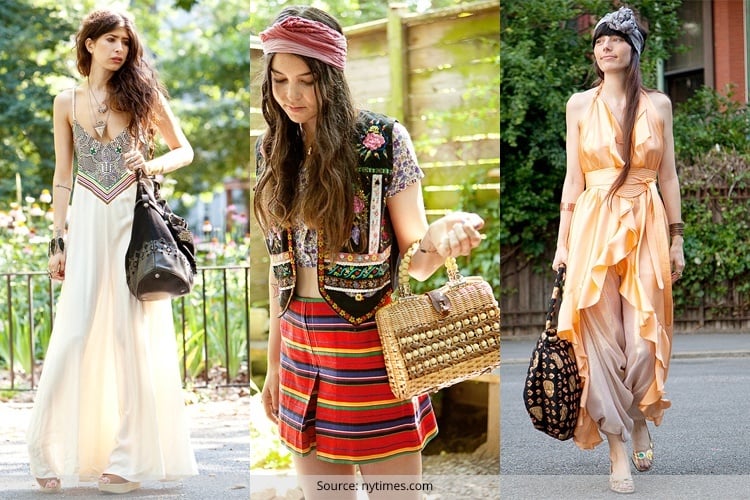 Fed up of the sleek cuts, the corporate look and the missy-goody-two-shoes apparel you wear almost everyday, at work or at play? Think bohemian, wild-child, au natural and gypsy. Gypsy fashion for long has been chic and rustic, trendy and eye-catching, and women of all age groups across the world have worn a statement gypsy item at some point of their lives, if not now! From the Rajasthani Banjaras to the Romanis, within the clans, the natsiia groups and tsigne herds as well, gypsy fashion no longer is a secret motif to mark territories, rather it is now a fashion statement everyone should wear and flaunt! Psst! Singer Jennifer Lopez in one of her videos looked hot in the mohawkan gypsy look!
[Also Read: Trendy Gypsy Accessories To Make A Statement ]
Dressing up to meet MIL
A wild-child attitude and yet daring to meet MIL this evening, hats off to you! What about dressing in an all-white crop top with a long gypsy maxi gown? Perfect for the hot Indian climes and the trousseau bares nothing much, but sensuality to the core! MIL is happy and so are you!
The rugged jungle queen
Dressing up for a spinsters party is always fun, a time when you get to be all creative and quirky. Talking about being quirky and nonchalant, wear a backless choli and a long gown with a statement gypsy headgear to complete the look. Makeup wise, the skin should have a two-toned dark tan, which brings on the boho-chick effect too!
The ears hear the compliments
Chandelier moon earrings for the ears are a must-have to complete the gypsy jungle look. Rustic and pure, embossed with intricate designs, Goddess Luna herself would come down to kiss those lobes with love.
[Also Read: Chandelier Earrings To Die For]
Putting your best foot forward
While dolling up in gypsy wear, you would have to wear the right accessories to make the statement of being a wild-child profound. The same cannot be attained with cleek-cut jewellery, which is why anklets and feet jewellery chosen, should be minimal and with a touch of tribal art!
Flaunting the sexy back
Black sheer and crocheted tops, backless of course and for party wear, why not? High ponytails embellished with tribal headgear to complete the look, and for the bottom, wear a sheer black long crocheted gown too.
Flaunting those curves at your BFF's wedding
As a bridesmaid, you too can steal thunders when you learn how to flaunt the belly. Gypsy bell bottoms in white and made from satin and lace, not only flaunts the sexy waist but with a chunky white belt would accentuate the look as well.
[sc:mediad]
For the cocktail night
While others would wear the blacks, browns, red and greens, you should go to the event as a wild-card entrée invited! A long flowing maxi gown with gypsy and tribal prints, minimal makeup and tribal headgear, not only makes you stand out, but would make the host notice you more!
[Also Read: Bohemian Gypsy Fashion]
Heading off to the mall
While shopping for daily needs and groceries means a drive to the mall, you would want to be comfortable and yet a style diva out there. A white vest to the midriff and a long flowing skirt for the bottom would create the magical gypsy look!
Sexy gypsy rompers
Colourful and with tribal patch work, and all the way to your knees, the tunic top with gypsy motifs and designs, tassels and bear paw boots for a girls night out to stir the heat up, seems apt!
[Also Read: How to Wear Romper]
Coffee with the biker boys
Impress them by not emulating them, because we girls can doll up for a biking session too! Back off boys, we don't necessarily need the black leather to look haute and chic, riding our own Harleys. Hot pants and a chic tribal art embossed crop top, with a gypsy overcoat and plenty of beads for the neck, makes us stand out from the crowd!
Here were ten looks which we found at their best being displayed across the World Wide Web. Should you have your own style and statement to make, drop in a line!