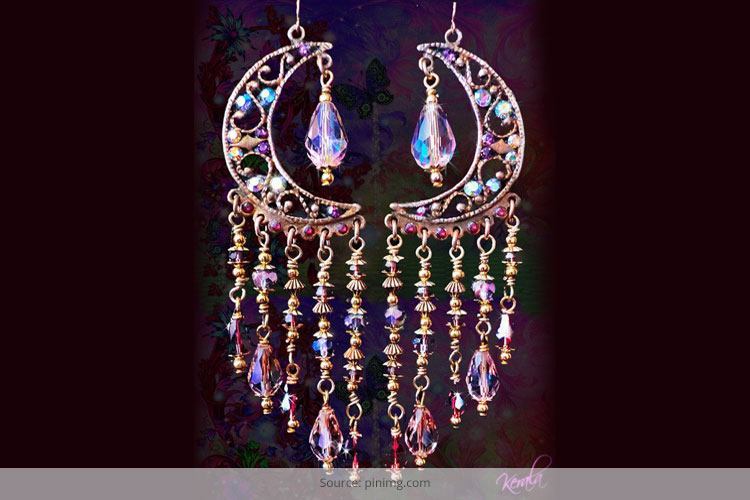 Ever wondered why he was so attracted to nibble those ears? Apart from the cuteness overload, the dolling up of the lobes did the magic. If you've been into studs and stems all this while, it is time to make a change. Chandelier earrings are the hottest trends doing the rounds, from Jennifer Lopez to Portia De Rossi, Malaika Arora Khan to Sonam Kapoor, PYTs and celebs from across the globe are flaunting them like there's no tomorrow. Here are ten chic chandelier earrings to die for!
[Also Read: 30 Ways to Dress Your Ears]
Freshwater pearls, rhinestones and more
Chandelier earrings come in a style and range of their own, a classy act we say. Pink and freshwater pearls, a south sea pearl as the main focal point in the accessory and eighteen karat gold to dress up those ears, who wouldn't want these shiny babies from Yoko London!
Royal Emerald Blue Earrings
Hang them in style and they are so versatile that the chandelier pair would match any ensemble for the evening in white or blues. Look and feel fabulous, on the lines of a diva and wear them all day long if you want to, these beauties sure are a girls best friend!
Royale Touche
The Queen Mother's Diamond Chandelier Earrings, 1918, and who wouldn't want them as a pair to own? Versatile and colourless, made from pure diamonds, the precious pair is for keeps and to flaunt at gatherings where the crème- de- la –crème meet!
[Also Read: Earrings For Short Hair]
Sterling Silver Beauties
Cocktail events galore, and you need to doll up your best to impress. Think of the sterling silver pair, these twins would not only make you look like a star, but would earn you accolades much to the envy of other women around!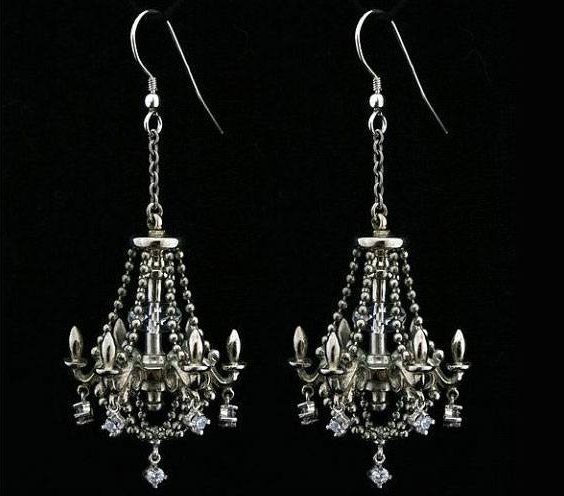 Ethnic And Colourful
Fancy something ethnic, large and colourful for the ears? These precious turquoise magnestite gemstone chandelier earrings with beads are for you to have! Rustic and chic, intricately made and with plenty of trendy touches, bringing back the gypsy look couldn't have been more easy!
[sc:mediad]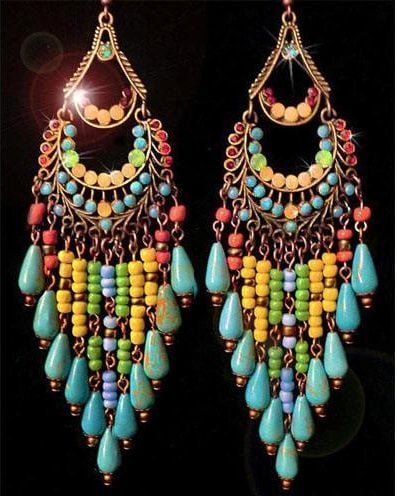 Oxidised Twins
Labradorite Gemstone Earrings, large and bold, and with a statement of their own to make, why not! Wear them at work or maybe for a party out with the girls, and these puppies would bring in all the attention from the men out there, because men love women who bring out their beauty with a hint of the bold!
[Also Read: Bollywood Earrings]
Asymmetry in Yellow Gold
For work or for play, a little quirky touch now and then wouldn't kill or harm the look you are trying to present. Asymmetrical yellow gold chandelier earrings are haute to wear, and would keep the onlookers gazing for a very long time. You never know who's watching, so flaunt them in style!
[Also Read: Most Beautiful Swarovski Earrings]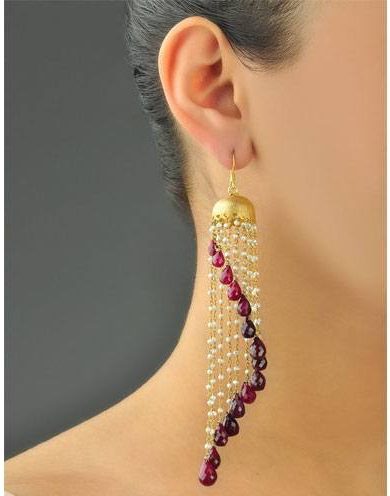 Wear it like Greta Garbo
A stunning actress of her times, Greta Garbo shook the world and took everyone by their feet, keeping them hooked to their seats with her acting skills and charms. The chandelier earrings here are made from pure silver and embellished with plenty of stones. Diamonds surely are a girl's best friend, isn't it?
Bvlgari Chandelier Earrings
From the house of BVLGARI, chandelier earrings so ethnic and yet with a touch of modern day fashion, suits the PYT who works hard and parties harder! Who wouldn't want to have a pair of these beauties in their vanity box? Diamonds, emeralds and opal stones, BVLGARI has stolen our heart!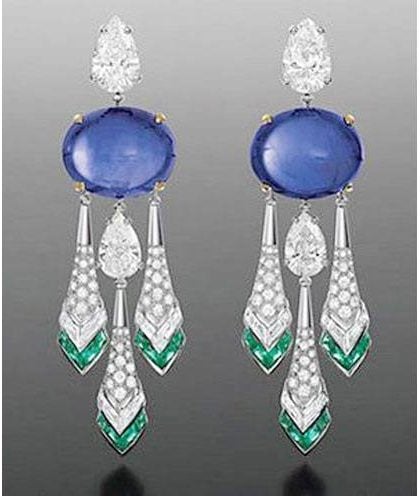 When Art Meets Fashion
The twain when they meet, creates a look that leaves the world spellbound. Onyx accents and in orange, with a touch of the old world charm the European way, the fringe drops on these precious babies are worth dying for. Such beauty, with orange and black, this is what happens when we call orange the new black!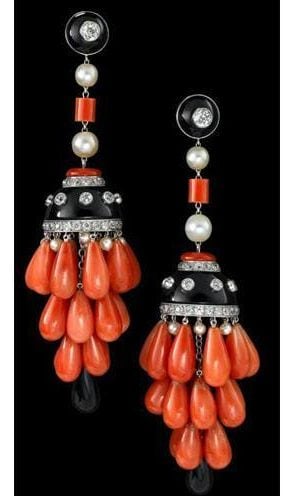 Crazy about these ten! There are more to show from where these beauties came, so hold on to your seats while we bring them back again, the next time!
[Also Read: Earrings for Your Face Shape]