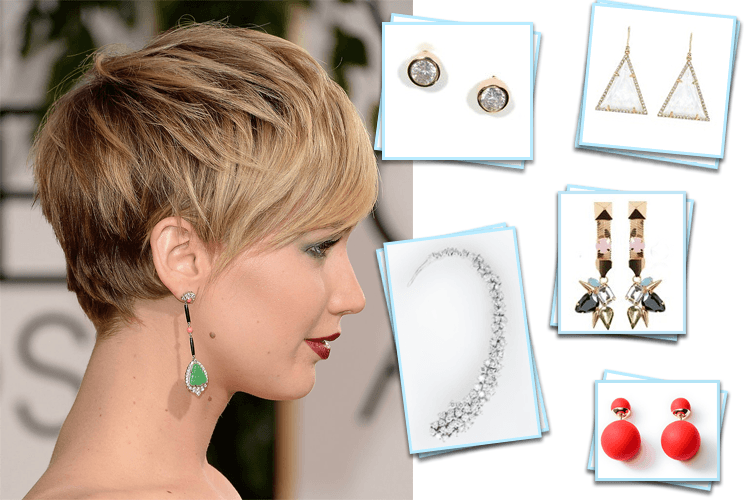 Earrings play an important role in enhancing the entire look, and short hair is just perfect for flaunting them. You can effortlessly carry earrings on bare earlobes but not all of them look good with short hair. Choosing earrings becomes a little tricky if you have short hair even though you have wide variety to choose from. Keep the overall look in mind before making a choice.
Nowadays, there are many women who prefer short, chic haircuts like pixie, bob or crop. But there are certain types of earrings such as chandelier or chaand bali which does look a little too overwhelming on women with short hair. To keep this masculine look chic and sweet, you have to keep some factors in mind.
[Also Read: Most Beautiful Swarovski Earrings]
Tips for Choosing Earrings for Short Hair
Earrings can either accentuates a woman's best qualities or can pull down the entire look.
1. Avoid wearing earrings that are too overwhelming. Keep in mind that the earrings should balance your haircut. There are chances that a pair of bold earrings can look enticing with short haircut but not in every case. To play safe, go for subtle earrings. Stud earrings, loops and hoops are good option for short hairstyles.
2. Most short haircuts have idiosyncratic expression such as punk, modern or tomboyish. Choose earring that complements that expression and further enhances your look. Jhumkas for the punk hairstyle is a big no-no. Remember that in many cases less is more.
3. Keep those dangling, bright and bold earrings for night outs or for evening occasions. The flashy and bold earring is the epicentre for the entire look and might be inappropriate for daytime.
4. For a classic and elegant look, nothing beats a single pearl or solitaire in both ears. Sapphires and rubies stud earring that gleam from your bare earlobes or minimalist metallic earring can instinctively complement your short hair.
[Also Read: Different styles of Fashion earrings]
5. The best earring will always complement your hair colour and ultimately enhance your entire look. So, hair colour is another criterion to keep in mind while choosing suitable earrings. If you have short hair with light brown as hair colour or have highlighted streaks then you should avoid silver earrings and dark gemstones. They will not flatter your hairstyle, but gold earrings would. However, women with black or dark brown short hair should go for silver and pale gemstones when searching for the earrings.
Earring According To The Haircut
For a bob haircut – If your hair has layers that hide your earlobes opt for long drop earrings. You can also look for bright colours danglers. However, avoid wearing stud earrings as they won't be seen. Long metallic strands are another great option for such haircut. If you want to wear stud earring then pair it up with a headband or scarf to add a dash of vibrancy and cuteness to the look.
For a short haircut with asymmetrical bangs – This type of hairstyle covers one side of the face with asymmetrical bangs. You can go for stud earrings or pearl drops for an elegant and classy look for the day look. And for the night and party look, choose from long danglers, studded hoops or ear cuffs. You can also opt from enticing gem colours such as emerald, ruby or sapphire.
For a pixie haircut – The pixie haircut highlights your face and its features. For this haircut, earring plays a strong role to get the alluring look. Large hoop earrings are great for long face and it adds glamour to the look. For round face, go for long danglers as it creates vertical illusion or opt for gleaming stud which adds hint of grace and look feminine.
[Also Read: Dangle Earring Designs]
For a medium short haircut – If the length of your hair is between the chin and the shoulders, you can choose from a wide variety of earrings. Take the occasion into consideration and opt for earring from bold to delicate, minimal to eye-catching or from anything fancy. Tug your hair behind your ears or use hairclips to make your earrings appear more fascinating.
[Also Read: 90's Hoop Earrings]
[sc:mediad]
Earrings Sported by Celebrities with Short Hair
Diamond stud earrings are celebs hot favourite and it looks fantastic on short hair. Celebrities like Emma Watson and Victoria Beckham have been spotted wearing them quite often. It is suitable for all types of occasion and enhances the entire look.
[Also Read: World's Most Expensive Earrings]
Celebrities like Helle Berry who carry short hair with much panache, prefers hoop earrings and look brilliant in it. Nowadays, hoops are apparently a big hit amongst the celebs having short hair.
Scarlet Johnson, Emma Watson and Miley Cyrus have rocked the short hair look with drop earrings. It instinctively adds a dash of glamour to the look.