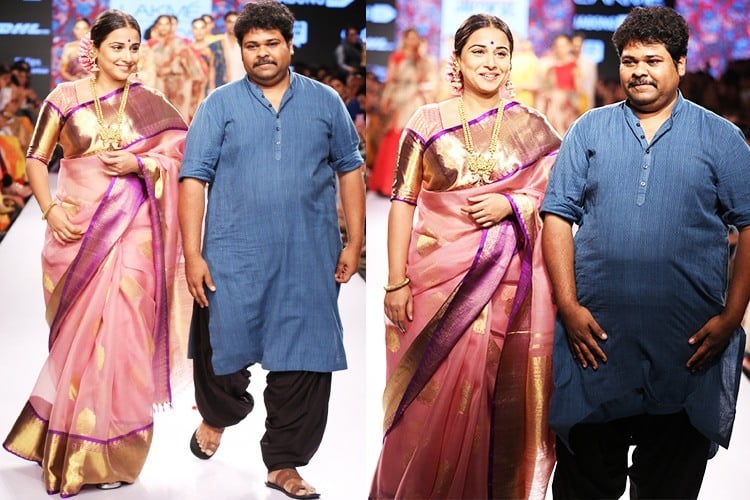 He is a trendsetter of hand-woven saree. He is a die-hard supporter of more than 500+ handlooms across India that are specially engaged in a weaving technique called Jamdani. He operates his hi-end premium label stores in Hyderabad, Bangalore, Chennai, Kolkata and Chennai. New age celebrities such as Sonam Kapoor, Vidya Balan, Taapsee Pannu, Ashwini Ponappa and Priya Mani vouch for his creations as they find his creations carrying a perfect twist, blending past with the present. He mixes and matches Khadi, Silk and Cotton in his unseen 6 yard saree, flowing gowns and even jumpsuits. His collections are liked by prominent political, industrialist and celebrity families.
Meet Gaurang Shah, the self taught designer who has been involved in the revival of the handloom sector for more than a decade. Way back in 2001, when the traditional handlooms were fading because of declining patronage, and the growing popularity for embroidered sarees like georgettes and chiffons, many weaver communities across India were disillusioned. Gaurang took up the challenge of bringing the handlooms back in vogue and eventually revived the passion in the art all over again.
FashionLady brings you excerpts from the interview had with the man whose creations strike a vibrant chord with the Indian classes.
Q.1 You are an award winning textile & weave revivalist and designer known for your hand-crafted saree. What made you take this up and when?
Gaurang Shah: I grew up watching my mother wearing hand-woven saree every day, besides numerous women shopping passionately, the woven nine yards at my father's clothing store 'Indian Emporium'. Over a period of time, I realised that women from the new generation were lured to 'nets and chiffons' due to lack of modernity in hand-woven saree. There were also very limited choices in earlier times. I found this as a great opportunity to tap.
In 2001, I began my journey with a handful of expert handloom weavers from Andhra Pradesh. The first step was to change the mindset of the handloom weavers, build a pool of master craftsmen and then give them challenging designs that would garner attention from fashion consumers. I was very keen to retain the past yet offer modernity in traditional wear which I knew will list in the bridal and all occasion wear shopping bags of all age groups. And, label 'Gaurang' was born.
Q.2 Tell us about 'Kalpavriksha', your exhibition-cum-presentation at Lakme Fashion Week Spring/Summer 2015?
Gaurang Shah: The 'Kalpavriksha' is inspired by the ancient divine tree in Hindu mythology. The collection essentially represents the tree of life woven intricately by the Jamdani weavers from Andhra Pradesh and Bangladesh. What we introduced to the fashion world in 'Kalpavriksha' is a jugalbandi between Jamdani, Phulkari, Chikankari and Kalamkari. The signature couture that comprised of flowy anarkalis, eloquent sarees and resplendent ghaghras struck the right balance between heritage heirloom and contemporary designs.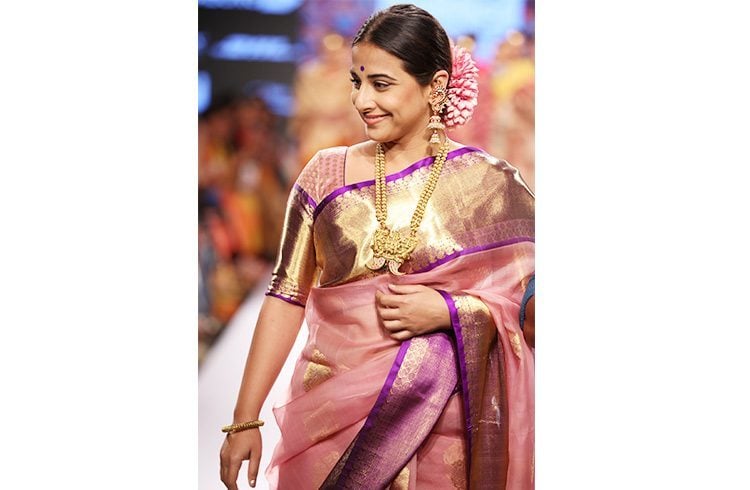 Q.3 Creating western silhouettes using Indian handlooms sounds interesting. How do you go about it?
Gaurang Shah: It is a combination of the exquisite design, Jamdani weaving technique and the master craftsmen in my team that bring out excellence creating unseen textures and styles never woven before. Every weave or collection from label GAURANG is crafted to suit the distinctive style, Western or Indian and they are designed to the modern fashion consumer likes.
The textures for the western silhouettes vary from that of a saree. For instance, I made ball-gowns out of Kota. Each gown took up to 30 meters of fabric, and the Kota was woven so fine that it draped beautifully.
Q.4 Between tunics, lehengas, anarkalis, sarees and jumpsuits, which outfit is your favourite when it comes to designing?
Gaurang Shah: Saree is my all-time favourite. It is the most versatile garment and makes a woman look sensuous. For me, the saree is like a canvas, where in I can paint abundant inspirations using the Jamdani weaving technique. Imagine, in a 9 yard you can craft a Panchatantra story magnificently which no other fashion canvas would offer.
As a textile and fashion designer, my passion is to revive the glorious past, so tunics, lehengas, anarkalis and jumpsuits is also part of my handlooms advocacy. My goal is to give handlooms a dominant position in the fashion world that not only awes the old, but also the very young.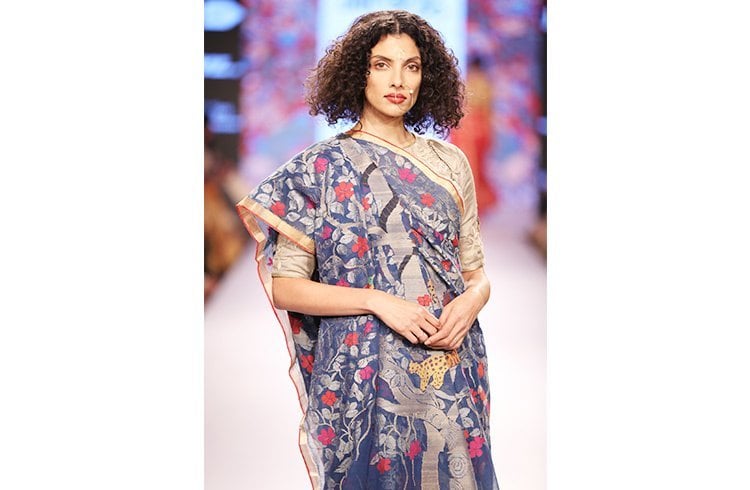 Q.5 Your creations have served as a big boost to the Indian weavers. Please comment.
Gaurang Shah: When I began my journey, I was very disheartened to see the weaving community moving away from the craft due to poor financial incentives and no guidance on creativity. It was very challenging to give them the confidence that the art is timeless. All it needed was a new angle and fashion definition. The weavers were reluctant initially, but when I told them to focus on translating my creative vision and leave the market to me, they began to sense secure.
Today, I am deeply satisfied and feel humbled. I started with a few weavers out of passion and it is so pleasing to see the number grow to more than 500. They inspire and challenge me to create something new every day. Their executions on the other hand have been perfect, as they translate my idea to create an exquisite heritage textile.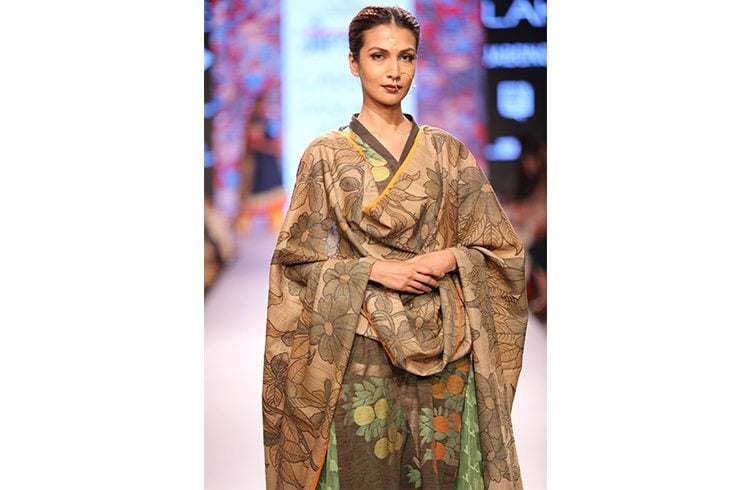 [sc:mediad]
Q.6 Your revival of traditional weaving technique of 'Jamdani' is helping support 500 weavers across India. How does it feel in doing so?
Gaurang Shah: It is an amazing journey of challenge and collaboration. It gives me immense pride when I see the generation next ready to learn and engage in this craft.
Jamdani is an amazing craft that is matchless. It is a discontinuous extra weft technique of weave done purely with hands. It involves countless hours and days of intense hand craftsmanship that require eye-hand co-ordination, following a detailed hand drawn artwork design kept under the warp on the loom. The outcome is an exact replica of the design to the minute detail.
The intricacy of a design comes alive only when woven by a Jamdani weaver. This technique has no limitations in terms of designing and hence pushes my boundaries for creativity and the weaver's boundary for skill. It keeps all of us looking for something new.
Today, I am delighted to say that the weaver community is among the most prosperous craftsmen in India. They are deft and hungry to take every challenge a designer gives them.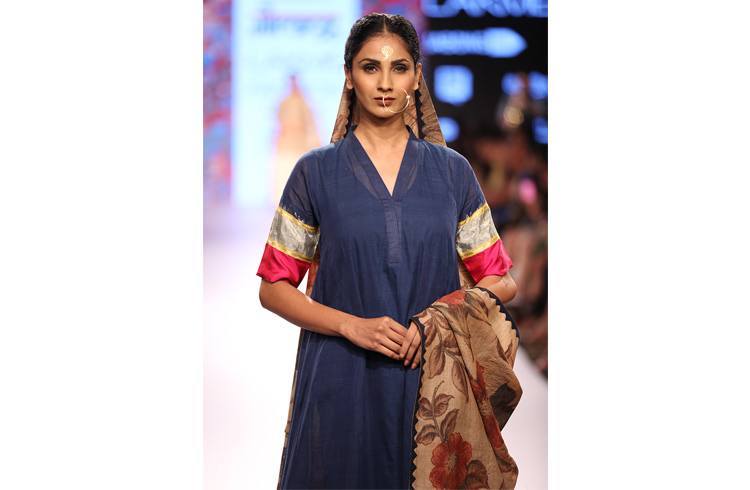 Q.7 How have the international audience taken to your fashion sensibilities and craftsmanship?
Gaurang Shah: International fashion consumers love them. They find the traditional hand-woven textiles timeless and absolutely gorgeous. It is also very eco-friendly and it is steadily gaining foothold in their shopping bags. When we showcased our Khadi at the Berlin fashion week, it sprang a huge surprise as they never knew Khadi is so versatile and offers completely new dimension both in colour, texture and softness. They found it trendier, and it was a sell-out.
The very important aspect and feature of traditional designs are that they are near natural and you can create stunning floral, temple crafts, birds in the fabric in its natural avatars.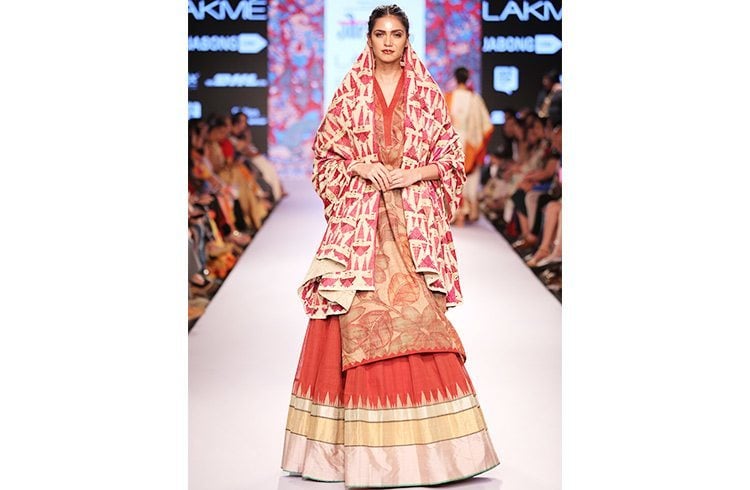 Q.8 Any favourite muse when it comes to walking your collection?
Gaurang Shah: What has been pleasing for me in recent times that women from all social class have begun to love them. Celebrities like Kirron Kher, consistently promotes handlooms and she is among the most consistent consumer of my fashion. She carries the sarees with utmost panache.
The gorgeous Vidya Balan also follows my collections and sarees; she lent her support to Kalpavriksha at the recent LFW show and wore my collections in many of her special event appearances. Another admirer of Jamdani craft introduced by me is the style diva Sonam Kapoor who supports and wears my outfits; she loves the blend of ancient art and modernity in them. She says they are timeless and inventive.
I am glad to state that popular down south actresses like Kajal Aggarwal and Amala Paul too are drawn towards our creations. My muse list is endless; I would love Aishwarya Rai Bachchan, Rekha, Kangana Ranaut and Tabu to wear them soon. All of them are fine ambassadors of fashion trends.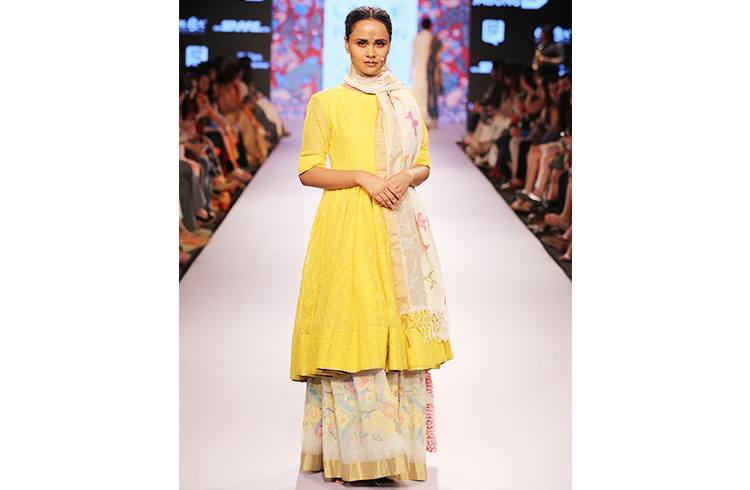 Q.9 What are the highlights of the Numaish Summer Show held in Dubai from April 24 to 25 this year?
Gaurang Shah: At the Numaish Summer Show, it was a prêt range of my 'Kalpavriksha' collection, and summer festive wear in Jamdani. In addition to my favourite line of sarees, there were kurtas, anarkalis, ijars and ghararas.
Now this was designer Gaurang Shah, his inimitable persona and fashion sensibilities in full bloom. Are you tempted to buy Gaurang sarees after his exclusive interview about his exquisite work and designer sarees?