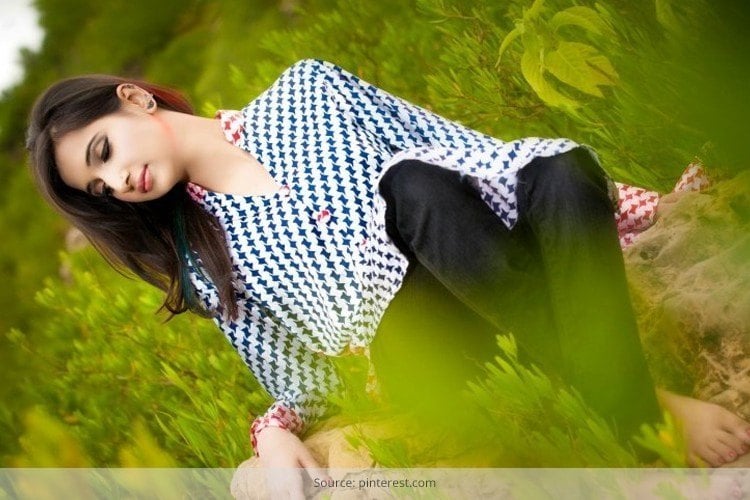 For women, there are endless style statements and if you look around for tips, the World Wide Web would bombard you with trial and tested tips for women of all walks of life and ages.
FashionLady has streamlined some hot picks for you. Read on!
You can pick a full sequin shift dress either in black or any darker yet bright shade, which is perfect for a summer night party. You can accessorize with a chunky platforms and trendy clutch to complete the look.
As we always say, again we are stressing on bright colors for this season. A dress in a vibrant color is must for summer apart from white, which is by default the summer color. It can either be in floral print – a trendy skirt for the day or a comfy silhouette for the evening.
Don't go on thin ice in evaluating summer trends for your wardrobe. Dare enough to put on a cool summer jacket paired with shorts/Bermudas and believe us, it's certainly another great style for this season. You can pair it with any footwear – flats, platforms, wedges etc.
However avoid peep-toe shoes and pencil heels, as the look is casual, so do not confuse it with effeminate pieces. If still your mood insists then you can go for high heels for evening hang-outs. Pair this outfit with a huge 'jhola' kind of bag which complements this kind of a look.
Fashion Lady has always stressed on floral prints for this season. Nature prints/hand-painted look is always cool for hot summer days. Anything including dresses, open jackets, trousers and skirts look great in those prints.
If silhouettes interest you then go for jumpsuits and dhoti pants, which are quite a rage these days. Jazz up this look with a great pair of high heels and a trendy bag.
In one of our previous editions, we had stressed on the Color of the Season – White and how white looks classy in these soaring temperatures.
Here's a quick recap
Summer wear and white is almost synonymous. You can always turn on classy white. White is always versatile, chic and in every way appealing. A white shirt with blue jeans always spell sexy than any other outfit. Moreover, this hot cool combination is not gender biased either and always a head-turner. White is definitely the summer shade and it always enlivens your mood with its cool vibe.
So let's go into detail. Continue reading!
Pairing white
When you've decided to go for white, always check on the fitting part, as a bad fit is easily evident in white garments. Bollywood celebrity designers like Manish Malhotra have always opted for white and you can always seen spring/summer fashion runways being almost drenched in white and neutral shades.
[sc:mediad]
Girls always enjoy fashion more than boys do, as they've myriad of varieties in outfits. White tops can go for any kind of occasion be it formals or casuals.
As per fashion designer Pria Kataria Puri, white t-shirts and blouses look great with shorts and blue jeans. Jazz up this look with metallic heels and string of pearls.
One of the best thing about white is that it can be paired with any other shade. If you love subtle colors then you should team this neutral shade with faded blue/grey jeans. And if bold colors are of your interest then go for red, bright pink or blue, anything of your choice. You will surely come-up in a classic combination.
How to accessorize white
Always be extra careful in accessorizing your look, as they may take your look to an edge or let you down. Your jewelries, bag and footwear should be picky. Accessory designer Pushpita Gaur suggests to go for something that compliments like bags in camel, beige, brown or soft grey colored bags and footwear.
Even metallic shades such as silver, gold and bronze metallic accessories such as clutches, heels, flats and hobo bags are great addition to enhance the look.
"Wear strappy pumps in metallic or heels with Swarovski crystals or diamonds. Precious or semi-precious stones in turquoise or other colors for shoes and bags work wonderfully with whites."  
Vintage/traditional accessories always look great with white outfits, as the detailing in the pieces pop up sharply thereby enhancing the charm of your overall look.
And when you're going for white gowns, always pair them with metallic heels and bags, because accessories in darker shades can mess up your entire look. And do not forget to go for the perfect hair-do, because white is classic so your look should always be elegant and classy.
Picking-up fabric
When it comes to gowns and kaftans, always try going for fabrics such as silk Lycra, silk crepes or silk chiffon. Do not go for whites in synthetics and satins, especially for summer.
Designer Troy Costa has this to say on fabrics
 "Linen is one of the best fabrics to wear during summer because it has more weight over cotton and if you are a little overweight you can chat a little if you choose this fabric. Stay away from puffy fabrics if you want to look slimmer than you are."