With the posters of Dhadak already out, Late Sridevi's elder daughter, Janhvi Kapoor, is all set to take her first step into the industry where her mother has ruled for years, courtesy her exponential talent.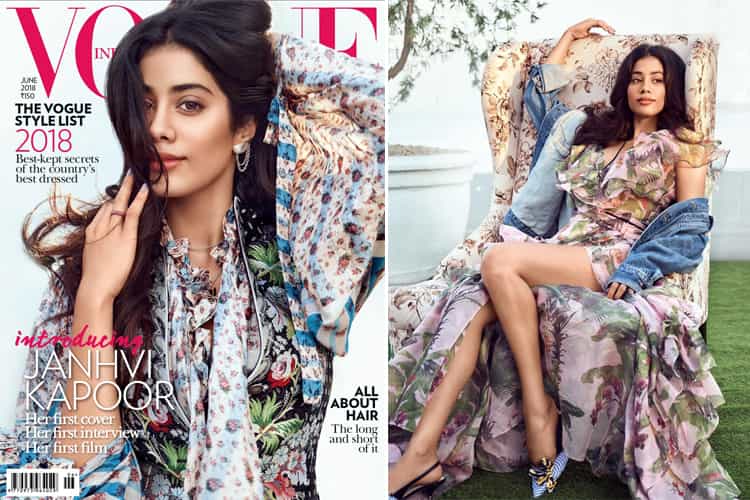 Another starlet in the making from the Kapoor khandan after Sonam Kapoor, Janhvi is making her debut in Bollywood alongside Shahid Kapoor's brother, Ishaan, under the prestigious launchpad of Dharma Productions.
With looks inherited from her mother and Karan Johar playing the godfather, we are sure of a big bang entry for Janhvi on the 20th of July this year.
Just ahead of her silver screen appearance, Janhvi will be making yet another debut of her career, her debut magazine feature. First time ever on the cover of a magazine, Janhvi is the chosen star for the June issue of Vogue India.
Janhvi Kapoor On Vogue Magazine:
The feature is all about her first's- her first cover, her first interview and her first film.
With Vogue giving us a small teaser, sharing some scintillating pictures of Janhvi supported with her story just a month prior to her big debut, the girl is sure to absorb much attention from the industry insiders.
From the images that have come in, Janhvi's confidence in front of the camera is visible. Exuding the calm of a seasoned star, the girl has convinced us of her bold and focused attitude towards her work.
With snapshots from the feature released officially on social media pages, Janhvi was quick to share her excitement with her fans in an endearing post.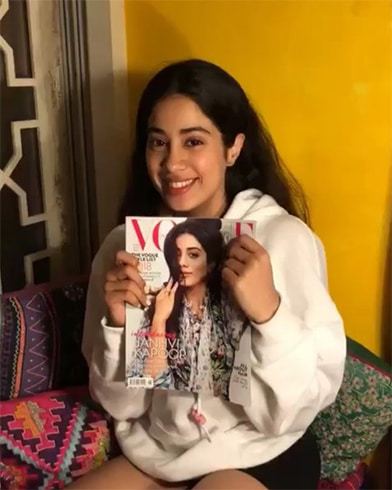 " Look what just came in the mail. I have been waiting to share this with you all!! My first ever cover for a magazine. Thank you @Vogue India for making me feel so special. Hope you will like it."
For the magazine debut of her first cousin, actress Sonam Kapoor sensed nostalgia and took to Instagram reminding us of her first ever feature a decade ago. Here's what she posted, " My stunning baby sister @janhvikapoor on her first cover of Vogue 10 years after my first cover with @vogueindia ! Couldn't be prouder".
Browse further and you will agree that Janhvi Kapoor has all the credentials of a superstar.
Presenting the diva in a rather carefree bohemian mood, stylist Priyanka Kapadia attempted to channelize Jahnvi Kapoor's high-on-life spirit into her first magazine photoshoot. With photographer Prasad Naaik behind the cameras, the resulting shots have been surreal.
For the cover, Priyanka had Janhvi wear a summer-perfect ruffled floral blouse from luxe label Louis Vuitton. For accessories, the stylist stuck to an attention-grabbing pair of earrings from Kaj Fine Jewellery. Photographer Prasad Naaik had his muse play with her blow-dried tresses to take a more natural click.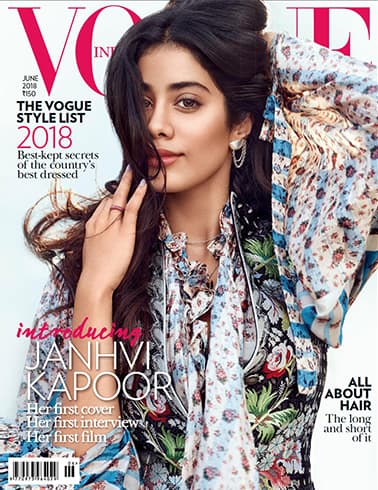 Posing in a laid-back way envisioning her future in the industry, Jahnvi Kapoor looked perfect. Donning a ruffled maxi dress boasting of a pretty floral escapade in mushy tones of lavender from Alexander Wang, Janhvi had us completely. To flaunt her toned long legs, stylist Priyanka gave her romantic silhouette a striking young contrast, throwing on a denim jacket layering and a pair of striped peeps from Prada. So much oomph in that click!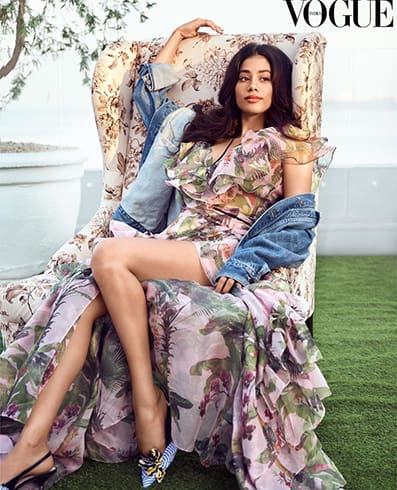 In this click, we saw a young, naive girl full of aspirations sitting on the threshold of her career waiting to explore all that life has to offer. Wearing co-ords in shades of olive and gold, stylist Priyanka played low-key on accessories, letting the cameras capture the real persona of the star kid. Tresses let loose fell naturally on her radiant face.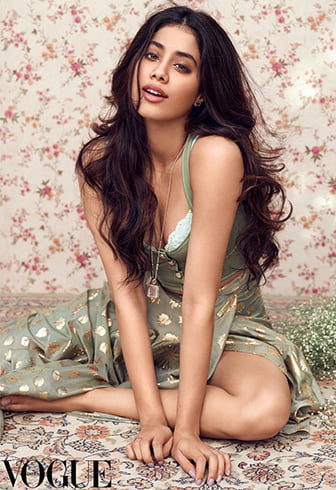 Totally obsessing over this newbie's magazine feature. What are your thoughts?
Images Source: instagram.com/vogueindia