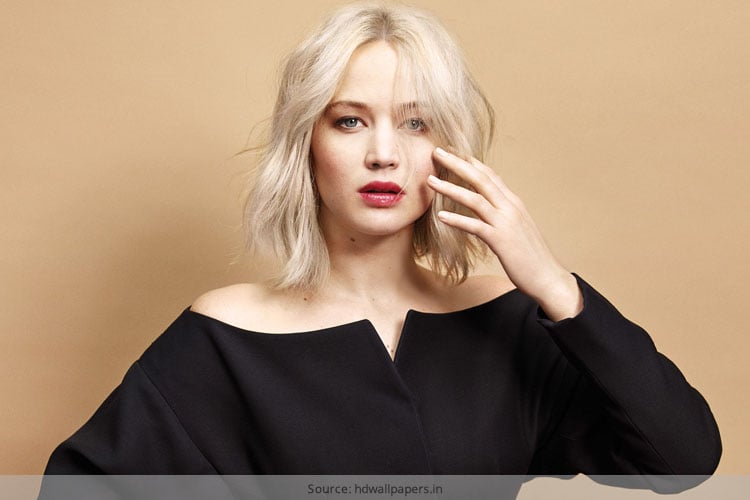 [Also Read: Jennifer Lopez]
Personal Details
Let's first glance through some interesting personal facts about this Hollywood celebrity.
| | |
| --- | --- |
| Name | Jennifer Shrader Lawrence |
| Birthday Date | August 15, 1990 |
| Sun Sign | Leo |
| Eye Color | Blue |
| Hair Color | Blonde |
| Nationality | American |
| Religion | Christianity |
| Education | High School |
| Occupation | Actress |
| Marital Status | Single |
Family Details
| | |
| --- | --- |
| Father | Gary Lawrence, a construction worker who later owned a concrete construction firm, Lawrence & Associates. |
| Mother | Karen Lawrence who worked as Children's Camp Manager |
| Siblings | Two elder brothers, Ben and Blaine |
| Spouse | None |
| Children | None |
Body Status
| | |
| --- | --- |
| Build | Athletic, Hourglass |
| Height | 5 ft 9 in or 175 cm |
| Weight | 63 kg or 139 pounds |
| Waist Size | 26 inches |
| Hip Size | 36 inches |
| Shoe Size | 10.5 U.S size |
| Body Measurement | 35-26-36 |
Favorite Things & Hobbies
Let's glimpse through some of Jennifer's personal tastes:
| | |
| --- | --- |
| Color | Gold and Blue |
| Food | Junk Food especially Nachos |
| Place | New York |
| Sport | Basketball |
| Actors | John Stamos, Jeff Bridges |
| Actress | Meryl Streep, Laura Linney & Cate Blanchett |
| Film | Pan's Labyrinth, I Heart Huckabees, Midnight in Paris, Harold & Maude |
Professional Career
As a child, Jennifer aspired to be a doctor. However, destiny had something else planned for her. As a small girl, she used to suffer from hyperactivity and social anxiety and thus could not fit comfortably with her peers. However, all this vanished when she took to stage in numerous plays in her school as well as church. Her first informal role came at the age of nine when she played the role of a prostitute from the town of Niveneh during a summer camp in a religious play based on the Book of Jonah. Born with a natural talent, the actress had never had any kind of formal training.
[sc:mediad]
Remuneration: As per the 2016 reports, Jennifer's remuneration in 2016 was approximately $46 million.
Net worth: Jennifer Lawrence net worth as of 2017 is a whooping $75 million.
Jennifer Lawrence Weight Loss
Unlike other actresses, Jennifer is strongly opposed to dieting, no matter what the film role is. However, she is all for body weight exercise. Considered a 'fat actress', she does not mind shedding weight for a movie but refuses to go hungry. Her killer body is an inspiration to many as it is not obtained by deprivation.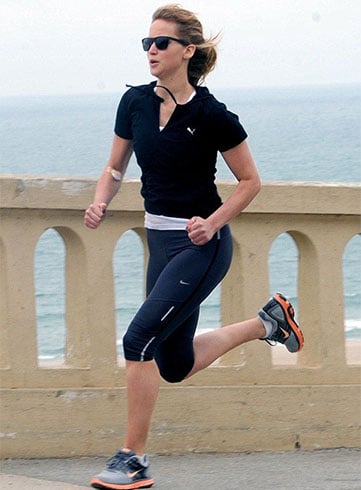 Jennifer's Workout Plan
Normally Jennifer likes to exercise in short parts throughout the day with 15 to 30 minutes of intense exercise per day. However, she followed a special regimen for her role in 'The Hunger Games' under Dr. Joe Horrigan. He stated that Jennifer never missed, was never late and never complained. Her fitness regimen essentially consists of five parts and was spanned over six weeks. The entire program was focused on agility and speed training. Warm sessions went without saying.
1. Cardio
The purpose behind the cardio session was to increase blood circulation as well as build stamina, endurance and overall health. Post five to ten minutes of warm up, she would get into 20 minutes of high intensity cardio where she indulged in exercises like running, cycling on road, mountain, classes or sometimes the stationary bike. Aerobic sessions like dance classes and hiking were used as variation but Jennifer indulged most in skipping.
2. Strength training
For muscle buildup to burn more calories, she did a 20-minute high intensity routine which consisted of bodyweight squats, sit-ups, pushups and jumping rope in a circuit. Here she would do one exercise for 30 seconds and then move on to another without break.
3. Yoga
To be able to do stunts like a pro by increasing both her flexibility and concentration, Jennifer took to yoga. It was also helpful in stretching and relaxing her body between high-intensity workouts. These were normally low intensity and mostly comprised of sun salutations, chair poses, tree poses, planks and reverse warriors. She would do the even on her off days.
Jennifer's Diet Plan
True to her skin and attitude, Jennifer never went hungry and lost her weight by eating balanced diet in proper quantities.
The highlights of her dieting plan ares:
1. Monitor Calorie Intake
Jennifer chose to eat food of her preferences but optimized and monitored her calorie intake. She faced a little issue as prior to it; she was on a high protein diet. However, she limited her calorie intake through portion control. The key here was in intake of carbohydrates in contrast to fats.
2. No Dieting
Jennifer placed being healthy above being lean. She ate regular food with eye on calories. Jennifer included abundant fresh fruits and vegetables in her diet to get all the nutrients required by her body.
3. Beware Of Beverages
Jennifer was well aware that beverages like tea, coffee and orange juice packed more calories than junks like burgers. She kept a tab of this in her diet. To keep herself hydrated, she drank water like a fish. She also fed on plenty of special fish with less fat to get the right protein intake.
4. Consistency Is The Key
Jennifer never deflected from her exercise regime or her diet regulations. She kept her regime as normal as possible.
Some Interesting Facts About Jennifer Lawrence
Owing to her social anxiety and hyperactivity, Jennifer considers her childhood an unhappy experience.
Apart from being a cheerleader in school, Jennifer used to play sports and was an active participant in netball, field ball and basketball.
Apart from being a versatile and talented actress, Jennifer is known to be bold and state her opinions outright, be it any matter.
She hates dieting and is completely addicted to junk food.
She likes returning at a decent time and catch up on her favorite TV serials. She simply hates missing a single episode of them.