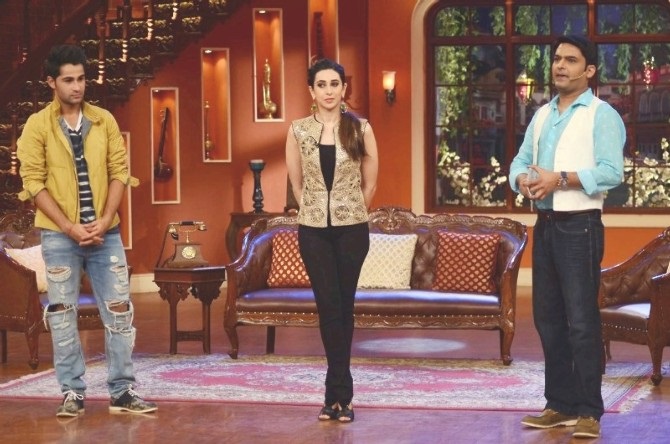 Karisma Kapoor is the undisputed style icon of this week. We are equally stunned by her recent makeover at the Glamour Jewellery exhibition, as we're amazed to see Karishma Armaan at Comedy Nights with Kapil last week.
The actress looked drop dead gorgeous, as she showed up at the Comedy Nights with Kapil show with her cousin Armaan Jain. The Kapoor cousins were present to promote Armaan's debut movie romcom, Lekar Hum Deewana Dil, at every possible juncture.
Armaan Jain, who is Reema Jain's (Raj Kapoor's daughter) son, is soon going to follow his family's legacy by debuting as an actor in his upcoming romcom Lekar Hum Deewana Dil. However, it is not for the first time Armaan has entered the Bollywood, but he has already worked as as an assistant director of My Name is Khan in 2010. Only after he has worked as assistant director for two more movies – Student of the Year and Ek Main Aur Ekk Tu, he decided to face the camera as the male lead opposite Deeksha Seth.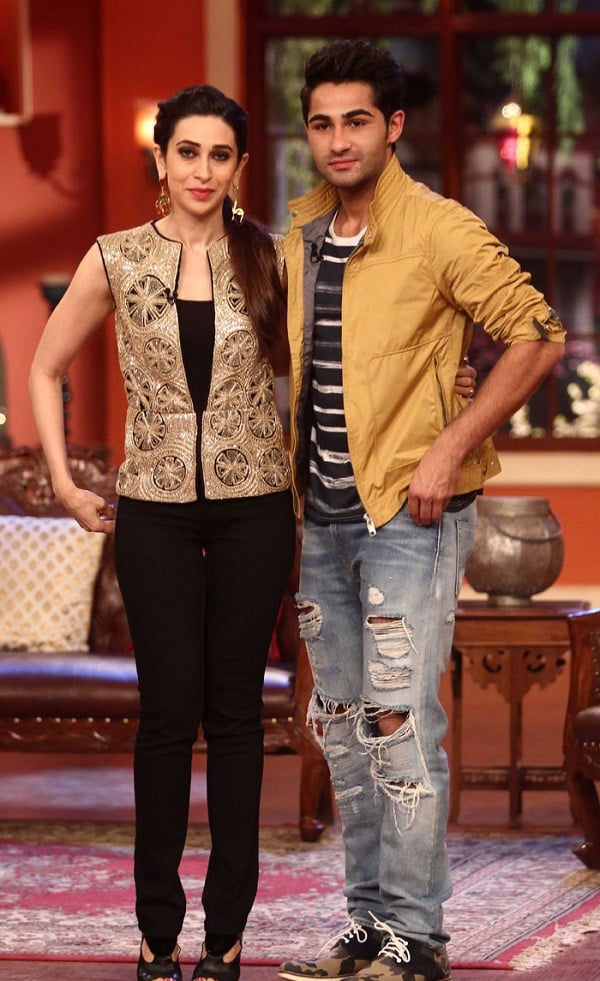 And it's quite obvious to see an outlandish promotion of the next star from the Kapoor Family.
From movie theaters to metro rails and events at malls, he has tried all possible juncture to promote his debut movie. However, today no movie promotion is complete without being promoted at the popular Comedy Nights with Kapil.
This newest entrant from the Kapoor legacy was accompanied by her elder sister Karisma Kapoor at the show.
Lolo was at her best when it came to wardrobe selection. The fashionably correct Karisma  has come a long way from tacky salwar suits to the much poised designer classics ever since she started her career.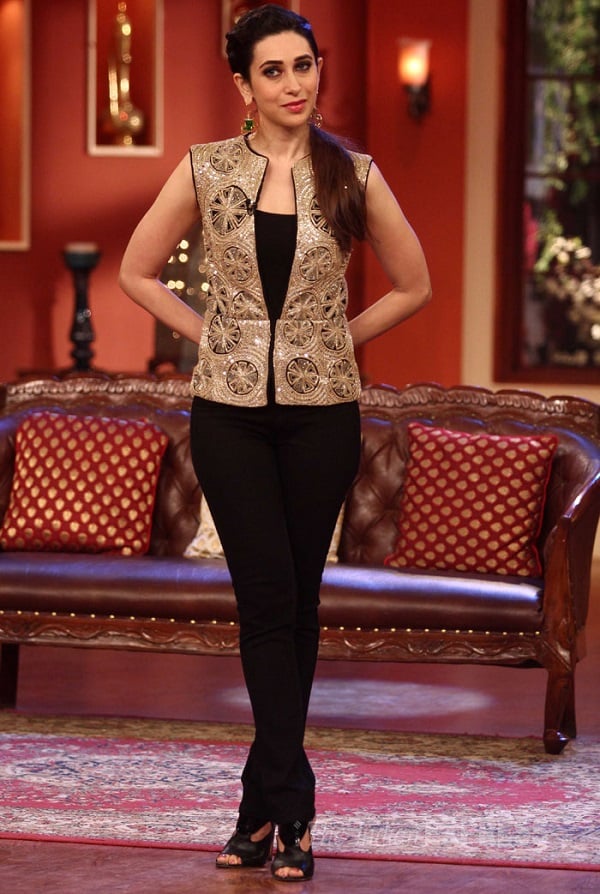 Karisma at Comedy Nights with Kapil looked resplendent in a Ritika Mirchandani vest, which she had worn over a black inner and matching black trousers and sandals.
She styled her look with black heels, a twisted low ponytail brushed forward over one shoulder.
Apart from her embroidered vest, the other major highlight was her pair of earrings. The chair chand baalis from Mrinalini Chandra from her 'Have a seat' collection were surely her statement accessories along-with her watch.
The recently divorced actress had completed her look with neutral makeup.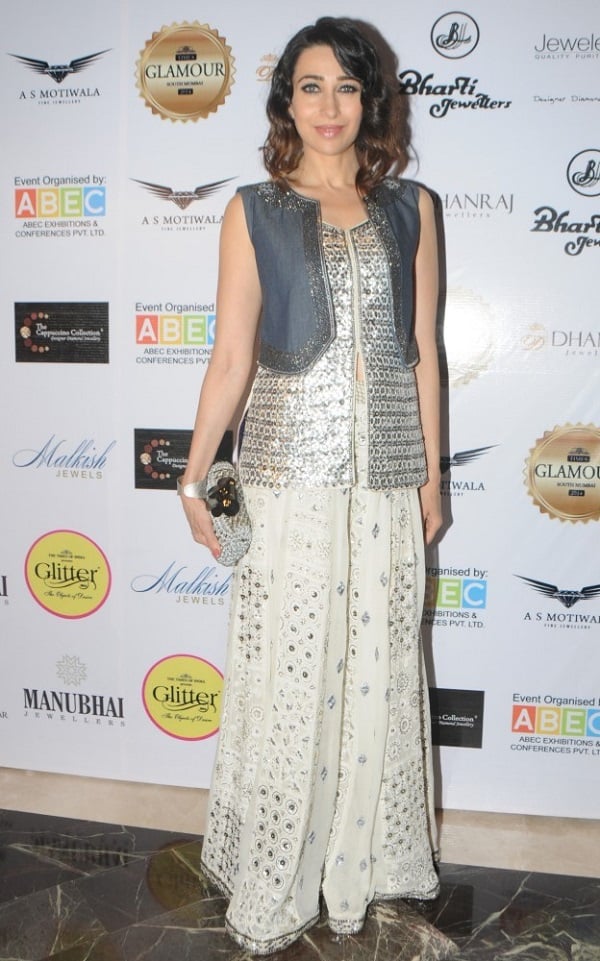 I have grown up watching Karisma's movies, especially the years when my teenage was spreading its wings, eager to take inspiration from her favorite divas and style icons. Karisma has always been my favorite actress and the reason is just endless. I was super delighted to see the self confessed full time mommy bringing her kids, Samaira and Kian to the sets of 'Comedy Nights With Kapil'
Lolo once again turned heads last week when she had arrived at the Palladium Hotel in Mumbai. Karisma inaugurated the Glamour Jewellery Exhibition. This time Karisma Kapoor was seen in a complete image makeover, which was nevertheless a treat for our eyes.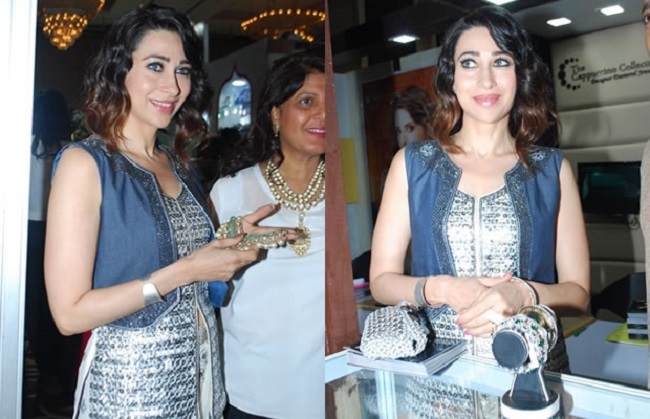 No matter whichever style Karisma dons, she earns scoring points for her style quotient.
Karisma Kapoor looked gorgeous as she wore a Kanika Kedia ensemble which included a pair of white palazzos with a heavily sequined top and a cropped blue vest over it along with jewelry by Amrapali jewelry.
This time the actress had ditched her signature black and instead this white and silver number. As customary, Karisma cut the ribbon and lit the lamp to inaugurate the exhibition.
On jewelry, Karisma had this to say before the shutterbugs,
"Every woman loves jewelry and at the same time I think it is a great investment, so it is not just a waste of money. This is something you can keep for generations and use for special occasion."
While Karisma rocked in both these ensembles, do let us know which one of hers is your favorite look!