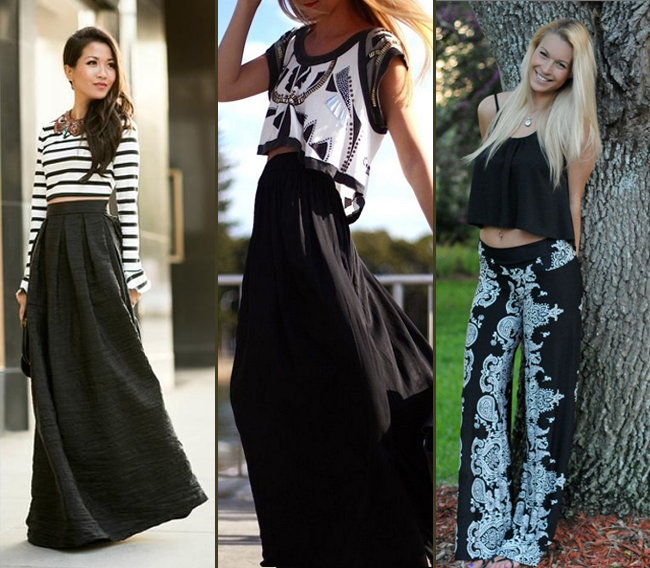 Last year around this time I had published a post on 'What to wear on first day of college'. As the new session is going to start with the 10th passed-out students waiting to enter a new life, I understand their mixed feelings of curiosity and nervousness. In order to ease their anxiety level, I have come up with some fabulous fashion tips that will help them show up with confidence on the first day.
Moreover, to make it more elucidative, I have also added some tips by Cotton Council International to help youngsters get their style right.
Read on to find out what to wear on first day of college!
#Tip 1 – Classic blue jeans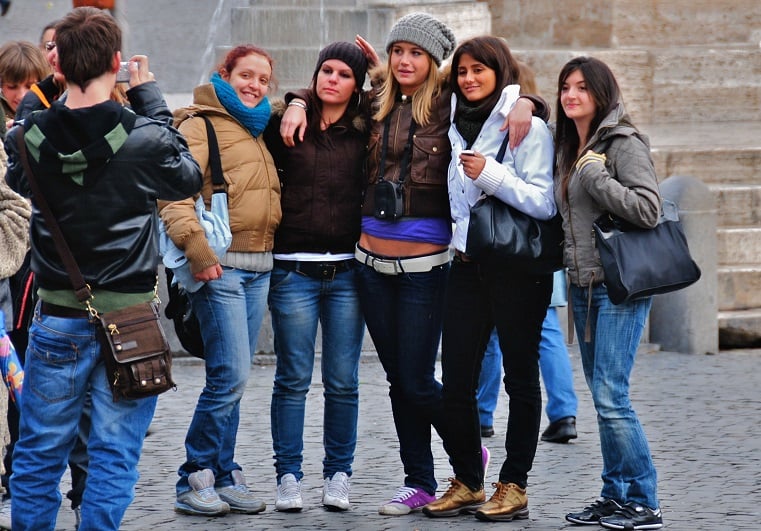 The timeless blue jeans are every girl's wardrobe staple. No matter how much you're into fashion, a pair of blue jeans is one of the basic essentials in your clothing. While we've got numerous ways to pair these bottoms with likes of tank tops, t-shirts, kurtis and crop tops; we should always consider the place and situation before picking a particular style. There is nothing like modesty for college fashion.
Now put a lasting effect on the onlookers with your humble yet high fashion college dress.
Since it's summer, you can either go for a floral kurti in cotton (long/short) or a white T-shirt without any quotation.
#Tip 2 – Flowy skirts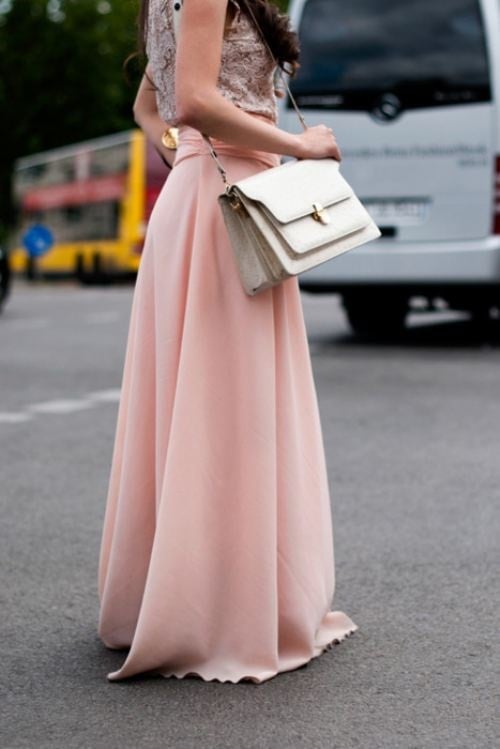 Image source: theberry.com
While both the long and short skirts are hot trending elements this season; I would rather suggest you to keep the short version for weekends or post college hours. No matter how much comfortable short skirts are, they are just not appropriate for your college, especially when you've enrolled into any Indian college.
Even long skirts are quite fashionable. From top Bollywood divas like Sonam Kapoor and Kareena Kapoor have donned this feminine style several times in their movies. If you recall Kareena Kapoor's fashion in her movie, Qurbaan then you can get some pretty cues of how to wear the long skirt.
Since you'll be wearing a flared bottom, go for body hugging tops tucked inside the skirt. Pair this college dress with a statement belt with minimal other accessories.
#Tip 3 – Palazzo Pants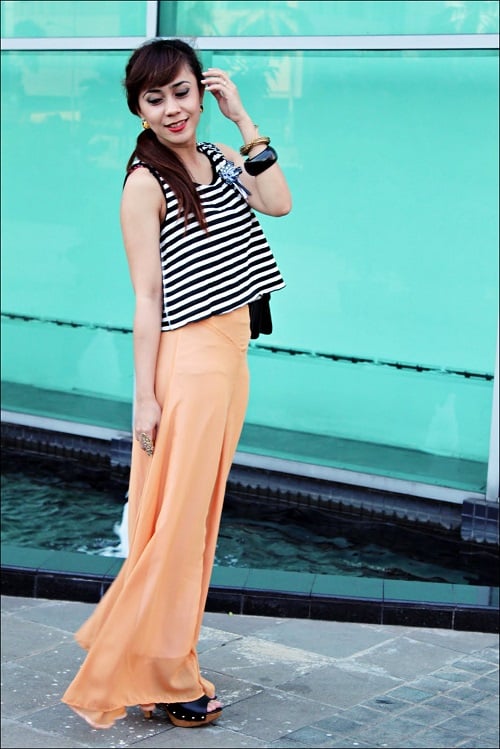 Palazzo pants or trousers are quite a rage this season. In fact these were hot trending items in 2013 and continue to certain their demand for their extremely versatile fashion elements.
These are not just any regular wide legged pants, but they are a dramatic addition to define your fashion statement, provided you have the knack to pull them off.
[sc:mediad]
Since it's summer, pastel shades are the second best options next to white. Pick a pair of palazzo pants in one of the soothing pastel colors and pair it with a matching top or a crop top in monochrome design is even a better choice.
#Tip 4 – Crop top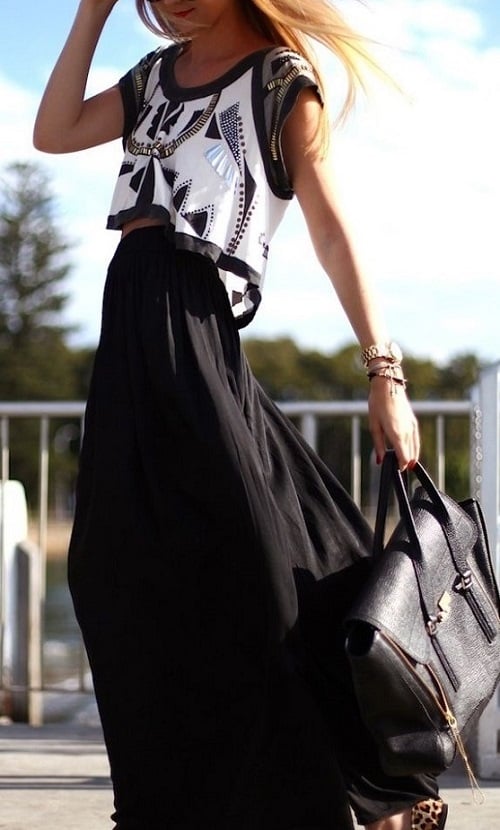 Image Source: styledomain.com
Crop top is the most trending amongst teenagers. Not always crop tops are tailored to show off the abs, but there are crop tops available in the market, which ends at your waist. You can therefore pair them easily with your skirt or palazzo pants to flaunt a more casual look.
You can even experiment with this versatile teenage fashion wear by pairing your crop top with a long tight-fitted tank top. This way you don't have to show off your navel and can stay in sync with the trend.
#Tip 5 – Accessories
Well, you are at the perfect age to play around with all sorts of accessories, both funky as well as contemporary. Without accessories, your fashion sense might be undervalued sometimes and chances are you might even be tagged as the 'Plain Jane'.
Make sure to maintain a balance between not too less and not too much. Funky jewelries such as bracelets, wooden bangles which do not cost more than र10, neck-pieces, rings and lockets might be less expensive, but they certainly enhance your personality by several notches.
Go for silver anklets, stone-studded neckpieces, floral or bright colored cotton scarves which can also be used as funky headgear to get that chic look.
#Tip 6 – Bags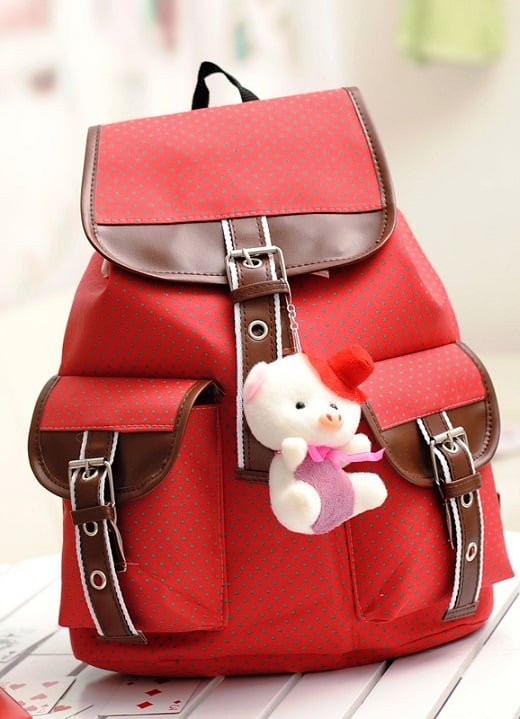 It's time, when the 'you' in your brain should step out. Make your college days more interesting by picking up a statement college bag. You can either fall for the design or just the vibrant shade; just pick anything to make heads turn around. And not to mention, pick a bag that doesn't do fashion but even offers enough space for your books and other essentials.
Check out for more tips on what to wear on first day of college here.