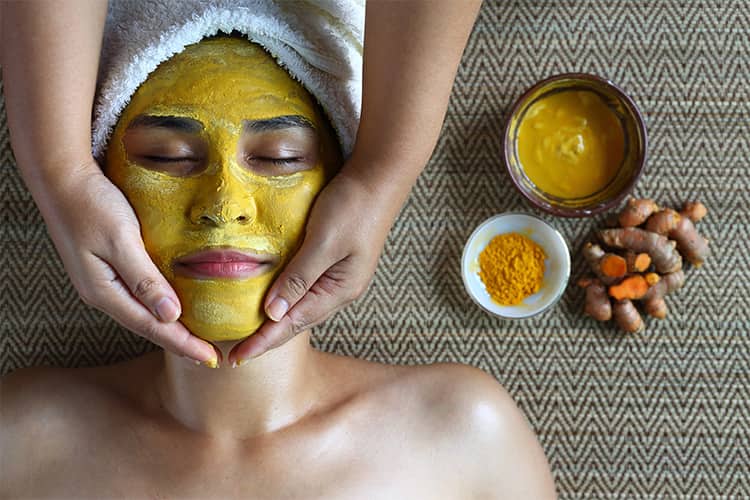 I have been using face packs and face masks off the counter almost all my life. If I see a pimple making an appearance on my face, I'd get myself a neem and sandalwood face mask from the beauty store, when I found my skin drying up, I'd buy am almond face mask or an aloe vera facemask, and a fruit face mask or an orange peel off mask would always rest on my dressing table to get me that instant fairness before I headed for a party or a wedding. What I didn't know it then and I know now is how all these manufactured face masks were loaded with chemicals that, in the long run, ruined my skin of its natural oils and nutrients.
In search of natural alternatives for these face packs what I discovered was a pure treasure for skin care, the ubtan. Now if you were like me and have no idea what an ubtan is, let me help you out. We will not only explain what an ubtan is but also its many benefits to our skin. Probably the oldest face mask used by our grandmothers, great-grandmothers, and generations before that, an Ubtan is a paste made out of finely powered besan (chickpea flour), haldi (turmeric), and chandan (sandalwood powder) mostly diluted in raw milk or rosewater. It has been an integral part of the beauty routines of Indian weddings, due to the great benefits it showers us with.
Benefits Of Applying Ubtans
Being a natural face mask, Ubtans are infused with loads of goodness. If used regularly they help reduce tanning and also eliminate dull skin cells making a great natural exfoliating agent. Gram flour is an excellent exfoliator while sandalwood powder works as an amazing skin smoothening agent. Milk, on the other hand, is a skin lightening agent that helps brighten up the skin. The ubtan leaves your skin looking fresh and new.
If you are long-suffering from acne and pimples and have been trying to get rid of stubborn marks, scars and skin pigmentation, the ubtans would prove to be a God-sent gift. It helps in deep cleansing of the skin and makes your face flawless. Facing the sun on a daily basis makes the skin dull. But regular use of ubtans reverse the effects of the sun exposure.
Turmeric works like witchcraft to keep the face looking young and fresh. With its anti-aging, anti-oxidative and anti-inflammatory properties, turmeric not only fights wrinkles but also stops all kinds of damage to the skin.
A regular application of Ubtan weakens facial hair roots and leads to its eventual decline. While people hop from clinic to clinic to get the best laser hair removal option, struggle with painful wax and threading, this is a breakthrough in the beauty industry. This is a natural hair removal way that has absolutely no side-effects.
Most of the ingredients used to make ubtans have properties that enhance fairness and brighten up the skin often working as a natural bleach. Products like lemon, turmeric, and raw milk are among them.
The sandalwood powder in Ubtans also acts an astringent. It tightens up the pores thereby making it firm and taut. This also stalls premature aging.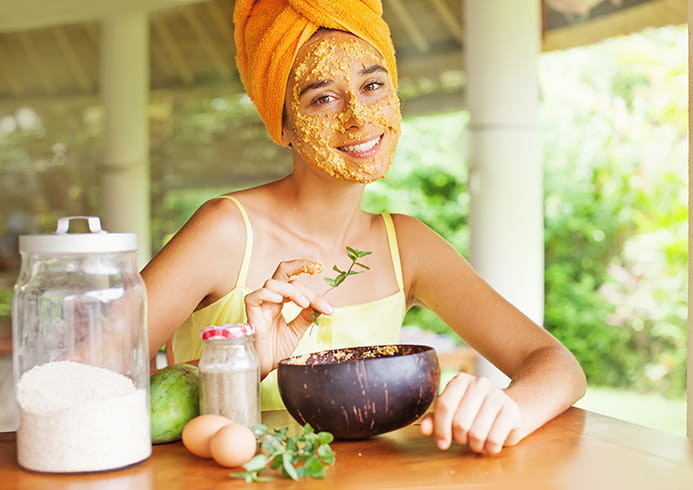 1. How To Make a Simple Ubtan Face Wash
Ubtan can be easily inculcated in your everyday skincare routine and take care of all your skin problems. The best part about ubtans are, they can be made using products readily available in every kitchen. Just with a couple of additions, the ubtans can be customized to suit our skin type and cater to our needs. If you are looking for home remedies that would brighten up your skin naturally, act as a bleach, here is a detailed account of how to make Ubtans at home for face whitening.
All You Will Need:
1 tablespoon sandalwood paste
2 tablespoon besan (Bengal gram flour or chickpea flour)
Half tablespoon turmeric paste
How Do We Do It?
Mix all these ingredients in the mixing bowl till it's even, then add a little more milk to get a perfect consistency. Make sure the paste has no lumps, is not too thick or too runny. Now even it out all over your face with the applicator brush. Let the ubtan dry on your face for about 15 to 20 minutes.
We would suggest you use it every day and replace your facewash with it. But if that becomes too much of a drill, use it at least thrice a week to get best results. You will notice the difference in your skin soon.
Why This Works?
Raw milk has multiple benefits for the skin – oil control, deep cleansing, hydration, and gentle exfoliation being some of them. When mixed with this ubtan, the milk takes care of daily skin needs.
Sandalwood soothes inflammation and smoothens your skin. And besan works as a great exfoliator that helps remove dead cells easily. Again, turmeric is an amazing antiseptic that helps in the reduction of pigmentation.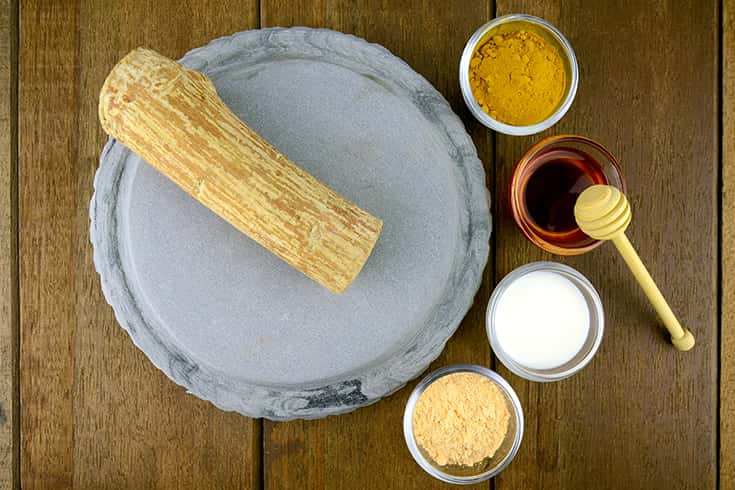 2. Exfoliating Ubtan For Glowing Skin
All You Will Need:
3 tablespoon chickpea/Bengal gram flour
2 tablespoon sandalwood powder
2 tablespoon grated cucumber
How Do We Do It?
First, mix all the dry ingredients in a ceramic bowl.
Then add the finely grated cucumber paste and mix it well too.
Rub this paste on your face in a circular motion. Continue with the process for at least 5 to 10 minutes. Then wash your face with running water, and dab it dry.
How Often Should You Do This?
We should scrub our face at least twice a week to get rid of all the dust and dead skin cells that amass on our skin.
Accumulation of dead cell on the skin is also a reason most of us get blackheads on the chin, corners of the mouth and nose area.
Do follow the scrubbing process with a toner.
The scrub will open your pores and clean it, while the toner would seal it back.
Why Does This Ubtan Face Scrub Work?
Cucumber is one of the best natural hydrants for our skin. It is also a great antioxidant and works toward the removal of dead skin cells, tan, and sunburn like a dream. Oatmeal, again, is the most economic natural exfoliant in the market. Mixing these ingredients with the ubtan mask would lessen wrinkles and fine lines while cleansing your skin deeply.
[sc:mediad]
3. The Perfect Ubtan Moisturizer
All You Will Need:
1 tablespoon raw milk or fresh cream
1 tablespoon tulsi powder
3 tablespoon besan or gram flour
2 tablespoon sandalwood powder
How You Do It?
Soak the almonds in a bowl of raw milk or fresh cream overnight for 4-5 hours.
Now peel the skin off the almonds
Now add the tulsi powder and sesame oil to it and blend them by beating with a spoon.
Add the basic ubtan mix to this paste and blend it some more.
Spread this evenly on your face and let it dry for 15 minutes. Now take a shower.
How Often Can One Do This?
One should do this at least twice a week to get a smooth and younger looking skin. If you want to do it more often, you may use it as frequently as you want. The paste can be stored in a refrigerator for about a week.
Why Does This Ubtan Work?
This paste is one of the best moisturizers made naturally and helps keep your skin soft, supple, and youthful. Almonds are not new to anyone's beauty regimen; that they are rich in Vitamin A that help curb any flare-up on the skin is common knowledge. Tulsi too, with its loaded antioxidants, works wonders on acne prone skin. When the goodness of these two super ingredients are combined with the sesame oil and added to the ubtan hyper-pigmentation is reduced and uneven skin tone is smoothened out.
4. Exceptional Ubtan Face Mask For Regular Application:
All That You Will Need:
1 tablespoon besan/ Bengal gram flour
1 tablespoon sandalwood paste
½ tablespoon turmeric paste
2 tablespoon rose water in case of oily to normal skin or raw milk in case of dry skin
How To Do It?
First, add all the ingredients in a bowl and blend them well. Add more rose water if the paste looks thick and until you get the desired consistency. Now apply a generous coat of this face mask and let it dry for 20 minutes. Even if it doesn't dry completely in 20 minutes, the goodness of the pack gets absorbed in the skin. Now rinse your face with cold water. Pat dry and apply moisturizer.
How Often Can One Do This?
Apply this mask thrice a week for two consecutive weeks, and you will notice a remarkable improvement in the texture of your skin. Do this before you take a shower or at the end of the day.
Why Does This Ubtan Work?
Wheat flour is one of the superior agents that encourages regeneration of skin cells, and also lightens the skin in the process. When this flour is mixed with the regular ubtan mask, the potion turns into a catalyst that improves the complexion of skin. Rose water works as an amazing astringent which not only works toward tightening the skin but locks your pores as well.
5. Magic Ubtan For Removing Tan And Dark Patches
What All You Will Need:
1 tablespoon raw milk or milk powder
1 tablespoon sandalwood paste
½ tablespoon turmeric paste
A ceramic or glass Mixing bowl
How Do You Do It?
Beat all the ingredients in the glass bowl and check the consistency. If it's thick, add a little raw milk or rose water. Make sure that the honey has blended well and the milk doesn't curdle. Make a smooth paste. With the help of a facial brush apply this thick paste evenly on your face. It will take 20 minutes to dry. After that, you can take a shower or rinse off with running water.
How Often Can One Do This?
This face pack can be used twice a week to get rid of unflattering tans. During summers you may apply it on every alternate day.
Why Does This Ubtan Work?
Lemon is an extremely rich natural bleach, and honey has skin lightening properties also. Together they make an amazing anti-tan pack. When mixed with other ubtan ingredients, they restore the lost youthfulness to our skin and rejuvenates and brightens it.
Tips:
We suggest never to use a face wash to remove the ubtan face pack.
Ubtans can be easily washed off by using a wet a towel or hanky. You can also remove them under a running tap.
Always use a light moisturizer after washing the ubtan face packs.
Don't forget to use sunscreen and carry an umbrella while stepping out in the sun to keep the fairness of your skin intact.
These were some of the super easy five ubtans that can magically restore our tired looking face with the radiance of teenage. They can outshine any high-end skin care product. It's funny how we often fail to realize that all the ingredients we need to maintain our beauty and safeguard our wellness are present in our kitchen, and fridge. All the money we wasted on a zillion products could have been saved up to buy a new car if only we used the products at an arm's stretch wisely. Do let us know if you tried the above ubtans and how they worked wonders for your skin.