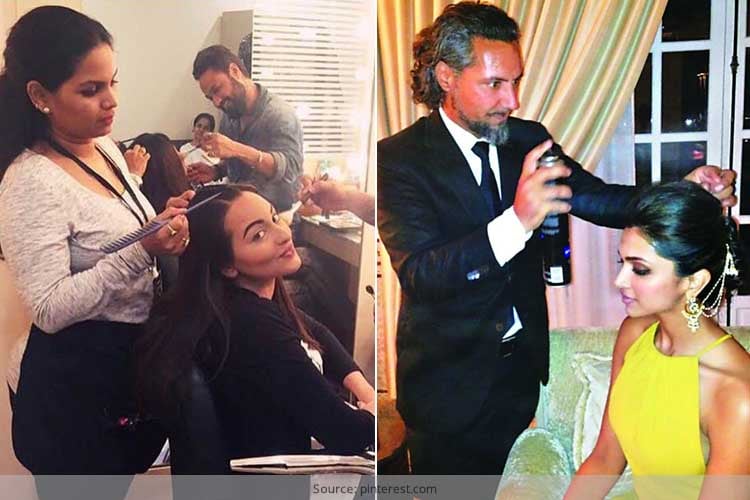 The net is full of celebs with and without make pics juxtaposed side by side. Not that our queens aren't beautiful naturally but these pics go on to prove that even the prettiest of faces may use a little touch. To bring out the magic they are born with, Bollywood has a long list of celeb makeup artist.
Meet Our Makeup Artists In Bollywood
As most of the time they are behind the scenes, recognition doesn't come that easy to him. To introduce you to them, here are the top makeup artists in Bollywood for you.
Banu
Banu has worked for numerous well known stars in the south like Suriya, Vikram, and Thalaiva Rajnikant. She has had the luck to brush up the already so gorgeous Aishwarya Rai Bachchan, but it was her creation of Chitti, the robot in the movie Robot that put her on the map of Bollywood. The passion she puts in her work makes her a favorite of her clients and that's why from producers to stars, everyone's looking for her.
Christien Tinsley
Another makeup artist who has a magical wand for a brush is Christien. The astute artist imported from Hollywood worked for hours on Big B to transform into Abhishek Bachchan's son in the movie Paa. "The Passion of the Christ" was another movie that shows the magic cast by Tinsely who is also known for applying 2D and 3D make up, named 'Tinsley Transfers' after him.
Vidyadhar Bhatte
The Mumbai based makeup artist has been a part of Bollywood since the early 70s. He knows the magic of transforming actors into the character they are portraying in front of the camera. With over 35 years of experience in the industry, Vidyadhar has had the opportunity to work with actors like Amitabh Bachchan, Dilip Kumar, to Madhuri Dixit and Rani Mukherjee. To keep up with new technology, he has learned many new skills and innovations made in the field of make-up throughout the ages.
Mickey Contractor
The top makeup artist in Bollywood who has given a new dimension to the beauty of Rani Mukherji, Preety Zinta and Kareena Kapoor is Mickey Contractor. Now back in the day, makeup artists in Bollywood were not allowed to do hair, and so Mickey had to fight a lot of gender discrimination. With over three decades of experience under his belt, he is the champion in his game and works on his own terms.
[sc:mediad]
Sheetal Khan
One of Bollywood's famous makeup artist, you must have seen on Sonakshi Sinha's Instagram posts more than often. The Sinha girl doesn't trust anyone other than Sheetal when it comes to hair. Apparently our Rowdy heroine is very possessive about her stylist and irrespective of the project appoints Sheetal her beauty expert.
Elton Fernandez
Bollywood's makeup artist name list would stay incomplete without the mention of Elton Fernandez. He is a top fashion and celeb make-up artist and Magazine's like Elle India, Vogue, Grazia and Condé Nast Traveller are loaded with pictures of stars that flaunt the shades stroked by him. His range starts with Manisha Koirala but doesn't just end with Parineeti Chopra.
Mallika Bhat
Kajol was spectacular in her come back movie Fanaa. Now we aren't saying Kajol is not gorgeous already, but it was the pixie dust Mallika sprinkled on the actress that made her give all the young actress a run for their monies. If you are a beauty lover, don't miss to give Mallika's Instagram a follow.
Gabriel Georgiou
Bollywood couldn't thank this globetrotter more for settling down in here after having worked across countries like United States to United Kingdom to Australia. He has chosen Bombay as his resident and Anushka Sharma and Deepika Padukone are his top fans.
Namrata Soni
With her unique and exceptional style this make-up artist in Bollywood has left the likes of Deepika Padukone, Sonakshi Sinha, and Sonam Kapoor fangirling on her instead. Her talent is put on full show on mag covers and ad films in addition to movies. In Om Shanti Om she did an unparalleled job in giving Deeika Padukone a retro look. The list of her celeb clientele just doesn't die.
[Also Read: bollywood Makeup]
Kapil Bhalla
The celeb makeup artist has been in the industry for a very long time. His kit has all the tools of painting perfection on Bollywood's profile. Apart from movies, he also blesses high profile brides and brides-to-be with his mastery. High fashion model walking the ramps swear by the man and his expertise.
Now you know, how that wonders are worked? In their hands, you and I could be just as pretty as our favorite stars.