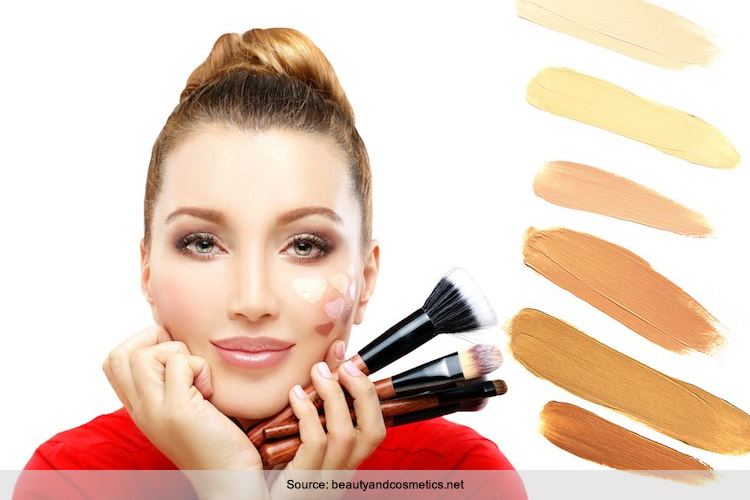 Foundation is a vital component of makeup. You cannot look your best without having perfected the foundation. Now we know the market is overflowing with choices, but picking up any foundation off the rack would not give you the best look. There are many things one need to keep in mind while zeroing in on the foundation, and one among them is one's skin type. Different foundations come with various formulations for regular, dry, oily and combination skin types. Before you buy any product, it is important that you know what works best for you. None of us can take our eyes off when we see airbrushed smooth skin free from any blemishes but trust us, it's not an easy game and you have to put in a lot of effort in creating a flawless canvas for the makeup to follow. Today we will talk about finding the right foundation for dry skin.
Things to Remember:
If you have dry skin you must make sure not to pick a product that will dry your skin further. Look for an oil-based foundation as it will suit you the best
Water-based or non-oily foundations won't work for you. Your skin needs a certain amount of moisture to hold the make-up and non-oily foundations fail to provide so.
How Do I Know If I Need Makeup Especially For Dry Skin?
Girls with normal or combination skin may feel some stretchiness or dryness with age. As we age, we all lose natural oils from our skin and it tends to become dry. Even the oil glands of our skin tend to produce lesser oil with every passing year. As a result, even those who did not suffer from dry skin symptoms earlier experience dryness and itchiness. So, if you always had dry skin, or if you have started to find your skin getting dryer with age, always and always pick a foundation made for dry skin from the rack.
Also, some people think that acne is caused due to oil contents in makeup and try to steer clear of oil-based products, which is not a very wise thing to do. If you have dry skin, irrespective of the acne problem, use makeup products made for dry skin. Also, don't forget to apply a generous coat of moisturizing cream the night before or at least an hour before you put on make-up, to keep your skin well hydrated.
Top 10 Foundations For Dry Skin:
If you have a dry skin and are clueless about choosing your foundation, go ahead and check out our list:
1. Maybelline Dream Satin Skin Foundation
The best thing about the Maybelline Dream Satin Skin Foundation is that it comes in glass bottle featuring a pump dispenser. Its light consistency helps the product blend easily leaving you with a skin glowing with airbrushed finesse. The base looks natural and the luminous finish will make you fall in love with your dry skin all over again. Maybelline's product has an air-whipped effect that makes pores invisible. The dermatologically tested product doesn't oxidize and though it contains SPF 24 PA+++, it never leaves a whitish layer on your skin. What we really like is the affordability and easy availability of the product.
Price: Rs. 700 (approx)
2. Kryolan TV Paint Stick Foundation
This has to be your go-to foundation for the winters when the skin is extra dry. The foundation comes in a travel-friendly pack and you will find it in 250 shades – no chance you won't get a match for yourself. It has many uses, it can be caked up as a foundation or used for contouring, color correcting, and also concealing. Though it's super thick it blends into the skin like butter leaving behind a dewy glow. It provides full coverage and is one of the best choices to be used for bridal purposes as the product won't oxidize for about 8 hours and you will look radiant in your wedding pics. Now that's what I call complete value for money.
Price: Rs.1200 (approx)
3. L'Oréal Paris True Match Foundation
This is a product that works best on normal to dry skin and comes in 7 to 8 shades. I would call it one of the best drugstore foundations ever, especially suited for the Indian skin tone. The texture of the foundation is that of a thick liquid that glides with super ease. When layered a couple of times, it gives medium to full coverage. Its precise match technology helps in blending the product smoothly even on a patchy skin and covers blemishes. Even the most stubborn marks or uneven skin tone is easily camouflaged with about two layers of the product. To restore oil deficiency this amazing foundation comes loaded with glycerin and Vitamin E. Also noncomedogenic, the foundation easily lasts for about 5 to 6 hrs.
Price: Rs. 1025 (approx)
4. Revlon ColorStay Makeup for Normal/Dry Skin
The next best foundation for dry skin on our list is available in a total of 13 shades. The product from Revlon comes in a cylindrical glass bottle and tops our list as a drugstore foundation of high quality. Even with its medium consistency, the foundation blends without any struggle – you may use a makeup sponge or your fingers, both ways it works fine. Once blended thoroughly it enhances your face by blessing it with a flawless skin and an even tone. It comes with added SPF 15 and uses the SoftFlex technology. This advanced formula doesn't rub off easily even after long hours. This Revlon product stops excess oil secretion and lasts for about 6 hours without showing any sign of oxidation.
Price: Rs. 995 (approx)
5. The Body Shop Moisture Foundation SPF15
Again a product with SPF15 that comes in 4 shades. A perfect foundation for dark skin, it comes in a very sturdy plastic bottle that has a plastic pump. It is a lightweight liquid foundation. With its medium consistency, it gives you a fair coverage. Other shades of The Body Shop foundation would work on light to medium skin tones too. It enhances the look with its marble finish while hydrating the skin at the same time. The Body Shop Moisture Foundation has a unique silicone blend with added light reflective particles that help achieve the dewy finish. Enriched with Vitamin E, organic beeswax, and Community Trade marula oil, while forming a firm base for your makeup, the product moisturizes and conditions the skin too. With its longevity of 6 hours, it's best for wearing to parties.
Price: Rs. 1395 (approx)
6. MAC Mineralize Moisture SPF 15 Foundation
The MAC Mineralize Moisture Foundation comes in a fancy frosted glass bottle with a pump. Its high point is that it's available in a large spectrum of shades that includes all cool and warm tones. Finding a match for your skin, hence, won't be a problem. The texture is a bit gel-like, and runny making it super easy to spread and blend leaving your face with a silky finish. The natural luminescence this MAC product gives will surely make you a show-stopper. Though the coverage is medium, you can build it by using the technique of layering. The formula consists of moisturising elements like Shea butter, Vitamin E, and 77-Mineral complex and its average lasting time is about 6 hours.
Price: Rs.3600 (approx)
7. MAC Face & Body Foundation
This is another amazing product from MAC, and it is a little easy on the pocket. Available in about 14 to 15 shades, the product is packaged in a small plastic bottle with a screw on cap. MAC Face & Body Foundation has a runny texture, with a watery consistency, which allows it to spread easily. You will be able to blend it with a couple of easy strokes. It would get absorbed into the skin leaving behind a silky dewy feel. This light-weight product promises a medium coverage and gives a very natural finish. The product won't clog your pores and can last for 8 hours at a stretch without any touch-ups.
Price: Rs.1939 (approx)
8. Bobbi Brown Moisture Rich Foundation
The Bobbi Brown Moisture Rich Foundation showcases a range of 13 shades that come in a glass bottle packaging. This is again a foundation with a runny texture that provides an even finish. The product blends like magic and gives you a flawless coverage. The natural dewy appearance that it gives makes it one of the best foundations available in India. It also works on normal skin and doesn't oxidize for at least 8 hours. The Broad Spectrum SPF 15 is ideal even for day wear and doesn't build a cakey whitish cast.
Price: Rs.4500 (approx)
9. Clinique Superbalanced Makeup Foundation
With a product for every skin, the Clinique Superbalanced Makeup Foundation comes in 22 shades. The packaging comprises a frosted glass bottle with a screw on cap. The thin consistency of the product allows it to spread easily, whether you use a brush, makeup sponge or fingers. The medium coverage adds a natural glow to your otherwise dull skin. It's extremely lightweight and glides on the skin making it flawless by minimizing open pores. An application of two layers completes the look making the skin smoother than before and impeccable without artificial shine. It is one of the best matte foundations available in the Indian market today as it lasts for 8 hours with a pat of powdering and doesn't give a dolled up look on camera.
Price: Rs. 2650 (approx)
10. YSL Le Teint Touche Eclat Foundation
Yes, you do get this makeup foundation in India. But not in every other store; you will have to do a little research before you can get your hands on it. Available in 22 shades, The YSL Le Teint Touche Eclat Foundation comes in a gorgeous cylindrical glass bottle that has a classy golden cap and a dispensing pump. It has a fluid gel consistency which spreads and blends in a minute without leaving any patchiness. It lasts for up to 8 hours. Its medium coverage gifts you a dewy finish. The beautiful lightness makes it easy to wear throughout a busy day and the luminosity of the formula makes you feel like the star of the show. Enriched with the stimulating power of Ruscus Extract and Vitamin E, it to combats dullness and fatigue and protects the skin from free-radicals.
Price: Rs. 14,803 (approx)
Fighting dullness and dryness could turn out to be a challenge and sometime or the other we all have felt frustrated with our lifeless skin. Dry skin takes a toll on your makeup finishing and it ends up giving a cakey look. The ones listed above are indeed the top foundations available in the country and can make any skin smile with pride, you must not forget to take proper care of your skin to fight overall dryness. Make sure you moisturize your skin twice daily. Don't underestimate the power of water – keep a bottle handy to kiss dry skin blues adieu. Follow a balanced diet and munch on fruits and nuts. Load your plate with greens and proteins. And there you have – a natural beautiful glowing and healthy skin. If you too have dry skin tell us about your beauty regimen and tell us about a few makeup products you swear by in the comments section below.