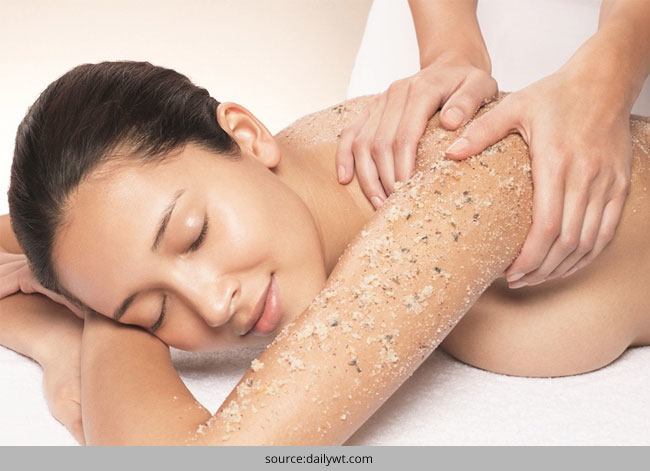 Scientists have long talked about the glorious advantages of exfoliation. Our skin is made up of both living and dead cells. These cells are shed by the body on their own accord and they flake away as dead skin. But with time and age, the body's ability to lose dead skin decreases and this is where exfoliation can be helpful. Exfoliation helps to remove these dead cells and help the body get its natural sheen back.
Now, there are tons of scrubs and body polishes available in the market. But the problem is, they are expensive and they are made from synthetic stuff. But does that mean you have to stop buffing your body? Not at all! You can simply DIY! What's more. You no more have to wonder how to exfoliate your skin at home.(check with me)
Multigrain body scrubs are not only cheap and can be made right in your kitchen, but they are also very effective because you know what goes into them! They are au natural!
Here is a great multigrain scrub which can flake away your dead cells in a jiffy!
Things you will need to make homemade body scrub:
1. Oats – Minimum 2 tablespoons
Oats are a rich source of natural cleansers called saponin. It can easily remove dirt and oil from the clogged pores leaving behind a soft and supple skin. Oats can also help the clogs to close.
2. Any brand of rose water – At least 5 to 6 teaspoons
Rose water acts like a natural cleanser and also helps to keep the skin smooth and supple. If needed, you can make your own rose water right at home.
3. Fresh milk or you can also use plain curd – 2 tablespoons
Curd or milk or any other dairy product is like vitamin for the skin. It contains this vitamin called riboflavin which can keep the skin hydrated and supple. It can also help the regrowth of new skin cells
4. Fine rice– 2 tablespoons
[sc:mediad]
Rice can help give a porcelain finish to the skin. Over time, it can also be used to whiten the skin
5. Black sesame seeds – 2 tablespoons
Sesame seeds are excellent sources of Vitamin E and can help the skin retain a good, smooth texture
6. Bengal gram / chickpeas – 2 tablespoons
Bengal gram cleanses the skin and also removes tan. It is used to tighten the pores of the skin.
How to make body scrub:
Take equal quantities of each of the grains
Make sure they are air dried separately before being used
Use the mixer to grind all the grains and make a fine paste
For the oats, do not fine grind them. These need to be a little coarser than the rest of the grains.
Once you have all the mixes, you can pour the rose water as required and mix it till it acquires a smooth consistency.
Voila! Your DIY body scrub for a glowing skin is ready! You can use it in circular motion to increase the blood circulation in your body and also use it to exfoliate your skin. You can rinse off after 10 minutes to get a smooth and shiny skin. This is definitely one of the best homemade body scrubs you can use.Word of Caution: Over exfoliation is bad for the skin! Don't think that flaking away the skin too much will help you get a glow. There are also essential oils on the skin which will be stripped off due to over exfoliation. Your skin will also breakout due to this! So, always exfoliate in moderation.
So, you see, your DIY multigrain scrub is not only effective but you can make it right at home!