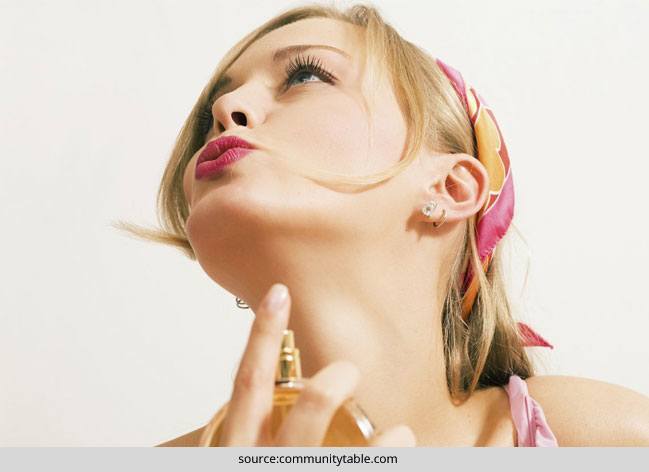 The luxury of owning your favourite perfume bottle is not only an extension of your personality, but also a keepsake for years. And when this indulgent fragrance disappears by lunchtime, when applied in the morning, we can totally feel you. After all, we apply it to feel sexier, evoking happy imagery thoughts and if it just doesn't stay that long, the whole purpose of applying your spritz is killed. But fret no more. We have for you today, our list of top 8 insightful tricks on how to make your perfumes last longer. Read on and revive the sensuality in you, all day long:
1. Always apply perfume before you slip on your dress
This is because perfume is activated by heat and chemical reactions and when it comes into contact with your body, it is supposed to stay longer. Also, on the flip side, perfumes when applied directly on clothes can lead to yellow/white stain and can cause damage to the material. Silk, for instance, is prone to degradation and should never come in contact with perfume.
Further on, materials such as synthetic fiber should also be kept away from perfume oils.
[Also Read: Best Perfumes For Women]
2. Dip your lingerie in perfumed water
For a long last effect of your perfume, you could just spray a little or pour in a few drops of perfume oils in a bowl full of cold water and dip your lingerie in the same. When applied indirectly to you fabrics, perfumes tend to stay longer, leaving a lingering fragrant-effect all day long. You could also add a little in your steam iron and press your clothes with this water. This trick will make your perfume smell last longer.
3. Always spray your perfume and let it dry; never rub it
It is never recommended to rub your perfume against your skin as it tends to 'crush down' the molecules of fragrance, hence leaving behind a different fragrance all together. Ideally, keep your bottle 15-25 cm away from your skin and spray it on the desired pulse point. This will help in distributing the fragrance evenly, keeping it true to its original scent all day long.
[Also Read: Fruity Perfumes]
[sc:mediad]
4. Spray some perfume on your hairbrush for that lingering effect
Spraying a little bit of perfume on your hair brush ensures a garden full of sweet odors for your hair. Also, it is a great way to have a wonderful scent liberated from your hair whenever you walk past a stranger.
Read Hair perfumes can be a luxury addition to your beauty routine.
5. Choose a stronger fragrance for that long-lasting effect
Always bear in mind that citrus-based fragrances won't last long and they are only good to get a quick freshen up post a running or sweaty gym session. Opt for much stronger ones – patchouli, vanilla, frankincense, pine, cedar, woody-based and musk-based fragrances, as their oils tend to evaporate slower. You can read A-Z perfume glossary to know more about the notes and fragrances. Also, an expensive perfume will always have a more enduring and long-lasting fragrance. The most popular perfume, parfum, eau de parfum and eau de toilette contains the most oils and are known for their luxury line of fragrances.
6. Storage of perfumes is a key essential here
Make sure that your perfume is protected against its enemies, such as heat, light and humidity. It should be stored in a cool and dry place, which is not in direct contact with sunlight. Also, make it certain to buy perfumes in spray bottles as it keeps fragrance evaporation and chemical reactions at bay.
7. Always apply perfume over a well-moisturised skin
When applied over the dry skin, the perfume tends to lose its fragrance notes. Hence, always make it a point to apply body oil or good layers of moisturiser post your regular shower routine. Also, apply perfume only on your pulse points, such as neck, wrists, between your breasts and behind your knees to get a light mist of fragrance lingering on all throughout the day.
8. Use fragrances according to the season and temperatures
This is because heat tends to blend with the chemicals in the perfume, creating a stronger scent. In warm weather, you should go for light-based yet rich perfumes, which make you smell fresh and energetic all day long. For cold weather conditions, on the other hand, do consider the heartiness of the heavy clothes before applying your perfume.
Now that you are well aware of the 8 super-empowering tips on how to keep your perfume last all day long, bask in the glory of your signature fragrance always!
Hope all your questions on where to spray perfume to last longer have been answered. If you have tried any other way to do so, feel free to let us know.